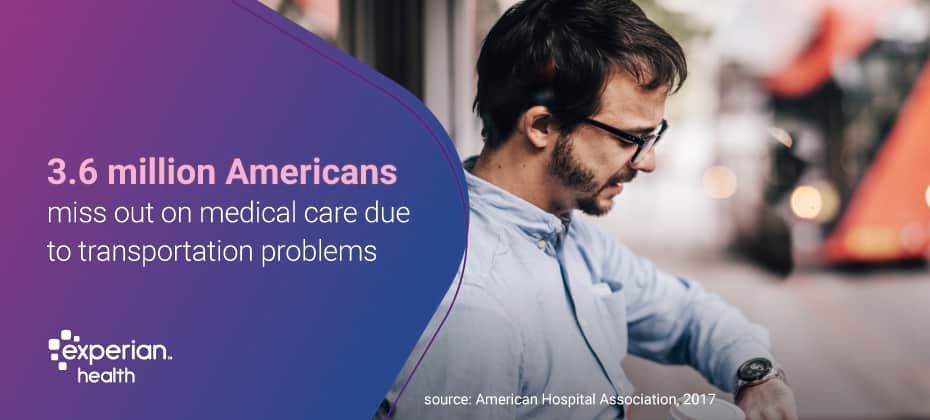 Last week, I spoke at the technology briefing of a national health plan group to give a presentation on the role of consumer data and patient identity in healthcare and how social determinants of health (SDOH) can help payers improve population health and lower costs.
To illustrate the importance of leveraging consumer data for SDOH outcomes, I like to use the example of Vern.
Vern is 78 years old, lives alone in a lower income apartment complex and hasn't attended a wellness check in several years. Last month, he had an unexpected trip to the emergency room (ER) due to heart disease and continues to be readmitted for his condition.

But why does he keep getting readmitted? Is it because he can't afford his prescribed medication? Is he having a difficult time finding transportation? Or could it be that when it comes to healthy eating—buying fresh product on a weekly basis is challenging for him? These are some of the SDOH that could be contributing to Vern's readmission—not solely his now heart disease.

Had his care team known more about Vern, aside from his condition, they could have proactively addressed some of his barriers to care and prevented the ER admissions—saving them from costly care episodes and preventing negative outcomes for Vern.

By utilizing SDOH insights, Vern's care team can help 'even the playing field' for him by understanding his non-clinical barriers to health, what key things are driving those barriers, and what makes sense to address them.  All of this, of course, underpinned by an accurate identity (but, let's talk universal patient identification another day!).

With SDOH insights, Vern's care team could have gotten him to his wellness checks, his condition would have been detected earlier and he would have received the services he needs proactively. This would save countless dollars in repeated readmissions, ER visits and other costs associated with a chronic condition that can't get better when your members don't have the luxury of prioritizing health over basic needs.
To avoid these missed opportunities, many healthcare organizations are turning to consumer data to understand their patients or members better. Insights on SDOH are transforming the care experience for people like Vern, as well as saving money for patients and the healthcare industry.
Here are three ways consumer data is driving improvements in population health and lowering healthcare care costs at the same time:
Helping patients lead healthier lives
Research shows that clinical care alone is not enough to safeguard a person's health. Up to 80% of health outcomes are attributable to non-medical factors such as your financial situation, stability of living arrangements, access to transportation and healthful food options, amongst other things. Around 68% of Americans are affected by at least one of these SDOH, which can make prioritizing good health a challenge.
When healthcare organizations are more informed of the SDOH impacting their patients or members, they can take steps to help prevent avoidable hospital visits, ED utilization, appointment no-shows and worsened conditions by encouraging and facilitating earlier intervention.
For example, 1 in 8 Americans are food insecure.  If care teams are able to recognize when this is an issue for the people they're caring for—they can look at partnering with community organizations, like a local food bank or meal delivery service, to address gaps in nutrition for better health outcomes.
Reducing the financial burden of healthcare expenses
In the U.S., healthcare has the world's largest gross domestic product (GDP) spending (18%).  By helping your members overcome barriers to attending appointments and potentially discovering health issues sooner, the healthcare industry can reduce the costs of healthcare. For example, 3.6 million Americans miss out on medical care due to transportation problems. If care teams knew who they were and what specifically is impacting them ahead of time, they could step in to arrange transportation or offer alternative options, like telemedicine, so problems can be detected earlier.
Not only is this better for the patient's health, it's better financially too—emergency room visits cost an average of nearly $2,000 while inpatient hospital stays come in at an average of $10,000. When 33% of ER visits are from those experiencing homelessness—the extreme condition of housing instability—it's imperative that we consider more than a patient's profile from a claims or clinical data perspective.
Offering a better patient experience
When healthcare organizations can see each patient as a whole person, they can offer better engagement plans that make prioritizing their health a smaller mountain to climb. Does your patient prefer information by phone, text or email? Do they use their patient portal? Are there other services they might benefit from, that can help improve their health in other ways?
Armed with the right data, you can answer these questions and tailor your communications with each patient, ultimately helping them achieve better outcomes.
What's more, when you leverage consumer insights to improve your population health strategies, you'll also create a better patient experience through improved care coordination, prompt referrals and timely information sharing—making the whole process better for everyone.
Translating consumer data into intelligent business decisions
With reliable consumer data sourced from Experian—an original-source provider and data steward when it comes to consumer privacy—you can learn more about your patients and make the right care management decisions to address the non-clinical barriers to health impacting the health of your members and your organization.
Learn more about how to leverage consumer data to help improve outcomes for your patient population.
Mindy Pankoke is a Senior Product Manager for Experian Health