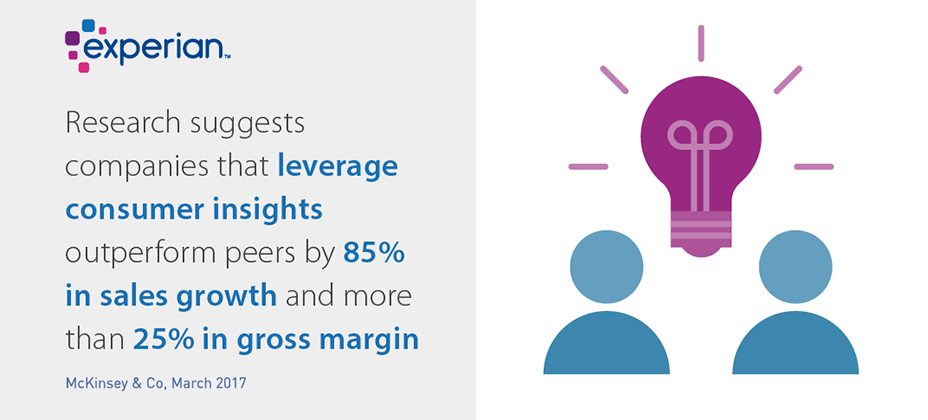 Big data is helping every industry take giant leaps forward. Healthcare should be no exception.
Household names like Amazon, Netflix and LinkedIn have made personalized consumer experiences the norm: predicting your next purchase, suggesting products you'll love, and tailoring your news feed to your preferences. The modern consumer experience is intuitive and frictionless. Patients have come to expect the same of all the companies they do business with – including their healthcare provider.
Like these consumer-driven industries, information about lifestyle, interests, purchasing behavior and even social media activity can all help create a more comprehensive picture of each consumer patient, and how they choose their provider.
By understanding patients as individual customers, providers can use consumer data insights to offer personalized experiences, creating loyal customers and brand advocates. From building awareness about your brand to customer support interactions, these insights ensure your efforts resonate in the right way with the right consumers at the right time – and in a way that makes the consumer feel like they've chosen a provider that 'gets them.'
We've all seen headlines about bad players using consumer data in a negative way, so compliance is key to avoid any mis-steps. Making sure you stay compliant with consumer privacy and data protection laws will keep your organization safe.
Data-driven healthcare marketing is a huge opportunity
The providers who thrive in the era of value-based accounting will be the ones who embrace a consumer insight-based approach throughout the customer journey.
In fact, research suggests companies that leverage consumer insights outperform peers by 85% in sales growth and more than 25% in gross margin.
But here's the rub: while it's a massive opportunity, using consumer data must be done safely and securely. Consumers don't want to think about their data being traded in the shadows, even if they're happy to live-tweet the data from their smartwatch.
Trust and transparency are paramount.
So, what's a consumer-centric, security-conscious healthcare provider to do?
3 ways to stay safe and secure using healthcare marketing data
Working with consumer (or marketing) data is somewhat new to health. The rules for how you source, store and use it bring a whole new set of compliance concerns. Failure to comply can result in eye-watering fines, not to mention the potentially devastating loss of trust.
If you're handling it in-house, beware of vendors popping up with data solutions that don't quite make the grade.
Here are three ways to practice good data hygiene and keep your organization compliant:
Safe sourcing
First things first: know where your consumer data comes from. Is your vendor collecting this data from original sources, or via a third party? Do consumers know their data was collected, and how it would be used? Can you point to the original source's privacy policies?
When you use consumer data, make sure you know its source and can quickly point to the privacy policies associated with the data. Working with original source compliers of consumer data, like Experian, can ensure you meet privacy policy rules. Consumers should always be told their data is being collected, why, and by whom.
Despite the challenges around the introduction of the General Data Protection Regulation (GDPR), its main requirement is actually pretty simple: don't use consumer data without active consent. GDPR may or may not apply to your organization, but it's a good model to work to, especially as others are following its lead (like the California Consumer Privacy Act).
Safe storage
Tales of data breaches at Yahoo and the English National Health Service send a shudder through healthcare C-suites everywhere. And no wonder – a Ponemon Institute Study found the average cost of security breaches is around $3.62 million per incident, while consumers are reported to be more worried about data privacy than losing their main source of income. Safe to say, secure data storage and processing should be a top priority for your organization.
Writing for Law Journal Newsletters, Mark Sangster says:
"Privacy and data responsibility must be as important to the officers of a business as profitability is to the investors. As such, privacy and compliance blur together, and security becomes the guardian, keeping the others in check."
Familiarize yourself with the rules around storing marketing and non-medical consumer data, such as ensuring you have a written data security policy, identifying data protection officers, and having strict controls on access to data files so that it's never shared with anyone who doesn't absolutely need to see it. The Direct Marketing Association and American Marketing Association both have handy resources on ethics, regulations and data privacy. It may not be light bedtime reading, but it'll keep you right.
Appropriate use of data
Marketing data is there to help you find promising prospects and keep them interested. Use it to guide your messages and content. It should never be used to deny services to anyone or create unequal access, so always keep an eye out for potential adverse effects.
People love to get useful information, but when it's a little too specific about their lives, that's verging on creepy! Don't give the impression that you know solid facts about them. For example, instead of writing "Dear Family of 4", choose images that would resonate with that family, or offer health fair invites focusing on pre-teen or infant health, according to what marketing data tells you is more relevant.
With marketing data, you can avoid wasting time and money (and the embarrassment of) sending your geriatric services promotion to young newlyweds. Or you can connect the dots between services that marketing data suggests will appeal to the same demographic, such as women's clinic patients who are interested in fitness, who may appreciate a poster about your orthopedics or dietetics promotion.
Mastering healthcare marketing best practice
Using customer insights to drive your marketing strategy has huge payoffs for patients and providers. Partnering with a reliable data steward will help you take your data analytics to the next level, and stay compliant at the same time.
As the gold standard for consumer data privacy, Experian Health offers access to clean, original-source data and robust analytics platforms that give you the most comprehensive view of your health consumers – and peace of mind when it comes to compliance.