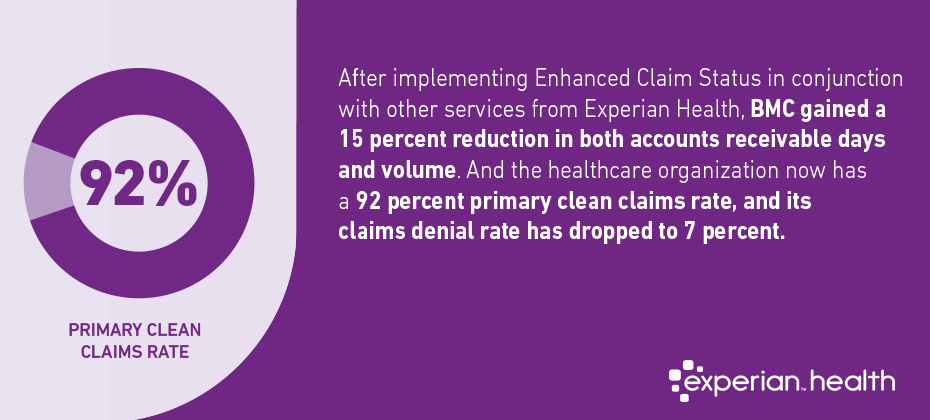 Healthcare runs on revenue, and claims denials can put a big dent into the budgets of healthcare providers — between 5 and 10 percent of claims submitted by healthcare providers are denied. This adds up to billions ­of lost dollars each year for providers in the U.S.
The good news? Ninety percent of claims denials are preventable when healthcare providers automate revenue cycle functions. In fact, providers could gain an estimated $9.5 billion by automating the claims management processes. And money isn't the only thing to be saved — companies could also have more time to work on other processes.
The problems facing one Oregon healthcare provider
Monitoring claims and cash flow is difficult for any healthcare organization, as the staff at Summit Medical Group Oregon — Bend Memorial Clinic (BMC) knows. Summit Medical Group Oregon – BMC found its team consistently waiting for payer response, which often forced its overall operations to drag.
After 30 to 45 days of submitting claims, if Summit Medical Group Oregon – BMC did not receive payment, staff members would have to reach out to payers to determine whether they had received the claim. They also had to determine whether the claim was in the process of adjudication, as well as any other steps the staff should take in order to get the claim processed, according to Summit Medical Group Oregon – BMC business analyst Sean Schlappy.
These manual processes not only create lags in claims reimbursements, but also take up a lot of staff time. The Council for Affordable Quality Healthcare found that processing claims manually takes an average of four minutes, while processing automated payments takes an average of three minutes. So Summit Medical Group Oregon – BMC decided to implement software solutions to improve acceptance rates.
The tools used for improvement
One product Summit Medical Group Oregon – BMC implemented was Claim Scrubber, which ensures all claims submitted are accurate before they're sent to the payer. Because it can be integrated with most practice management systems, this service allows employees to set up notifications in the healthcare provider's work queue. It also provides detailed dashboards and reports to quickly recognize trends to improve medical coding and reimbursement rates.
Summit Medical Group Oregon – BMC additionally turned to Enhanced Claim Status, which provides employees with status requests based on the payer's adjudication time frame, improves productivity, and ensures timely and accurate payments. This tool reduces the amount of time staff members must spend interacting with the payer, and it generates work lists of claims with actionable data.
By transitioning most of its coverage information upstream, Summit Medical Group Oregon – BMC was able to obtain more accurate data during the initial patient introduction and registration. Using this technology, Summit Medical Group Oregon – BMC also improved the patient experience.
Using technology for clean claims
After implementing Enhanced Claim Status in conjunction with other services from Experian Health, Summit Medical Group Oregon – BMC gained a 15 percent reduction in accounts receivable days and volume. And the healthcare organization now has a 92 percent primary clean claims rate, and its claims denial rate has dropped to 7 percent.
Integrating several tools is helping Summit Medical Group Oregon – BMC in the long term, Schlappy says. Summit Medical Group Oregon – BMC has increased payment processing and reduced claims denials, and, most importantly, it's producing cleaner charges.