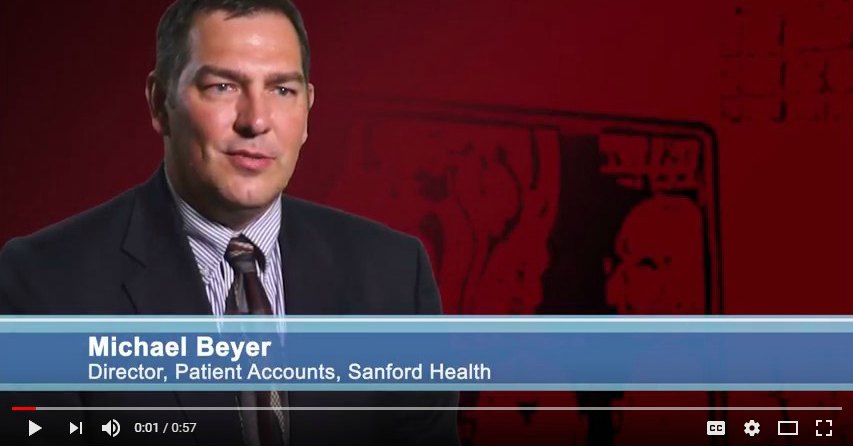 In 2014, Sanford Health set out to improve its success rate in collecting past-due patient bills. The health system increased its in-house collections by more than $40 million, and in a single year, it sent 28.5 percent fewer collections to outside agencies.
How did Sanford Health do it? The patient account team improved its collections process with a hybrid approach of new tools and new ideas for patients and employees alike.
Create a transparent system to identify the highest-yielding accounts
Collections Optimization Manager allows the team to better manage patient collections by finding the patients who can and will pay. This is a big win. The team avoids wasting time and other resources on low-yield accounts. More importantly, when patients need Sanford Health's financial assistance and charity services, they get the compassionate care they deserve.
Previously, Sanford Health manually tracked and called patients who were late paying their bills. It was a cumbersome collections process, and the team had no way to focus its efforts on those people with the propensity to pay. The Collections Optimization Manager's analytical models use precise algorithms to create segmented groups according to those patients who would prefer to pay in full at a discount, those who would prefer to pay on an installment plan, and those who are likely to be eligible for financial or charity assistance.
Seamlessly integrate the new tool with existing ones
The team coupled the new optimization manager with PatientDial, which they were already using and which routes calls to patient account representatives based on segmentation and decreases the cost of the collections process. Integrating with other products made it possible for Sanford Health to build upon previous success and easily implement the optimization manager with limited intervention from its IT department.
Sanford Health was already using two other Experian Health products as well. First, Claim Scrubber helps Sanford Health submit clean claims to insurance companies and other payers, thus reducing undercharges and denials, optimizing staff time, and improving cash flow. Contract Manager and Contract Analysis audit payer compliance so the patient accounts team is assured that collections align with contract terms.
Couple new tools with fresh, simple ideas
Patient Statements is the final tool Sanford Health had already implemented when it embarked on its journey to improve the patient collections process. But it went a step further by redesigning the cover page. Now, patients can easily understand their payment options, including prompt-pay discounts. Also, the health system instituted an employee incentive program, which rewards staff members for their collections performance.
Sanford Health is the largest nonprofit rural healthcare system in the nation. It has 45 hospitals and 289 clinics in nine states and four countries. It employs more than 28,000 people, including more than 1,300 physicians in more than 80 specialties. As Sanford Health grew and acquired new services, it realized that it couldn't rely on a purely manual process to handle its collections process. Collections Optimization Manager turned out to be a profitable and otherwise satisfying collections solution.
Collecting past-due bills is about money. And any business — even one focused on health and healing like Sanford Health is — must turn some of its attention to making money. But collections can be about more than that. It can be about making patients happier. It can be about figuring out who needs your help and exactly what kind of help they need. That's what Sanford Health focused on, and it paid off.
Learn more about how Sanford Health improved its process and collections success rate. Read the case study.