Labor market gives the Fed cover to keep hiking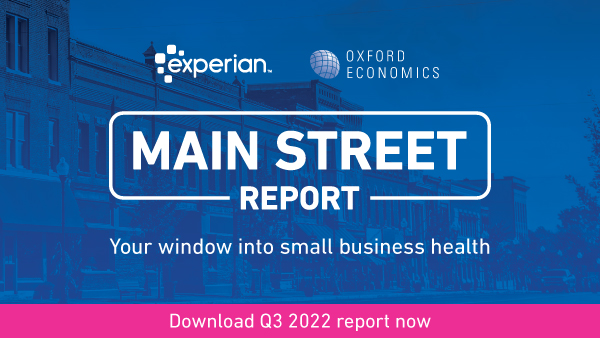 Experian Business Information Services and the economists at Oxford Economics have just released the Q3 2022 Main Street Report. The report brings deep insight into the overall financial well-being of the small-business landscape, as well as providing commentary around what specific trends mean for credit grantors and the small-business community.
Report Overview
Sustained consumer spending and strong job market performance have perpetuated U.S. small business health and positive market sentiment. The third quarter highlighted open and growing commercial lending markets, inclusive of all tiers of credit risk, even as measured commercial delinquencies returned to pre-pandemic levels. Signals in the financial market point to a heightened risk of a more significant U.S. economic slow-down in 2023, as consumers change spending behavior as affordability tightens and personal cashflows are challenged first in the lower income segments.
Join us for the Q3 Quarterly Business Credit Review
Mark your calendars for December 6th! Experian and Oxford Economics will present key findings in the latest Main Street Report for Q3 2022 during the Quarterly Business Credit Review. Ryan Sweet, Oxford's U.S. Chief Economist will share his take on Experian's most recent small business credit data and a macroeconomic outlook for the coming quarter. Brodie Oldham, Experian's V.P. of Commercial Data Science, will cover commercial credit trends.