Experian and Oxford Economics have just released the Q2 2022 Main Street Report, offering a unique glimpse into the credit performance of main street businesses.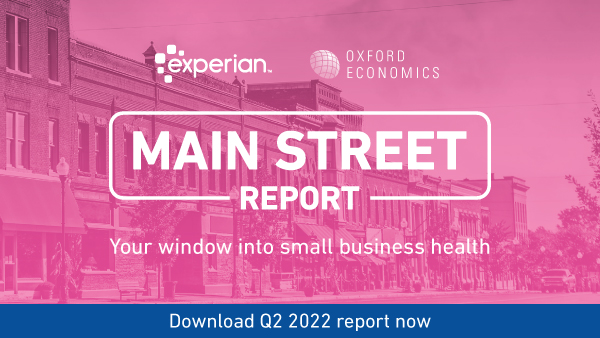 Small businesses pull back and hit the reset button
After a strong economic rebound in the wake of COVID-19, a more challenging environment and heightened recession worries are forcing small businesses to "hit the reset button." Small business anxiety about elevated inflation and labor shortages persisted in Q2 2022, as small businesses held debt balances longer while seeking additional credit in anticipation of a tighter lending environment.
Macroeconomic summary
The US economy suffered a second straight quarter of negative growth in Q2, enduring what many pundits would call a technical recession. However, Experian and Oxford Economics doubt the economy experienced a real recession as the labor market remained strong. Looking ahead, the economy will face strong headwinds from high inflation, aggressive Fed tightening, financial market volatility, and weakening global demand. These challenges will drag on small business confidence by cooling economic activity and hiring into 2023. US supply chain disruptions will continue to create a complex challenge for small businesses as they plan for the upcoming holiday season. We saw inventories swell over the summer as businesses pre-ordered for the season, but there is a cost as some will have over-purchased in anticipation of disruption.