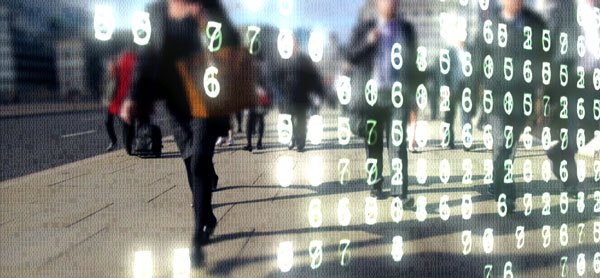 Ten years ago movie night at our house would usually include a run to the video store where we would pick out a selection from the New Arrivals section, some candy, perhaps some popcorn and we would have our fingers crossed the selection was a good one. Nowadays it's not uncommon to find us binge watching streamed episodes of "House of Cards" or "Mad Men on weekends." What's even more gratifying is after watching "House of Cards" unprompted, Netflix now recommends "The Newsroom" and other shows we invariably like. How do they know we would like these shows? This is predictive marketing at work, driven by big data. Netflix has developed sophisticated propensity models around each member's viewing habits, and the net result is a better viewing experience with the service. We make amazing entertainment discoveries every week.
In business marketing propensity models will determine which prospects or customers are likely to respond to a particular offer. For example, the marketing department of a large financial institution seeking to expand their commercial small business loan portfolio, might want to segment and target commercial lending offers to a concentration of customers most likely to accept a particular offer. When applied in business, propensity models can unlock opportunities for increased profit, share of wallet and deeper engagement with prospects and customers.
At Experian, in a typical propensity modeling engagement we will first meet with our customers to understand their goals and objectives. We talk first about pre-screen criteria that enable us to screen out prospects that would not fit into the criteria. A sporting equipment manufacturer would probably not sell to companies in the mining or agriculture industries, so we weed out the ones least likely to lead to a successful conversion. Our data scientists and statisticians get to work on large data sets and evaluate a number of factors.
Experian will then develop a customized response model that will identify significant characteristics of responders vs. non responders and therefore will maximally differentiate responders from non responders. Since (holding other factors constant) a higher response rate is preferred, a response model can help lower the cost per response. The response model will generate a "score" that can be used to rank order the prospects base in terms of response likelihood. The response model can be used in two different ways to achieve maximum effectiveness. It can be used to optimize the number of responders for a given sized solicitation, or it may be used to minimize the number of solicitations in order to achieve a budgeted number of responders. A high response score will indicate someone who is likely to respond, as is shown graphically in Exhibits 1 and 2.
This work results in a model of the ideal target to which an offer would most likely resonate with. This is called a lookalike.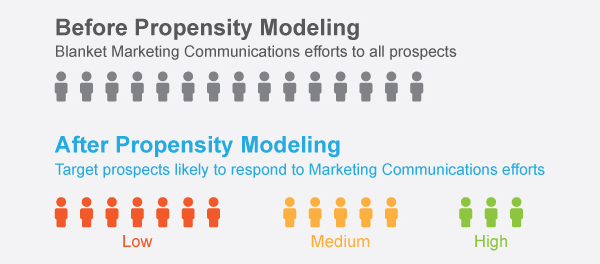 The marketing department at our large financial institution might start off with a large list of potential candidates to send the offer via direct mail, 1 million for example. But mailing an offer to that many people may be cost prohibitive. A propensity model can identify prospects most likely to accept the offer, so your direct mail campaign is more targeted, thereby increasing ROI. A highly targeted mailing to your ideal targets is a safer bet, and would make for a much more predictable outcome. The marketer can feel more confident mailing an offer to lookalike prospects because the chances of successful conversion are that much higher.
That's the case for Woodland Hills based ForwardLine, who have been providing alternative short-term financing to small businesses since 2003. Working with Experian Decision Analytics, ForwardLine did an analysis of their direct marketing program and determined that 22 percent of direct mail was generating 68 percent of their underwriting approvals, exposing a significant gap in wasted marketing funds. The Experian Decision Analytics team developed a custom model which enabled ForwardLine to algorithmically target lookalike prospects with a higher propensity to convert into a successful loan engagement.
ForwardLine Vice President of Marketing, Michael Carlson is thrilled with the initial results.
"Working with Experian we were not only able to improve performance, but we are able to reduce our marketing spend, while achieving the same results. We have taken our direct marketing effort from a small program that was profitable, but not meaningful in terms of generating significant volume, to working with Experian to achieve remarkable results. It's largely why we enjoyed 20 percent growth this year."
Best in Industry Credit Attributes
Experian clients use our archived Biz AttributesSM along with collection specific data elements as independent variables for propensity model development. Experian's Biz AttributesSM are a set of commercial bureau attribute definitions (includes several key demographic attributes as well) which are accurately developed off Experian's Commercial BizSourceSM credit bureau. When used for response model development, Biz AttributesSM provides significant performance lift over other credit attributes. Biz AttributesSM are also effective in segmentation, as overlay to scores and policy rules definition, providing greater decisioning accuracy.
Additionally, at Experian we are constantly monitoring our growing data warehouse looking for ways to develop new attributes. We live in an ever changing market place which requires us to develop new credit and demographic attributes as well as making enhancements to existing attributes. This process takes a disciplined, rigorous, and comprehensive approach based on experience guided by data intelligence. Our goal is to provide world-class service and the industry's best practices for modeling attributes.
To keep pace with market changes, new attributes are developed as new data elements become available, while raw data elements and existing attributes are monitored and managed following rigorous and comprehensive attribute governance protocols to ensure continued integrity of attributes.
If you would like to learn more about propensity models, contact your Experian representative today.