Taxes 101: What To Know Before Filing Taxes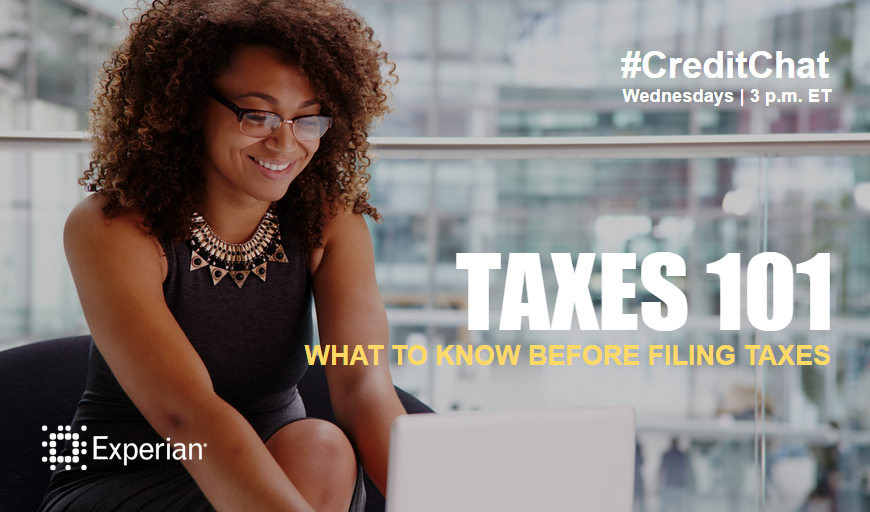 Join our weekly #CreditChat on Twitter & Blab every Wednesday at 3 p.m. ET. This week we are going to talk about taxes – and what to know before filing. We're excited to chat with Monique LeMons and Morgan Quinn of Tada as our featured guests on Twitter and Blab. The video panel will also include: Rod Griffin– Director of Public Education at Experian and Mike Delgado– Social Media Community Manager at Experian.
View the discussion on Blab.
Have you finished working on your taxes? Let us know.
If you have ideas for future topics and guests, please tweet @Teena_LaRo.
Questions We Discussed:
Q1: Have you filed your taxes yet? Why or why not?
Q2: What do you find challenging and/ or time-consuming about filing taxes?
Q3: Do you use any software or hire an accountant to help you? How was that process?
Q4: What are some tax mistakes that are easy to make?
Q5: What are some overlooked tax deductions?
Q6: What's the difference between tax deductions and tax credits?
Q7: How can feeding your retirement accounts help reduce your taxes?
Q8: How much do you spend filing your taxes?
Q9: What options are available for those who don't have money to pay taxes?
Q10: Any final tips for those of us about to file taxes?
View the Complete Tweetchat on Storify:
If you've never heard about #CreditChat, here is a brief overview:
Recent Chats on YouTube & Twitter