What to Know When You're a First-Time Homebuyer
Join our #CreditChat on Twitter and YouTube every Wednesday at 3 p.m. ET.
This week, we talked about what to know when buying your first home. The video panel included: Douglas A. Boneparth – CFP Board Ambassador and Vice President at Life and Wealth Planning, Richmond American Homes,  Martha Staten– Realtor and advocate for Personal Finance in schools, Rod Griffin – Director of Public Education at Experian, and Mike Delgado – Social Media Community Manager at Experian. 
If you have ideas for future topics and guests, please tweet @MikeDelgado.
Questions We Discussed:
Q1: How do you decide if you should be renting or buying a home?
Q2: What are tips for getting the best rate on a home loan?
Q3: What should you do before applying for a home loan?
Q4: How do you forecast your housing budget?
Q5: What unexpected costs might you encounter when buying a home?
Q6: How do you choose a good real estate agent?
Q7: What factors should you consider when choosing the location of your new home?
Q8: What can a home inspector uncover for you?
Q9: What are your thoughts on buying a short sale, foreclosure or bank-owned home?
Q10: What are some online tools and resources that can help you research and find a home?
SlideShare Highlights from the Conversation: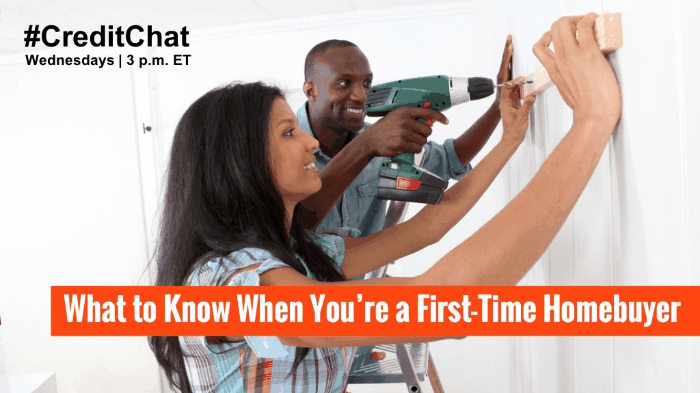 The Complete Conversation Storified:
Resources:
If you've never heard about #CreditChat, here is a brief overview:
Resources:
First-time Homebuyer Guide
Pinterest board (First-time homebuyer help)
Making the Most of a Mortgage Calculator 
Mortgage Loan Checklist
What to Know when Moving from an Apartment to a House 
5 Mortgage Myths Debunked
Why Renters are Becoming Homebuyers in 2015
Recent Chats on YouTube & Twitter