Actionable Tips to Help You Conquer Debt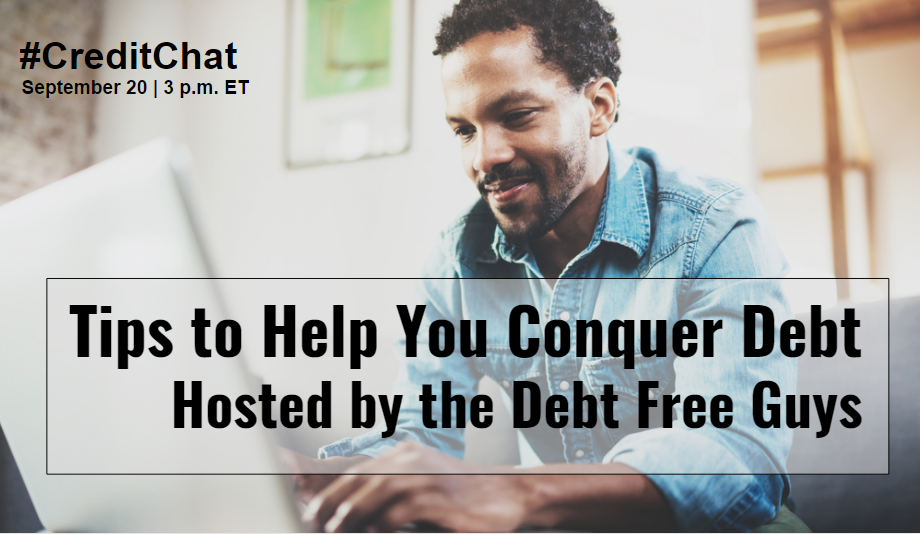 Join our #CreditChat  on Wednesday, September 20th at 3 p.m ET. The Debt Free Guys will be taking over today's #CreditChat to share tips to help you develop a plan and get out of debt.
Topic: Actionable Tips to Help You Conquer Debt Hosted by the Debt Free Guys
When: September 20, 2017 at 3 p.m. ET. 
Easy ways to chat with us on Twitter: Tchat
Questions That Will be Discussed:
Q1: What common excuses keep people from getting out of debt?
Q2: Is it possible to live a life without debt? If so, how?
Q3: How does debt affect your credit score?
Q4: Are debt and credit the same thing?
Q5: What are practical steps to take to get out of debt?
Q6: How can people track their debt pay off strategy?
Q7: What resources or apps can help those budgeting or paying down debt?
Q8: How can someone who has escaped debt, stop from going back into debt?
Q9: What should someone do if they feel completely out of control with their spending and debt?
Q10: Any final tips for someone trying to get out of debt?
If you've never heard about #CreditChat, here is a brief overview:
Relevant chats on YouTube: