Harnessing Data for Evolving Consumer & Business Needs #ExperianLive
An industry's greatest innovators are successful not only because they deliver superior products in the present, but also – and perhaps more importantly – because they continuously solidify their place in the future through a culture of discovery that encourages modernization and disruption.
With that in mind, we're excited to share this live stream broadcast that features senior executives at Experian with award-winning digital analyst Brian Solis discussing how technology is modernizing the industry. The 30-minute broadcast took place from our North American headquarters in Costa Mesa, California.
"Technology, innovation and new sources of data have merged to create unprecedented ways for us to solve pressing business and consumer challenges," says Craig Boundy, chief executive officer, Experian North America. "By putting consumers at the center of what we do, we are innovating to positively impact people and modernize the way companies conduct business. This was a great event for people to learn firsthand from the leaders who are driving these innovations and creating more convenient and safer ways to operate within the data economy."
Modernizing the credit industry
Barry Libenson, global chief information officer at Experian, kicks off the event and shares how our IT infrastructure lays the foundation for continuous innovation. The IT infrastructure created by Libenson and his team supports our ability to modernize and design products that meet consumers' and businesses' real-time data needs.
One successful example of this is how Experian's big data platform Ascend allows customers to seamlessly integrate data from Experian with third-party data sources and their own data.
This enables sophisticated analysis that once took weeks to happen, to now be accomplished in a matter of minutes. Alex Lintner, president and head of Experian's US credit bureau, discusses how we leverage advanced technology and ever-growing data streams to create products such as Ascend and Text for Credit, which are disrupting the traditional credit industry.
Eric Haller, executive vice president and head of Global DataLabs, leads the development of many of Experian's products and innovations. He shares how teams of data scientists and applied research practitioners use research and development to help transform the way businesses operate and consumers thrive. To illustrate this, Haller shows viewers how we are capitalizing on the popularity of voice and artificial intelligence with a product concept that will allow consumers to use voice devices such as Amazon Echo or Google Home while applying for credit or payment plans from their own home.
The future of identity management
To round out the event, Steve Platt, president of Decision Analytics and Data Quality for North America, discusses how identity recognition is evolving and is no longer built solely on people providing their name, address, date of birth, and social security. The increased threat of cyberattacks requires the need for an industrywide evolution. Platt delivers key points from our Fraud and Identity group and informs viewers about the future of identity protection – which focuses on device intelligence, passive authentication and an improved customer experience.
Experian embraces a culture of discovery that enables us to grow and evolve while remaining at the forefront of innovation. Of course, the key is to never stop questioning, evolving and innovating. And we won't.
Speakers: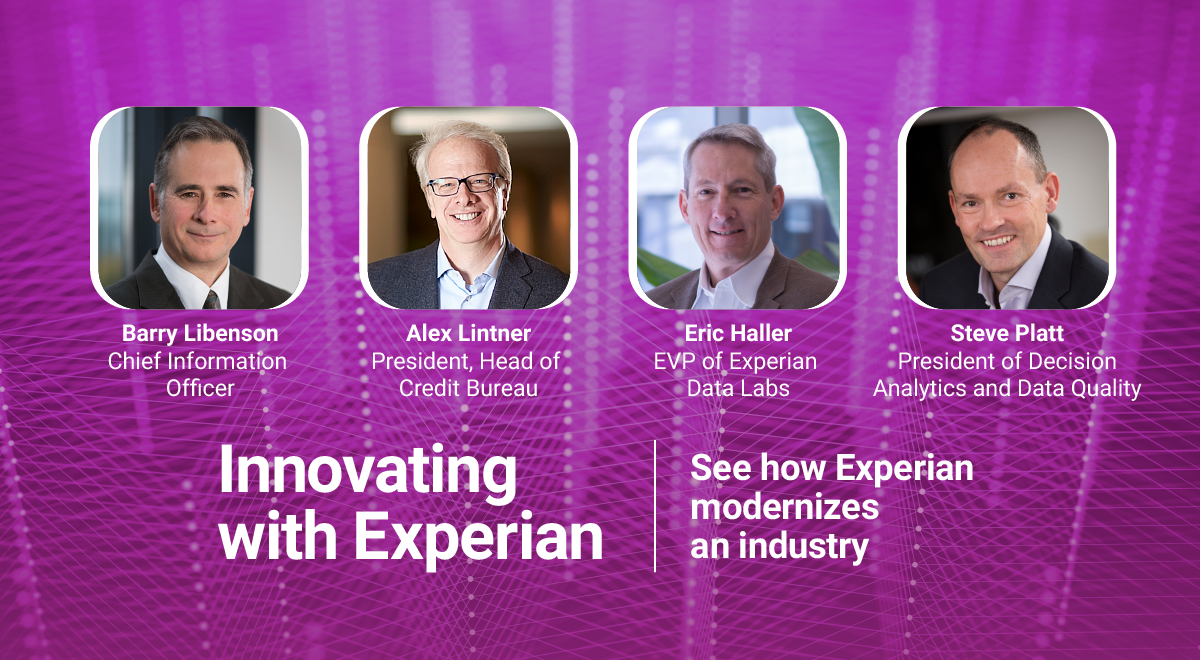 Barry Libenson
Libenson is Chief Information Officer (CIO), with responsibility for the design and delivery of Experian's global technology strategy. Prior to joining Experian in June 2015, he was CIO of Safeway in North America. Earlier in his career, Libenson held CIO positions at Land O'Lakes and Ingersoll Rand.
Alex Lintner
As President of Experian's Consumer Information Services, Lintner is responsible for overseeing Experian's US consumer credit bureau and the Group's Consumer Assistance Centre (MCE). As such, Lintner is responsible for all aspects of Experian's consumer credit services business, including the quality of our data, the breadth of our data assets that determines how much of the population we can score accurately, delivery and management of credit risk data and value-added services to help our clients manage and optimize their customer relationships. Prior to joining Experian, Lintner served as CEO and President of Vertafore, a market-leading $450+ million revenue insurance software provider, where he grew revenue and profit at the fastest pace in that organisation's history.
Eric Haller
Haller is the Executive Vice President and Global Head of Experian DataLabs. Experian DataLabs is responsible for developing innovative products generated from break-through experimentation leveraging artificial intelligence and data assets from a variety of sources. He led the creation of labs in the US, UK & Brazil that support research & development initiatives across the Experian enterprise. New products developed in the labs cover mobile, payments, consumer & commercial credit, fraud, targeted marketing & healthcare.
Steve Platt
As Group President, Decision Analytics & Data Quality, Platt leads a portfolio of businesses that enable clients to make the most insightful, confident and timely decisions for their customers. Data and analytics are at the cornerstone of those decisions, and Platt is committed to helping clients gain access to unique data assets, enhance them with powerful and predictive analytics, seamlessly integrate them into their operational processes and use them to make each and every customer interaction safe and valuable.
Host: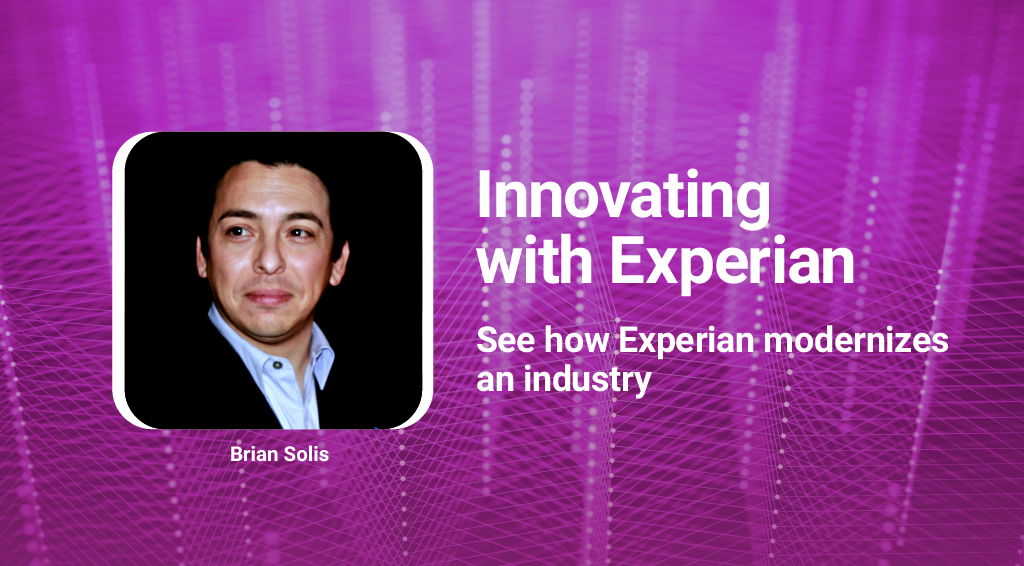 Brian Solis
Solis is a digital marketing analyst, award-winning author and keynote speaker who studies disruptive technology and its impact on business. He is also a digital anthropologist who seeks to better understand how technology affects and shapes behaviors, norms and society.
Through his research and published work, he humanizes disruptive trends to help leaders understand how technology, markets and people are evolving and how to drive innovation and growth. Solis is recognized as one of the most prominent thought leaders in digital transformation, innovation, experience design and digital humanities.