Tips to Help You Improve Your Credit Score
Enter below for a chance to win a $25 gift card!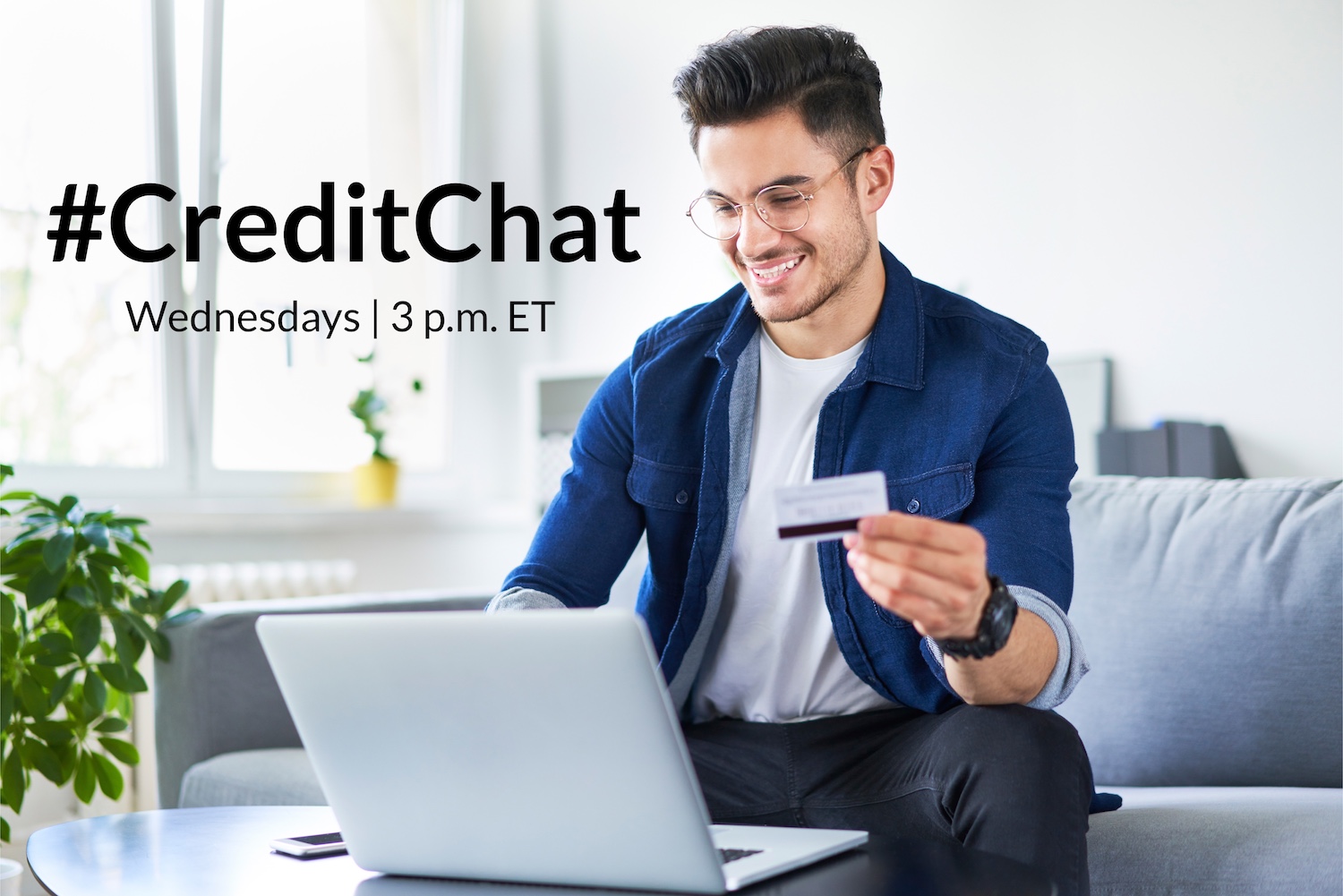 Join our #CreditChat on Twitter on Wednesday, April 10th, at 3 p.m ET. This week, we're talking about ways you can improve your credit score.
Topic: Tips to Help You Improve Your Credit Score
When: April 10th, 2019, at 3 p.m. ET.  
Easy ways to chat with us on Twitter: Tchat
The panel will include: Rod Griffin: Director of Consumer Education and Awareness at Experian; Shashank Shekhar: CEO, Arcus Lending Inc; Miguel A. Suro, Esq.: Owner, RichMiser.com; Lance Cothern: Founder, MoneyManifesto.com; Paul Vachon: Owner, TheFrugalToad.com; Ms. C&CG, who writes under the name Annie Ray: Owner of Personal Finance blog Champagne & Capital Gains; and Kyle: Founder of Millionaire Mob.
Q1: What is a credit score?
Q2: How do you check your credit score and is it free?
Q3: How are credit scores calculated?
Q4: How often do credit scores change?
Q5: What is a good credit score?
Q6: What is the recommended total credit utilization rate?
Q7: Will you be penalized for shopping around for the best interest rate?
Q8: Can you get credit for making utility and cell phone payments on time?
Q9: Do you need to carry a small balance at all times to improve your credit score?
Q10: Any final tips on improving credit scores?
Participants have a chance to win one of two (2) $25 gift cards! To enter, read our terms and conditions below, then complete these tasks:
Credit Chat Sweepstakes
OFFICIAL RULES NO PURCHASE NECESSARY TO ENTER OR WIN. A PURCHASE OF ANY KIND WILL NOT INCREASE YOUR CHANCES OF WINNING.  VOID WHERE PROHIBITED OR RESTRICTED BY LAW. OPEN TO LEGAL U.S. RESIDENTS AT LEAST 18 YEARS OLD ONLY. The Experian Giveaway ("Sweepstakes") is sponsored by Experian Information Solutions, Inc. ("Sponsor"), an Experian company.1) General:  All federal, state and local laws and regulations apply.  Void where prohibited or restricted by law.  By participating in the Sweepstakes, you agree that: (1) you have read and understand the Official Rules; (2) you meet the Sweepstakes eligibility requirements as explained in the Official Rules; (3) you unconditionally accept and agree to comply with and abide by the Official Rules and the decisions of Sponsor, which are final and binding in all respects.  An entrant's failure to comply with these Official Rules may result in disqualification from the Sweepstakes.2) Eligibility:  Sweepstakes open to natural persons who are legal residents of the U.S., 18 years of age or older at the time of entry. Employees, directors and officers of Sponsor and its affiliates, parents, subsidiaries, representatives, licensors, licensees, successors and assigns, and advertising and promotion agencies (together, the "Sponsor Entities") and members of their immediate families (spouses, parents, children, and siblings and their respective spouses, regardless of where they reside), and/or those living in the same household of any of the foregoing, are not eligible. Entrants must have a valid Rafflecopter and Twitter account (or valid e-mail account, for the alternate method of entry described below) to enter. If you do not have a Rafflecopter or Twitter account and you would like to create one for free, visit http://rafflecopter.com or www.twitter.com, respectively, for more details. Registration for and use of Rafflecopter or Twitter is subject to the Rafflecopter and Twitter terms and conditions, respectively. Sponsor Entities have no responsibility with respect to such registration or use. This Sweepstakes is not sponsored, endorsed or administered by, or associated with Rafflecopter or Twitter. 3) Entry Period:  Sweepstakes opens 3, April, 2019 at 3:00 pm Eastern Time ("ET") and closes 10, April, 2019 at 4:00 pm ET ("Entry Period").  All times to be determined by Sponsor's clock. 4) How to Enter: You may enter the sweepstakes in one (1) of the following (2) ways:
Twitter Entry: During the Entry Period, submit your name on Rafflecopter and complete the following tasks: (1) follow Experian on Twitter (Twitter handle: @Experian_US); and (2) participate in the #CreditChat on Twitter with the hashtag: #CreditChat.
E-mail Entry (Alternate Method of Entry): To enter via email, you must send an e-mail to socialteam@experian.com with "Credit Boost Sweepstakes" as the subject of your message and include your full name, date of birth, email address and ten-digit daytime telephone number in the body of the e-mail.
Limit one (1) entry per person during the Entry Period. If an entrant makes or attempts to make multiple entries during any day, week or month of the Entry Period, Sponsor reserves the right to disqualify all entries made by any such entrant.  Use of automated devices and/or third party entry services to enter, and entering by any other means which subvert the entry process, is prohibited. Entrants are responsible for any online or other charges incurred with any Internet service provider and/or wireless carrier.  Other charges may apply (such as normal airtime and carrier charges) and may appear on your mobile phone bill or be deducted from your prepaid account balance.  Wireless carriers' rate plans may vary, and you should contact your wireless carrier for more information on messaging rate plans and charges relating to your participation in this Sweepstakes. Wireless services may not be available in all areas.  Check your device's capabilities for specific instructions. Sponsor Entities are not responsible for late, lost, garbled or misdirected entries or any computer or human error.  Incomplete or illegible entries are ineligible.  All entries become property of Sponsor and will not be acknowledged or returned.  Entrants must be the registered subscriber of the Twitter account, Rafflecopter account or email account from which the entry is made. Each entrant may enter using only one (1) account.  In the event of a dispute as to the identity of an entrant, entrant will be deemed the authorized account holder at time of entry. To be eligible, an entry via Rafflecopter must comply with the following restrictions:
Any text you submit (the "Online Submission") must be your own original creation and must not have been previously submitted or published in connection with any other contest or sweepstakes. In addition, your Online Submission must not infringe any rights of publicity, copyrights, trade secrets, or other intellectual property rights, or any third-party rights.
You acknowledge and agree that your Online Submission will be disqualified if it contains any material that is indecent, obscene, hateful, tortious, defamatory, or libelous, violates any laws or otherwise contain images and/or text which Sponsor in its sole discretion decides is inappropriate or objectionable.
5) Selection of Winners; Odds of Winning:  Two (2) potential winners will be selected, via a random prize drawing conducted by Sponsor on or about 10, April 2019. All prizes will be awarded.  Limit one (1) prize per person.  Odds of winning depend on the number of eligible entries received during the Entry Period. 6) Prizes and Approximate Retail Values ("ARV"):  No more than one (1) prize will be awarded to any person.  Each prize is a $25.00 Cash gift card.  Approximate retail value ("ARV") of prize: $25.00. Total ARV of Prizes (Two (2) $25.00 Cash gift cards): $50.00. Prize awarded "AS IS", "AS AVAILABLE", and without warranty of any kind, express or implied, including without limitation any implied warranty of merchantability or fitness for a particular purpose.  Any warranties on a merchandise prize are subject to the manufacturer's terms and conditions and winner agrees to look solely to said manufacturers for any such warranty claim. All federal, state and local taxes and duties are the sole responsibility of winner.  Prize may not be transferred, substituted or redeemed for cash, except that Sponsor may substitute prize of equal or greater value due to prize availability.  Any item or expense in connection with receipt or use of the Prize, which is not specified above, is the sole responsibility of the winner.  Winner may be required to comply with additional terms and conditions of issuing company to redeem prize. 7)  Winner Notification: Potential winner(s) will be notified by Sponsor via a direct message to their Twitter account ("Private Message") or via email.  If a potential winner does not respond to a Private Message within 48 hours of the notification Sponsor, (ii) the Sponsor's Instagram or Twitter account or e-mail account is blocked from contacting potential winner via Private Message, (iii) the prize or prize notification is returned as undeliverable, or (iv) potential winner cannot or does not respond or accept the prize for any reason, then the potential winner will be disqualified and an alternate potential winner will be selected from all remaining eligible entries received during the Entry Period.  Once a potential winner has engaged in a Private Message communication with Sponsor, Sponsor may send the potential winner additional verification instructions via Private Message, email, postal mail and/or express mail at Sponsor's sole discretion. Potential winner is subject to verification by Sponsor, which reserves the right to disqualify any entrant or potential winner who is ineligible or has violated any applicable law or these Official Rules.  Potential winner is not a winner unless and until Sponsor so determines.  Prize[s] will be delivered to the winner[s] via U.S. Mail to the address provided by winner at confirmation within three (3) weeks of Sponsor's determination of the winner. 8)  Communications/Privacy:  Any personal information collected in connection with the Sweepstakes will be used and disclosed pursuant to Sponsor's Privacy Policy at http://www.experian.com/privacy/index.html except as otherwise stated herein.  Potential winner agrees to receive email communications from Sponsor concerning prize notification.  Winner agrees that his/her first name and last initial or Twitter and/or Rafflecopter username may be used in announcing winner on Sponsor's Twitter and/or Rafflecopter page(s), and for publication, advertising and promotional purposes by Sponsor without further consideration in any media or format now known or hereafter devised, throughout the world, in perpetuity, unless prohibited by law.  Entrants may opt in to receive marketing email updates from Sponsor.  Entrants who opt in agree to receive marketing email updates from Sponsor, unless they later indicate that they do not wish to receive future email updates from Sponsor by opting out as provided in Sponsor's Privacy Policy. 9) Release and Indemnity:  By participating, entrants agree that Sponsor Entities and Rafflecopter and Twitter have no liability or responsibility and are hereby released from any liability or responsibility for any injuries, losses or damages of any kind to persons or property in connection with or resulting from the Sweepstakes or the acceptance, possession or use of any prize.  By participating, entrants agree to indemnify and hold harmless Sponsor Entities and Rafflecopter and Twitter against any claims of liability arising directly or indirectly from the Sweepstakes or the acceptance, possession or use of any prize.  Entrants and anyone acting on their behalf, and their heirs, executors and assigns, hereby irrevocably release, waive and discharge Sponsor Entities and Rafflecopter and Twitter from any and all claims in connection with or resulting from the Sweepstakes or the acceptance, possession or use of any prize.  Each entrant expressly waives California Civil Code § 1542, or any other statute of similar import or effect, that otherwise may exclude unknown claims from this release, as follows: I acknowledge that I am familiar with the provisions of California Civil Code § 1542, which provides as follows: "A GENERAL RELEASE DOES NOT EXTEND TO CLAIMS WHICH THE CREDITOR DOES NOT KNOW OR SUSPECT TO EXIST IN HIS OR HER FAVOR AT THE TIME OF EXECUTING THE RELEASE, WHICH IF KNOWN BY HIM OR HER MUST HAVE MATERIALLY AFFECTED HIS OR HER SETTLEMENT WITH THE DEBTOR."  I, being aware of said code section, hereby expressly waive any rights I may have thereunder, as well as any other statute or common law principles of similar effect. 10) Administration:  Sponsor reserves the right in its sole discretion to cancel or modify this Sweepstakes at any time.  Sponsor is not responsible for incorrect or inaccurate transmission or for any computer or human error, technical malfunctions, lost/delayed data, omission, interruption, deletion, defect, line failures or any telephone network, computer equipment, software, inability to access any website or online service, or any other error or malfunction, or late, lost, scrambled, illegible or misdirected entries, even if the administration or proper play of the Sweepstakes is compromised. If Sponsor suspects or believes that any tampering or technical difficulties may compromise the integrity of the Sweepstakes, Sponsor reserves the right to cancel or modify the Sweepstakes, or void the entries at issue and conduct a random drawing using all eligible entries received.  Sponsor Entities are not responsible for any failure of delivery of notice to potential winners or failure to receive responses from potential winners. If the Sweepstakes is terminated early, notice will be posted at https://twitter.com/experian_us. Any attempt to deliberately damage the content or operation of this Sweepstakes is unlawful and may be subject to legal action. 11) Copies of Official Rules & Winners' List:  For a copy of the winner list and/or these Official Rules, send a self-addressed stamped envelope with your request to Experian Information Solutions, Inc. Experian Boost/Credit Chat Sweepstakes, 475 Anton Blvd., Suite 100, Costa Mesa, CA 92626, Attention:  Social Media Dept.  Vermont residents may omit return postage.  The winner list will be available on Sponsor's Twitter page on or about 10, April 2019. 12)  Disputes:  The Agreement shall be governed by, and construed in accordance with, the laws of the State of California, without regard to its conflict of law provisions, except as to matters relating to arbitration, which shall be governed by the Federal Arbitration Act.  Any dispute with any of the Sponsor Entities arising out of or relating to the Sweepstakes or any prize will be decided only by arbitration, individually and not on a class-wide basis.  Any arbitration will be administered by the American Arbitration Association and will take place in Orange County, California.  The remedy for any claim concerning this Sweepstakes or any prize is limited to actual damages.  In no event shall any party be entitled to recover punitive, exemplary, consequential or incidental damages, or attorney's fees or other costs related to bringing a claim.  Entrants may not rescind their agreement with these Official Rules or seek injunctive or other equitable relief. 13)  Entire Agreement:  This Agreement represents the entire understanding between you and Sponsor concerning the subject matter hereof.  No modification or waiver of the terms of this Agreement shall be effective unless it appears in a writing signed by both parties.  The failure of any of the Sponsor Entities to exercise or enforce any right or provision of this Agreement shall not operate as a waiver of such right or provision. If any provision of this Agreement is unlawful, void or unenforceable, that provision is deemed severable from this Agreement and does not affect the validity and enforceability of any remaining provisions. 14) Sponsor:  The Experian Boost/Credit Chat Sweepstakes is sponsored by Experian Information Solutions, Inc., located at 475 Anton Blvd., Costa Mesa, CA 92626.  Sponsor and this Sweepstakes are not sponsored, endorsed or administered by, or associated with Rafflecopter or Twitter or any other entity (other than Experian) identified with a prize. You understand that you are providing your entry and information to Sponsor and not Rafflecopter and Twitter, or to any entity identified with a prize.
Relevant videos on YouTube: