How Big Data is Changing Public Relations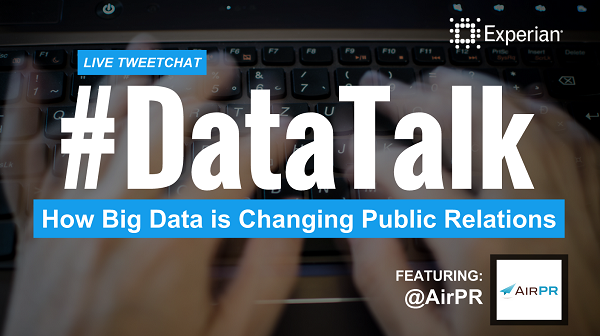 This this week's #DataTalk, we had a chance to talk with AirPR about ways big data can be leveraged for public relations.
Our special guests:
You can learn more about AirPR Analyst at AirPR.com and make sure to check out their musings on public relations and technology convergence at blog.airpr.com.
Our big data tweet chats are hosted by @ExperianDataLab and occur every other Thursday at 5 p.m. ET.
Questions We Discussed:
Q1: What does big data have to do with public relations?
Q2: How is big data changing how PR professionals work?
Q3: What type of data can be leveraged to help PR professionals?
Q4: What are some challenges PR pros have when using big data?
Q5: What should PR pros know about analyzing data? Any favorite tools?
Q6: What are some successful examples of how a PR team leveraged big data for a campaign?
Q7: How can big data help a PR professional adjust messaging and respond to market trends?
Q8: How can big data help a PR professionals tell new stories?
Q9: Any final tips for PR professionals who want to leverage big data?
Storify of the chat: