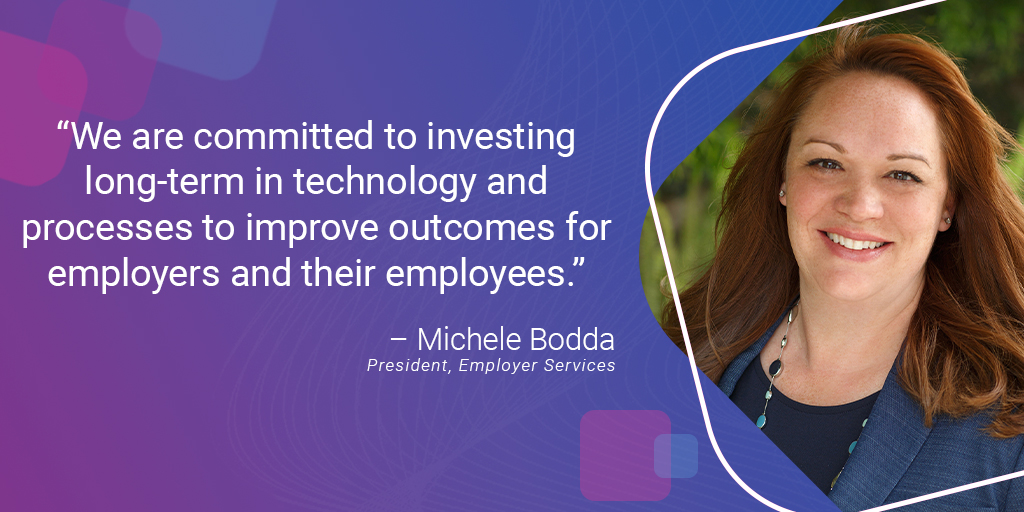 You may have recently seen the announcement of Experian's new Employer Services business. While we have a longstanding history of serving multiple industries, we recognize some may wonder what prompted Experian to enter this space. It may even seem like a means to another end.
In an effort to dispel any preconceived notions, I'd like to highlight what led us to invest in this business, how we plan to address employers most pressing pain points as employees return to work and what the industry can expect from us.
The truth is our clients asked us to enter the employer services market. Employers have been seeking alternatives to legacy services. They've been asking to have a company of Experian's scale and capabilities fill in the gaps, invest in innovation, and provide high-touch customer support.
Essentially, our goal is to deliver on their ask and be an indispensable partner to employers across the U.S. Here are three ways we are bringing this vision to life:
1. The industry's best and most trusted providers are now part Experian.
A critical piece of our strategy is to bring together the best the industry has to offer. We have a solid track record when it comes to acquiring companies who disrupt industries with innovative solutions to difficult problems. So, we scoured the market to identify companies that would allow us to provide unmatched human capital management expertise.
Through our acquisitions of Emptech, Corporate Cost Control (CCC), and Tax Credit Co. (TCC), I am confident we have assembled the best-of-the-best.
Individually, each company has a trusted reputation for providing unmatched service to some of the most recognizable brands. As we come together, we are leveraging our combined capabilities to deliver secure, scalable and transparent services to even more businesses. We can assist employers across industries with streamlining complex and time-consuming Human Resources activities and support their finance team's tax credits processes, through services including:
Electronic I-9 verification management
Unemployment claims management
Employment and income verification fulfillment
Tax credits and incentives management, including Work Opportunity Tax Credits (WOTC)
Ultimately, we are helping employers turn workforce management into a competitive advantage by improving candidate and employee experiences, safeguarding employee information and maximizing the benefits of various tax credits programs. By leveraging our experts, our clients can spend more time focusing on their people.
2. Our services are backed by high-touch customer service and powered by industry-leading innovation.
While we are rightfully recognized as the largest credit bureau in the country, I've personally seen our business grow over the past 20 years into something much more than a credit bureau. We are a global technology company and market leader in business insights and analytics, focused on empowering consumers. We invest heavily in innovation across a wide spectrum of industries, and we are committed to investing long-term in technology and processes to improve outcomes for employers and their employees. In fact, Experian has been recognized as one of the most innovative companies in the world by Forbes for several years – for our work in all of the industries we serve.
At the same time, our services are delivered with the highest standards of data privacy, accuracy, security and transparency. Our clients will always know how their data is being used and how it benefits their employees.
Our business continues to evolve to deliver world-class services for our clients and consumers. We're bringing this same innovative mindset and focus to meet the evolving needs of employers.
3. We're "All In" on Employer Services.
While we recognize the employer services space was ripe for innovation long before the pandemic, the ensuing stay-at-home orders, rising unemployment, reemployment and legislation changes created a perfect storm for employers, Human Resources and finance professionals. We're facing an entirely new set of workforce challenges today.
Whether you need unparalleled unemployment claims management, tax credit expertise, verification of income and employment reliability and transparency or work eligibility certification, we're here to bring the best Experian has to offer to help and we're going all in.
Our promise is that we will listen to our customers to understand their unique needs and invest to provide the capabilities and high-touch service tailored to best serve them. We know employers need a partner they can trust, who is focused on their business and their employee's experience and who will bring new ideas to the table on managing a complex workforce in this ever-changing environment. We have the teams in place with deep expertise to tackle the toughest challenges.
We're thrilled to be here, and we're committed for the long-term.
You can learn more about our Employer Services business by visiting www.experian.com/employer-services.