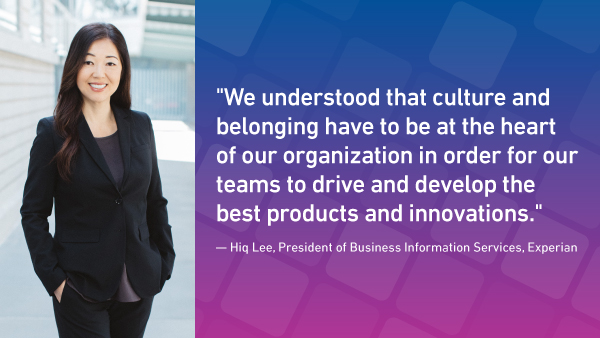 At Experian, we strive to be an organization where everyone can bring their whole selves to work and we're committed to having a positive inclusive culture.
Hiq Lee, president of Experian's Business Information Services, has been a key leader in driving our diversity, equity and inclusion efforts. We are thrilled to share that The Council for Inclusion in Financial Services is recognizing her work, honoring her with this year's Trailblazer Award.
The award recognizes demonstrated excellence in establishing new and creative Diversity, Equity and Inclusion (DEI) initiatives that are influencing transformation in the recipient's industry and their communities. Also serving as Experian's Diversity and Inclusion Executive Co-Chair, Hiq has been instrumental in establishing many of our employee resource groups and the leadership collective that continues to evolve the way we celebrate our diversity.
Hiq shares how we celebrate DE&I every day:
What is Experian doing to ensure a positive work environment for employees?
In 2017 we started our Power of You movement to raise awareness about Experian's efforts in diversity, equity and inclusion and provide employees transparency into the initiatives that are part of the program. Subsequently, we advanced policies across a wide range of initiatives such as pay equity, paternal leave, flexible working arrangements, and corporate social responsibility to help employees feel empowered to work at Experian.
Then in 2018, we launched Employee Resource Groups (ERGs), which are company-supported networks run by employees, which create a strong sense of community and connection. All of our ERGs have a core set of objectives that describe the positive impact they focus on making. As of today Experian has eight active ERGs, which focus on Military Veterans and Patriots, the African American community, the Asian community, the Latinx community, the Indian community, the Experian Pride Network, Women, and individuals with disabilities and mental health & well-being.
Corporations and their DEI efforts are under a microscope today, and many of those efforts can be seen as uniform across all major companies.
What sets the ERGs at Experian apart?
Experian ERGs were formed to provide tangible support to our employee base by strengthening the feeling of community and belonging across our organization. At Experian, we realize that digital transformation is human transformation. We understood that culture and belonging have to be at the heart of our organization in order for our teams to drive and develop the best products and innovations. We genuinely embrace a culture where everyone has a true sense of belonging, knowing they can show up every day and be who they are, professionally and personally. We work hard to create an environment where everyone is comfortable bringing their whole self to work, regardless of differences and backgrounds. It's about advancing a culture that not only respects differences, but actively celebrates them.
What are the most essential contributions someone who is spearheading DEI initiatives at their company can make?
The key is empathy and a profound desire for elevating the communities we work and play in. There are several essential components to trailblazing DE&I efforts, including an affinity for change and passion for embracing cultures outside of one's own. There's also a significant importance in engaging employees at all levels of management. At Experian, we operate in 44 countries around the world and aim to emphasize and highlight the unique experiences and perspectives in our employees' own words, describing their experience as members of an organization that values and celebrates diversity and inclusion.
What does this award mean to you and your role at Experian?
I'm humbled by such recognition as there's always so much to learn and so many perspectives through which we can assess the world around us. This award is special because I've invested time and energy into creating more equitable and diverse spaces, not only at Experian but also in my community. Our teams are committed to creating opportunities for small businesses and consumers to succeed. We know that having a diverse team only helps further that mission.
What are your most important values as a leader?
The leaders who I have come to respect and look up to have a few principle values in common. Those values are grounded on integrity, authenticity, nonjudgmental and empathy. I also believe it's important that leaders genuinely have passion for their team and are whole heartedly dedicated to helping their team's development. These values will help influence shaping our inclusive culture where people can thrive and feel amazing coming to work every day, charged and ready to go the extra mile for their leaders.