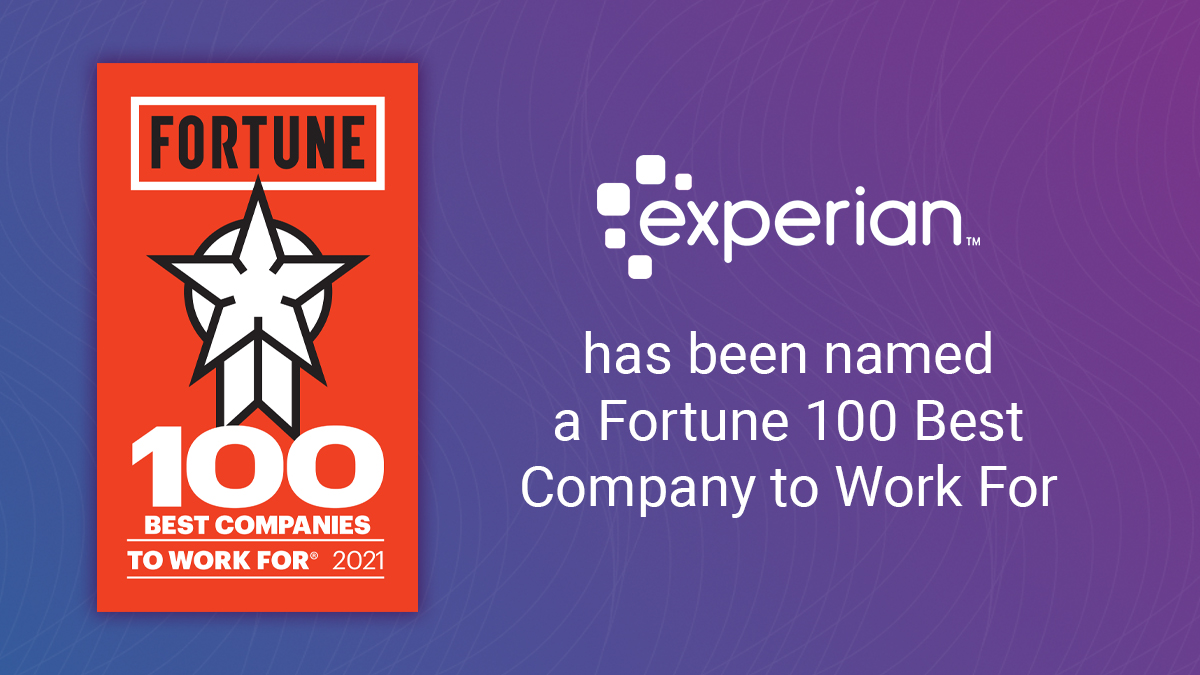 During a year of the pivot, Experian North America remained focused on our purpose: Creating a Better Tomorrow. It's not just a marketing tag line. It's the lens through which we care for our employees, and how they in turn fuel innovations to serve our communities when they need help the most.
That's why this year's 31 ranking in the Fortune "100 Best Companies to Work For" is so incredibly meaningful. For this year's national award, two elements were considered: confidential employee feedback and the programs companies created to support people and communities in response to COVID-19.
The employee surveys were distributed last summer, in the thick of pandemic restrictions and lockdowns. All around, we saw improvement: 50 percent of employees responded to the surveys (compared to 43 percent the year before), and 92 percent of employees attest that Experian is a Great Company to Work For (compared to 86 percent the year before).
We've worked hard to build an employee culture over the past several years that continuously strives for inclusion and equity. This foundation became instrumental to how we navigated the past twelve months.
Our employee resource groups took the lead to support our colleagues with the creation of a dynamic mental health and well-being guide, producing programs that brought awareness and support during social unrest and the rise in racism, and arranging annual celebrations to provide a touch of "normalcy." Through a year that also included natural disasters such as the arctic blast, wildfires, storms and flooding, we have been there for each other.
From free credit reports for consumers and small businesses, to products and services that enable governments, healthcare providers and nonprofits to prepare for and serve populations in crisis, Experian North America's workforce leveraged diversity of perspectives, backgrounds and experiences to help vulnerable populations in crisis from COVID-19. Even through lockdowns and restrictions, employees logged 18,000 volunteer hours to increase financial inclusivity, support frontline healthcare workers, honor the nation's military and veterans, and fight hunger.
The Human Rights Campaign Foundation gave Experian North America a perfect score in its Corporate Equality Index for the third year in a row, and the company earned its recertification as a Great Place to Work. It has been named one of the top 10 Fortune's Best Workplaces in Financial Services and Insurance, and a Comparably Top 50 company for Best Outlook 2021. Experian Costa Rica, part of our North America region, also earned Great Place to Work honors for the third year in a row.
Our purpose runs deep. We put our people at the heart of how we run our business and it guides how we serve our consumers, clients and each other. We will continue this momentum of the 2021 Fortune 100 Best Companies to Work For by helping to drive financial inclusion and equity, growing our business through innovation, and creating opportunities for our coworkers to thrive and build meaningful careers.