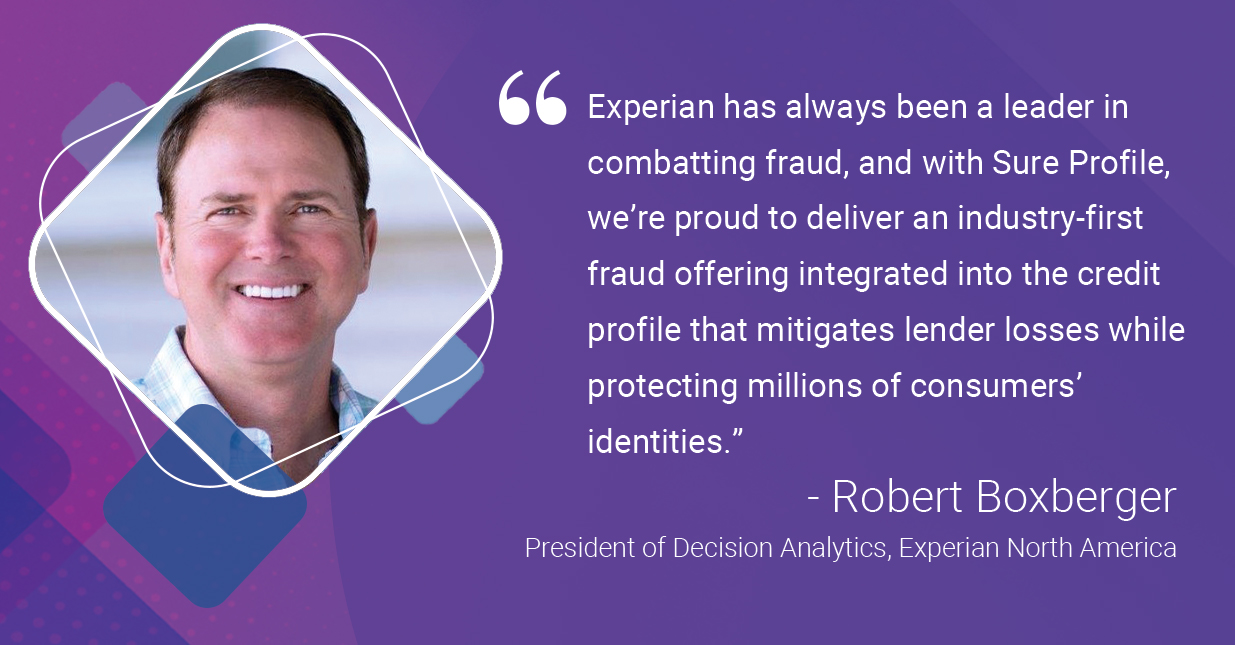 To combat a growing threat that's expected to drive $48 billion in annual online payment fraud losses by 20231,  Experian®  has announced the launch of Sure Profile™. Experian is the first company with an offering to combat synthetic identity fraud that is integrated into the credit profile with market-leading assurance. We are proud to be the first in our industry to actually put "skin-in-the-game" by sharing in fraud losses with our clients if the losses occur on assured profiles. 
Experian's new offering validates consumer identities, detects profiles that have an increased risk for synthetic identity fraud and helps cover losses resulting from synthetic identity fraud for assured profiles.  
Leveraging the capabilities of the Experian Ascend Identity Platform™, Sure Profile utilizes Experian's industry-leading data assets and data quality to drive advanced analytics that set a higher level of protection for lenders. Powered by newly developed machine learning and AI models, Sure Profile offers lenders a streamlined approach to define and detect synthetic identities early in the originations process.  
Experian's Sure Profile differentiates between real people and potentially risky applicants, so lenders can confidently increase application approvals with less risk.   
We expect to authenticate most credit applications through Sure Profile. In the cases where the identity can't be assured, the company will deliver additional fraud risk indicators, so that lenders can take the right next steps to verify the potential borrower's identity and prevent fraud. 
To date, detecting synthetic identities has been a significant challenge for lenders because there's not an industry standard or a single definition that can be used to establish the legitimacy of an identity. In addition, understanding the financial impact of synthetics has been difficult for lenders as losses tied to synthetic identity fraud are typically categorized as defaults or "bad debt." With Sure Profile, we are reinforcing our position as a leader by creating a standard set of criteria to define a synthetic identity.  
Experian has always been a leader in combatting fraud, and with Sure Profile, we're proud to deliver an industry-first fraud offering integrated into the credit profile that mitigates lender losses while protecting millions of consumers' identities. Our investments in innovation, AI and machine learning and our data quality are enabling us to lead the way in identity protection and help protect consumers and lenders alike.