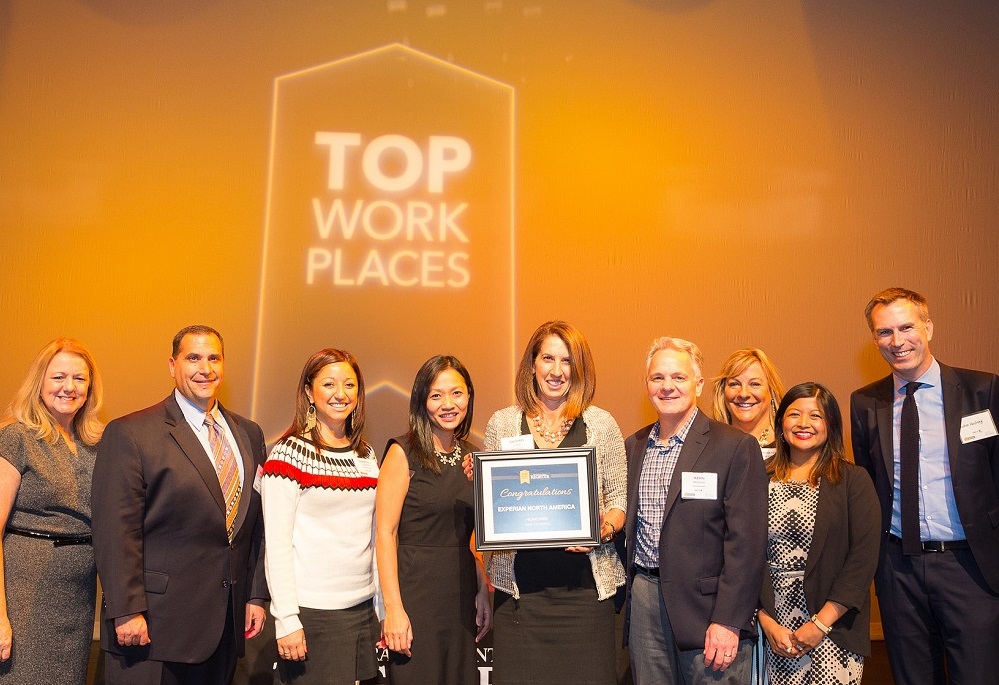 Experian is honored to be among a select group of companies recognized by the Orange County Register as among the best places to work in Orange County, California. This is Experian's fourth year participating in the TopWorkplaces survey and the fourth time we've been recognized as a TopWorkplace. We're very proud to be among this select group of companies, achieving continual recognition for our positive business culture.
Over each of the past four years, Experian's position on the list has continued to rise, and it's a cause for real celebration across our workforce of nearly 1,300   people in Orange County when the rankings are announced.
We believe this is a reflection of the true passion and commitment the people of Experian demonstrate in our business every day in our efforts to better serve consumers and businesses.
On a personal basis, I started with the business nearly 40 years ago, when the company was known as TRW Credit Data, headquartered in Anaheim. And I've watched the business grow from the simple concept of credit reporting to what is now an incredibly complex and powerful global business that powers opportunities by understanding how to make information and technology work for the benefit of consumers, businesses and the communities in which we operate.
Experian's employees realize that what we do impacts the lives of millions of people every day. Lenders rely on our information and technology to make decisions about extending credit to people millions of times every day, which means we're enabling people to buy cars, get mortgages and fulfill their dreams of home ownership, pay for college educations, and fund the development of small businesses. After all, it's access to affordable credit that underpins the development of all economies, and on a global basis, Experian is there to help. We are very proud of what we do and we're equally proud of how we do it.
We also realize that we have a responsibility to actively participate and contribute to our communities.  Across the globe, we refer to our community engagement programs as "the Heart of Experian," it's central to the passion and commitment the people of Experian feel about the company.
Our employees are strongly incentivized to be engaged in community support efforts, and Experian provides ample opportunities for employees to volunteer time and money to support local food banks, raise donations for organizations like Children's Hospital of Orange County and Susan G Komen For the Cure. We work with individuals in homeless shelters to help make them credit worthy to be able to afford to move into housing.
We're also committed to continuously searching for top-level talent to bring to Orange County to support our business. Our senior leaders participate in the advisory councils of major universities, including University of California Irvine, and our recruiters travel to universities throughout the United States searching for some of the brightest minds to join us.
As I see it, it's easy for business leaders to make throw away comments such as "our employees are our greatest asset." In today's highly competitive world, it is essential that businesses do more than say, but rather treat all employees as their greatest asset.
Companies build the atmosphere to treat employees as their greatest asset by providing challenging work and vexing problems to solve, the best training and development available, opportunities for career development and progression, a healthy respect for diversity, and a reward systems that recognizes every individual's contribution to the success of the company.
Experian's mission oriented environment is one that attracts and retains top talent in Costa Mesa, as well as our other locations across North America. Our employees are committed to helping to create better tomorrows in our communities through corporate social responsibility activities, and through our everyday work and business purpose.
Peg Smith is Executive Vice President of Investor Relations
Photo of Experian employees accepting the award courtesy of the Orange County Register.