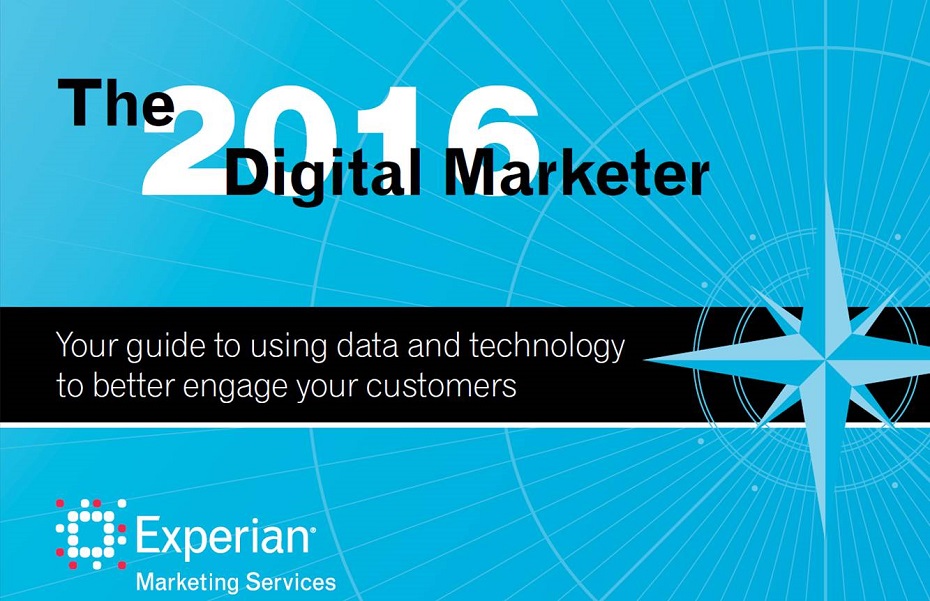 Experian Marketing Services released its 2016 Digital Marketer Report. The eighth annual study reveals the challenges, priorities and other key issues impacting marketers worldwide. This year, the top challenge marketers faced also is their top priority: knowing their customers' needs, wants and attitudes. Thirty-eight percent of marketers cited knowing their customers as their top challenge in 2016, and 52 percent named enhancing their customer knowledge as one of their top three priorities.
Other top challenges indicated by marketers include increasing visibility over competitors and staying ahead of new marketing trends. The integration of technology and collecting, linking and managing data also were key priorities.
"The future of marketing is being driven by sophisticated, channel-agnostic consumers who expect exceptional experiences every time. This reality poses a real challenge for organizations, as consumer intolerance for mediocre brand interactions puts more pressure on brands to leverage their data and technology," said Ashley Johnston, senior vice president of global marketing at Experian Marketing Services. "Today's brand marketers realize the significance of knowing their customers, but it's still problematic. Our research found that regardless of the company size or industry, marketers around the globe still find this to be a top challenge."
Findings from the study will be explored in detail during a live Webinar on April 13, 2016, which will include an insider look at how Publishers Clearing House has overcome data and technology challenges to center its marketing programs on the customer. Webinar attendees will receive an exclusive Digital Marketer cheat sheet that highlights the report's top statistics.
To reserve your spot for the Webinar, sign up at https://www.experian.com/marketing-services/digital-marketer-report.html.
Experian Marketing Services surveyed more than 1,000 marketers worldwide to identify the biggest opportunities and challenges for marketers around the world. The annual report benchmarks the key issues that brands face as they try to engage audiences with relevant messages in an often complex digital environment. Additional findings of interest from the 2016 Digital Marketer Report:
Eighty-one percent of marketers report challenges in achieving a single customer view
Enterprises cite making messages contextually relevant as their top challenge
Seventy percent of respondents work in marketing teams that are integrated either fully or somewhat, up from 61 percent in 2015
Personalization helps achieve a 158 percent increase in click rate
Sixty-six percent of marketers plan to implement predictive modeling over the next year and 68 percent plan to run mobile campaigns
Eighty-six percent of marketers build segmented audiences for paid advertising
"Now in its eighth year, the Digital Marketer Report contains key insights and trends that thousands of marketers have come to rely on every year," added Johnston. "Our research and analysis focus on the areas we anticipate being the most impactful for marketers moving forward — particularly for brands that are committed to surprising and delighting their customers with every interaction."
The full 2016 Digital Marketer Report can be downloaded here: http://go.experian.com/dm16report.
Past editions of the Digital Marketer Report have been recognized with awards such as the Killer Content Award (Demand Gen Report) and Stevie Award® (American Business Awards).