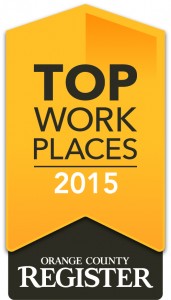 The Orange County Register recently recognized Experian as one of the Top Workplaces among hundreds of leading companies in Orange County for the third year in a row.
In addition, we were recognized for our efforts to make our communities better, earning a separate award as the top large business for Social Responsibility.
This was based on Experian contributing more than 4,000 hours in volunteer time to various charities, including our work with Big Brothers Big Sisters of Orange County, volunteering time at 25 high schools and providing counseling and help at the OC Rescue Mission.
The selection process is based solely on employee feedback gathered from a survey. This methodology is important because it reflects what our employees think of Experian. It shows that we're more than just a place where people work, rather we're a community where our team members take pride in contributing.
"Every day, our team members go to work with the aim of helping more people achieve their financial goals like buying a home, or helping businesses make better informed decisions through smart analytics," said Experian North America CEO Craig Boundy. "Every day, we're driven to find new ways to use data for good, because corporate social responsibility lies at the heart of Experian."
We promote a culture of community volunteerism.  Last year, Experian employees contributed thousands of hours in volunteer time for our North American philanthropy partners, while raising and donating nearly a million dollars.
For example, we provide credit education to people struggling to overcome a legacy of homelessness as part of our data for good mission.  We do this by working with the Orange County Rescue Mission, an organization that provides a host of potentially life-changing services: on-campus housing, drug rehab, counseling, parenting and life skills classes, and job search training.
We also partner with the nonprofit American Student Assistance to provide support to recent graduates and students managing their student loan debt. We do this by offering our Credit Educator product at no charge to students, graduates and their parents who have been in touch with ASA and who need information about their credit and how their student funding decisions can affect their future creditworthiness. Social responsibility is at the very heart of Experian – and something that we encourage.
"This third consecutive award recognizing us as a Top Workplace in Orange County reflects that our focus on professional development, a positive environment, and opportunities to contribute to our communities is well-received by our team members," said Boundy.
Experian employees continue to make a difference in the Orange County community, which we have called home for more than 40 years. We're proud that the Orange County Register continues to view Experian as a Top Workplace.