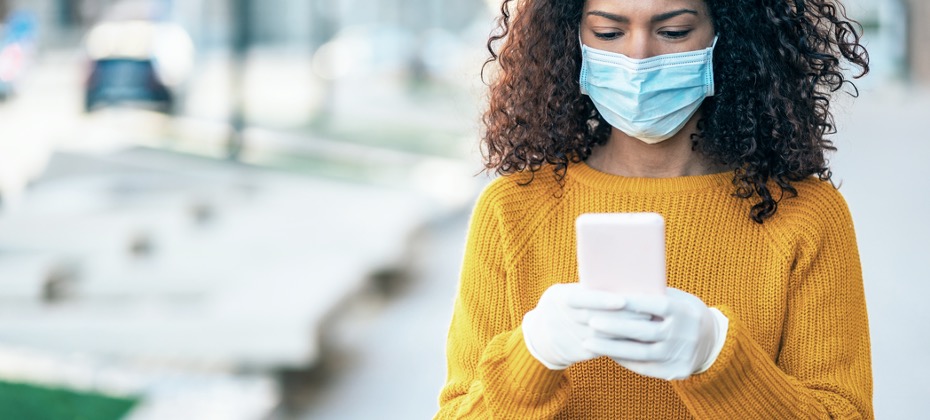 The delta variant is still surging – and flu season is about to begin. How can healthcare providers leverage innovative technologies to streamline care and prepare for a potential "twindemic?"
The summer of 2021 has not been kind to healthcare professionals.  After a brief period of hope that the worst of the COVID-19 epidemic was over, the delta variant started its march across America, flooding hospitals and physician practices with a new wave of seriously ill patients. Autumn and winter look like they might be trouble, too, as delta joins forces with the seasonal flu to form a potential "twindemic." After a mild season in 2020, many experts are predicting that the flu will reemerge with a vengeance this year as people return to in-person work and school.
The combination of the two illnesses could easily overwhelm providers who aren't prepared with technologies and workflows that allow them to serve patients efficiently and remain responsive to fluctuating demands. As providers look to navigate the coming months, they will need to make sure that they have self-service tools in place to keep patients safe and relieve strain on staff.  With a few key digital solutions, resources can be maximized, unpredictable patient volume can be managed effectively, and difficult circumstances won't slow down operations.
Online self-scheduling can improve experiences for patients and staff
Online self-scheduling is in high demand because it provides flexibility. patients want to move on with their busy lives without having to sit on hold with a representative. In Experian Health's recent survey, the State of Patient Access 2.0, more than seven out of ten patients wanted to take the appointment-making process into their own hands, citing the speed and convenience of choosing their own appointments.
Providers and physician groups appear eager to oblige.  More than 70 percent of providers responding to the survey stated they are planning to offer online appointment tools to improve experiences and manage complex operations as the pandemic continues.
The benefits for providers are significant.  Online self-scheduling can measurably reduce administrative burdens on staff, allowing practices to reallocate their people power to other high-priority tasks. Giving patients the tools to make appointments may also help to reduce patient no-show rates, which can drain billions of dollars each year from provider organizations. Using self-scheduling tools, patients with transportation issues or concerns about exposure risks may be able to opt for telehealth visits, as opposed to unplanned visits to urgent care centers or the emergency department. This can help protect other consumers and staff from illness while allowing them to manage their own calendars.
Mobile patient registration keeps patients safe from exposure during a "twindemic"
Shifting patient registration from the clinic to the home can also be beneficial for patients and providers.  When patients fill out new forms or update existing information in person, they increase their exposure risk by staying in the waiting room longer than necessary.
In contrast, a digital registration accelerator solution offers a quick, touchless, and convenient intake experience on the patient's own mobile phone.  Patients can complete the process in their homes (where they are more likely to have all their personal information at hand), or in the parking lot while waiting for clearance to enter the building.
On the provider's side, automating patient intake improves operational efficiency and avoids errors that come from illegible handwriting and verbal information communicated through masks and plexiglass.  Data integrity algorithms and real-time feedback for patients can correct mistakes quickly to ensure high accuracy of patient data – a crucial competency for treatment and reimbursement.
Patient portals boost convenience, communication, and security
As providers prepare to battle two illnesses instead of just one, practices shouldn't forget to leverage one of the most important parts of the digital arsenal: the patient portal. Portals are instrumental for staying connected with patients, particularly with the 40% of patients who skipped medical care in the early months of the pandemic. As a complement to necessary in-person care, patient portals offer a convenient way to communicate with providers, complete administrative tasks, and access personal health information at their leisure.
Providers must be certain, however, that their portals don't become avenues for medical identity theft.  Healthcare organizations must maintain tight security policies that simultaneously deliver an optimized patient experience. A patient identify-proofing and authentication solution that automates patient portal enrollment while adhering to the high standards of HIPAA and other industry requirements is key.  Solid security can reassure patients that sharing digital health information with their trusted providers is safe – fostering more open relationships and leading to better care.
Hopefully, fears of a "twindemic" will fizzle as communities continue to take sensible precautions against the spread of COVID-19.  However, if the flu does roar back into life, providers must be prepared. Self-service technologies and robust security measures can safeguard practices against the strain of higher-than-expected patient volumes and supporting the continued delivery of high-quality patient care.
Learn more about how Experian can help your organization incorporate these new technologies and prepare for a potential "twindemic."
Contact Us