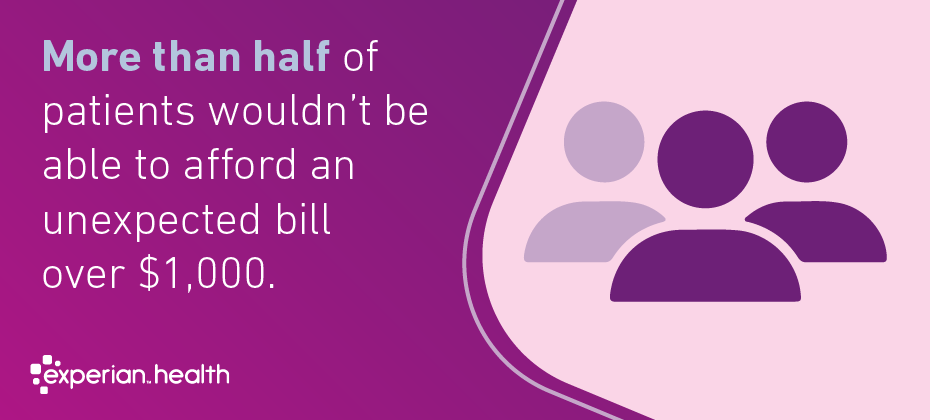 Imagine being able to offer your patients a financial experience that doesn't stress them out. That makes patient billing quick and simple. That knocks off a few minutes from each patient registration. And that even boosts your revenue.
These are just some of the benefits attendees at last week's Cerner Health Conference were considering as they discussed opportunities for faster innovation, smarter working and transformation in the future of healthcare technology.
When it comes to working smarter, attendees seemed to agree that one aspect of the healthcare experience comes out top for providers and patients alike: the cost of care.
This is especially true because patients are increasingly responsible for paying their healthcare costs. And since the way services are reimbursed is constantly changing, patients are often left in the dark about how much they'll have to pay, or how they'll be able to afford it.
Patients are struggling under the weight of financial burden
We know this can have serious implications for their physical, emotional and financial health. A recent survey by the Nationwide Retirement Institute showed that as many as one in three patients aged 25-45 are delaying medical care because they're worried about the cost, instead keeping their fingers crossed and hoping that the issue will disappear by itself. A third shop around for better prescription prices, with many not taking their meds as often as instructed in order to save money. More than half of patients wouldn't be able to afford an unexpected bill over $1000, while a staggering 530,000 families are bankrupted by medical costs every year.
Healthcare providers often end up bearing the burden of uncompensated care, or waste valuable time and resources working to uncover missing or undisclosed coverage. Either way, all this wrangling for payment has a major impact on the organization's bottom line as well as the patient financial experience.
To tackle some of these challenges, we've teamed up with Cerner® to support healthcare organizations to provide more compassionate and convenient billing practices. At last week's conference, we launched the Cerner Consumer Financial Engagement suite, a newly embedded experience within Cerner's Consumer Framework that will optimize the billing process for both patients and providers, powered by Experian® data.
3 ways the Cerner Consumer Financial Engagement suite can optimize your patient collections
One of the biggest pain points for patients when it comes to managing their healthcare bills online is needing to switch between different systems for different administrative tasks. This new partnership will let patients who use the Cerner Consumer Framework access and manage all aspects of their online healthcare account in one place, creating a more convenient financial experience.
The new tool will help providers improve patient collections in three ways:
Smarter patient engagement
When you have insights into your patients' financial circumstances and propensity to pay, you can make more informed decisions about how to approach collections and get them on the right program from the start. Using Experian's industry-leading datasets, providers will be able to use the Consumer Financial Engagement suite to spot patients who may benefit from alternative payment plans or financial assistance and make personalized offers that are compassionate and relevant.
Giving patients a one-stop-shop for managing bills
Patients are coming to expect a better experience – similar to what they might see in online retail and financial services. When it's easy for them to settle their bills, they're more likely to conclude their healthcare journey on a positive note and feel reassured about sticking with your organization the next time they need care. With an all-in-one patient dashboard showing current billing information, insurance deductible status, transparent cost estimates and tools to activate pay plans or financial assistance, the Cerner Consumer Framework creates a frictionless and transparent billing experience, leading to fewer late or unpaid bills and more satisfied patients.
Simple and efficient collections
When it comes to payments, proactive communication can help ward off some of the sticker shock that comes with unanticipated treatments and bills. The new financial engagement tool uses a simple interface that makes medical billing clear and quick for patients. When consumers aren't put-off by the technology, they'll be more likely to act promptly to get billing out of the way. In addition, providers will be able to add their own branding, so the patient experience is consistent from start to finish.
Creating a positive patient financial experience powered by reliable data
In today's climate of increasing costs, big data and healthcare consumerism, data and analytics are now the driving force behind an efficient revenue cycle. Person-centered healthcare services that prioritize quality and patient outcomes should be a given, but the financial experience is an integral part of the total equation. This is especially true when we consider that the three biggest pain points for consumers during their healthcare journey are all related to payments!
Learn more about how data-driven technology, such as the new Cerner Consumer Financial Engagement suite, can help you offer patients a better financial experience and optimize revenue at the same time.