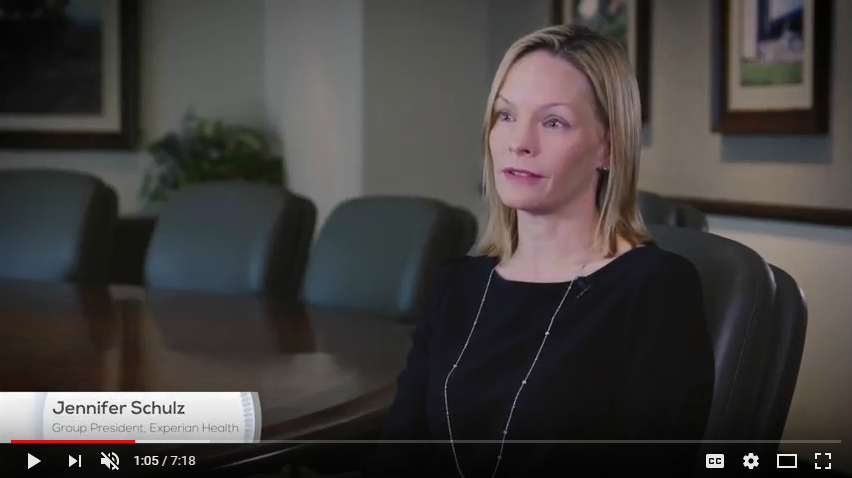 As the health industry faces extraordinary changes, how can leaders better drive efficiency and optimize resources?
Recently President for Experian Health, Jennifer Schulz, sat down with The Business Debate to answer this pressing question. In short, the best way to get there is to turn to data-driven technology.
In this interview, Jennifer touches on some of the main barriers to efficiency in health systems: Patient financial payments and identity management. Here are some excerpts from her interview. To watch the video and read Jennifer's editorial, please click here.
Patient financial payments and price transparency
"The use of technology in healthcare is slim. When a consumer in a retail experience or a financial service experience uses their mobile device, or goes online, that experience doesn't translate into healthcare. Experian Health is very focused on improving the transparency of healthcare from a financial perspective. We've launched things like patient estimators because there's no other large purchase you make in your life that you don't know what you're about to buy. And healthcare, for the most part, this all happens after the transaction, and that type of transparency in healthcare can come with the use of technology."
Universal patient identification
"Another issue is identity isn't the same when you go from system to system. Every hospital, every provider looks at you as an individual, and puts a number associated with you. That number is within their system only, and so you may go across systems, but there is no view of identity. One of the solutions we've launched here at Experian Health is the universal identity manager, and we're offering that with no charge to our clients because we think identity is the one key to provide transparency across systems."
As we have done for other industries, Experian is at the forefront of bringing this type of consumerism to healthcare. Through our data assets and technology, we empower our clients to connect with consumers through a tailored approach that is personalized along the patient journey.
To learn more, visit www.ExperianHealth.com.