The world of business is always percolating with new opportunities, especially with the recent surge in small business ventures. But with these fresh beans come some not-so-sweet flavors: the bitter taste of B2B fraud. It's time we ground out the details and brewed some solutions. ☕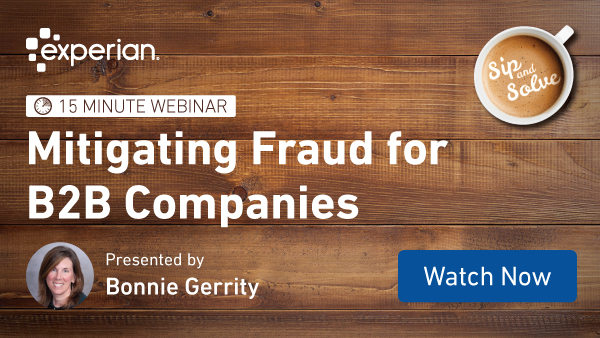 Join us Thursday, September 28th at 10am for 15 delicious minutes.
Mitigating Fraud in B2B Companies
Date: Thursday, September 28th, 20233
Time: 10:00 a.m. (Pacific) 1:00 p.m. (Eastern)
Don't be latte to the game! Join us for a piping hot 15-minute Sip and Solve session where our very own Bonnie Gerrity will whisk you through the murky world of mitigating fraud for B2B accounts. This is not your regular espresso shot; it's a rich blend of data, industry trends and robust strategies.
What's Brewing?
Operational Challenges and Unexplained Losses
Every business has its grinds. We'll discuss how to filter out common operational challenges leading to unexplained losses in B2B companies. Learn how to brew a smoother operational strategy.
A Taste of Different Fraud Types
There's a whole menu of fraud types affecting the B2B market. From the Americano-sized scams to the full Venti deceptions, we'll sip through each one.
Layering Predictive Tools
A latte has layers, and so should your fraud prevention strategy. Discover how to layer highly predictive tools to ensure that service to your B2B accounts is as smooth and froth-free as your favorite coffee.
Closing Sip: Experian's Blend for Success
Just as every coffee lover has their preferred blend, Experian offers tailored commercial solutions to mitigate B2B fraud.
Just like a well-brewed cup of coffee is essential to kick-start your day, a strong understanding and strategy against B2B fraud is vital for your business. Don't let fraud leave a bitter taste. Get equipped, stay informed, and ensure your business runs on the right kind of beans.
Join our Sip and Solve session and let's roast fraud out of B2B. ☕🔍