Credit Score Management Strategies #CreditChat
Join us on Twitter and watch the live video chat at 3 p.m. ET:

Join our #CreditChat on Twitter and YouTube every Wednesday at 3 p.m. ET. This week, we're excited to chat with @NerdWallet.
Topic: Credit Score Management & Debt Consolidation

When: Wednesday, December 17 at 3 p.m. ET.
Easy ways to chat with us on Twitter: Twubs or Tchat
Join us on Twitter by using the #CreditChat hashtag – and tune in to the discussion on YouTube. We'll be featuring favorite tweets during the video hangout. The video panel will include: Jelena Ewart – General Manager of Financial Products at NerdWallet,  Kevin Yuann – Director of Credit Cards at NerdWallet,  John Ulzheimer – Author and Nationally Recognized Credit Expert at CreditSesame.com, Rod Griffin – Director of Public Education at Experian, Mike Delgado – Experian and more.

We will embed the live streaming video on this page during the chat.
Questions we'll discuss:
Q1: Why is credit important? Do credit scores really matter?
Q2: When is the last time you checked your credit? How often should you check?
Q3: Why is it important to check your credit report often? What should you look for?
Q4: What steps should you take if you find a mistake on your credit report?
Q5: What are the biggest factors that can damage your credit?
Q6: Does it hurt your credit to see a credit counselor? Debt consolidation company?
Q7: What are ways to establish credit? Any advice for parents to help their kids?
Q8: If you think you might be a victim of identity theft, what should you do?
Q9: Any final tips for those looking to build or rebuild their credit?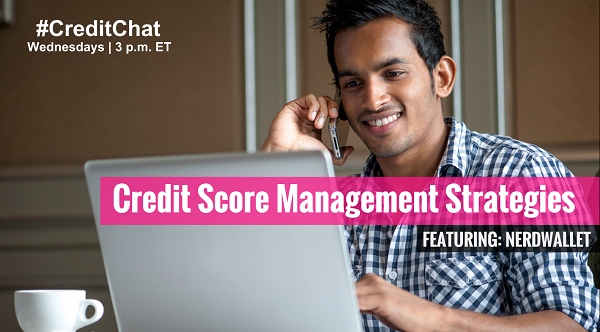 Recent Chats on YouTube & Twitter