It's that time of the year again; the time of sharpening pencils, meeting new teachers and buying new supplies. It's the back-to-school season, and parents and kids from kindergarten to college are preparing to begin the new year.
At Experian Marketing Services, we've been watching the online behavior of back-to-school shoppers through our online intelligence tool, Hitwise®, and compiled three of the biggest trends we're seeing from this season:
1.       Searches have increased
Searches for "Back to School" this year are higher than last, which aligns with estimates from the NRF that shoppers will be more engaged in the category this year. In 2013, we found that back-to-school searches peaked in mid-August, and that will likely be the same this year as many school districts in the U.S., particularly those in the Midwest, have already sent their kids back to school. And while overall searches should be on the decline from here until the end of the season, there are many regions of the country — such as those where school starts after Labor Day — where back-to-school is still heating up.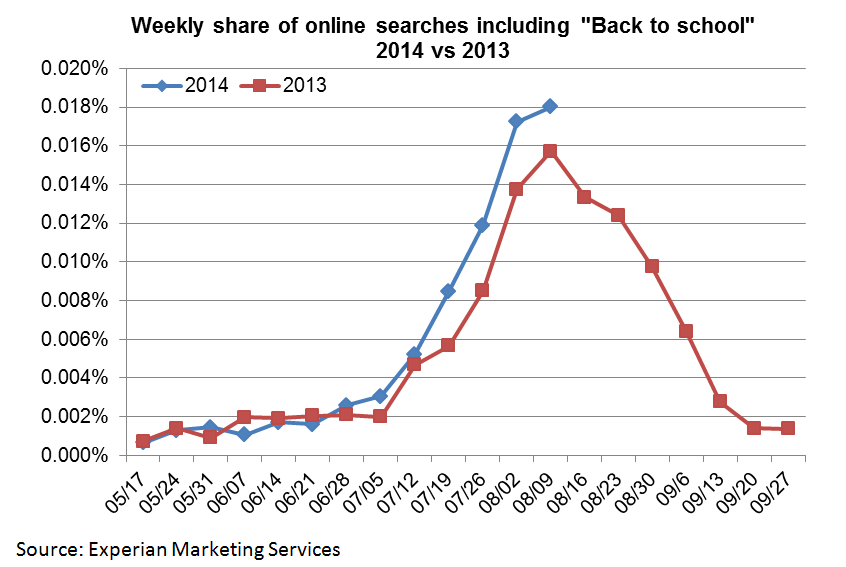 2.       Consumers are getting crafty
In looking at the top back-to-school search terms from the four weeks ending August 9, 2014, we found that this year's top terms were relatively in line with last year's. Consumers are still searching for sales, supplies, outfits and hairstyles. The hot trend this year, though, is in do-it-yourself (DIY) terms. Specifically, searches for "DIY back to school" are up 357% from last year and "life hacks for back to school" made the top 15 related terms list for the first time. This trend is likely the result of the rise in popularity of websites like Pinterest, which allows users to share ideas that commonly have a DIY theme or find novel solutions to everyday problems known as "hacks."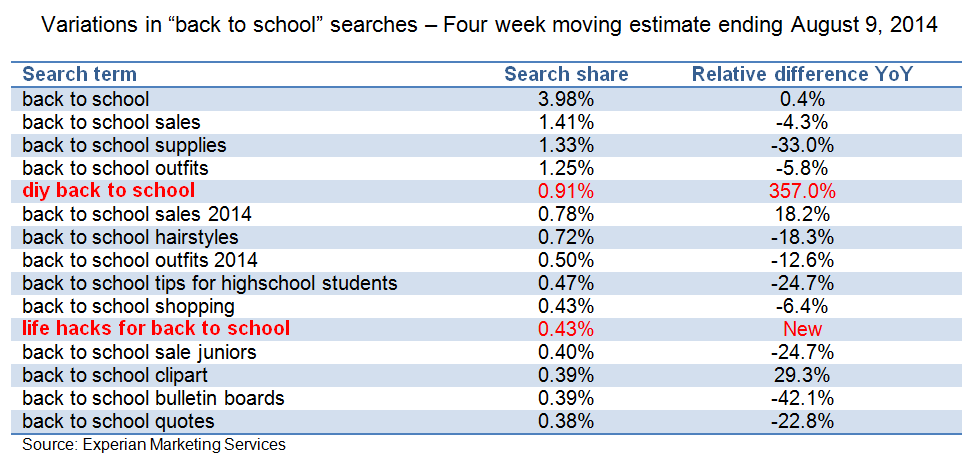 3.       Consumers are shopping on-the-go
Visits to the Hitwise Retail 500, a compilation of the top trafficked retail websites, are already more likely than average to come from mobile devices. This back-to-school season, mobile's share of visits is only rising, indicating that shoppers are likely using their phones in store for shopping-related activities like comparing prices or checking inventory levels of products. Specifically, during the week ending August 9, 2014, 37.8 percent of visits to the top online retailers were from either smartphones or digital tablets, up from 35.4 percent of visits during the week ending July 19, 2014. During that same time frame, the mobile share of visits to all websites remained steady.
Visits from mobile devices are generally quick, so marketers need to ensure that their sites are mobile optimized to provide easy and quick access to the information consumers need. In fact, with the recent addition of mobile visits to the Hitwise database, the average visit time to top online retail sites dropped to 5 minutes and 54 seconds. The average visit time from desktops only was 10 minutes and 26 seconds.
Understanding search trends and online behavior can give marketers insight into consumer needs and paths-to-purchase. Learn more about how our online intelligence tool can help you better understand your customers. And for more information about this year's back-to-school season, check out our Back-to-school planning report.