John Fetto, our Senior Research and Marketing Analyst, explored the top five lessons from the 2014 holiday season and provided tips to help marketers revamp their 2015 holiday campaigns.
1. Move over desktops, consumers are using mobile to search for deals
Deal seeking is moving to mobile where consumers have access to pricing and coupons while they are on-the-go and closer to making a purchase decision. In fact, searches for "mobile coupons" are up 14 percent since July when mobile search data was incorporated. As for timing, peak deal-seeking searches typically occur during the holiday shopping season, but the past two years, holiday and back-to-school were nearly equal. For marketers to not leave money on the table, it is critical to target deals and discounts strategically to consumers who need and want them most.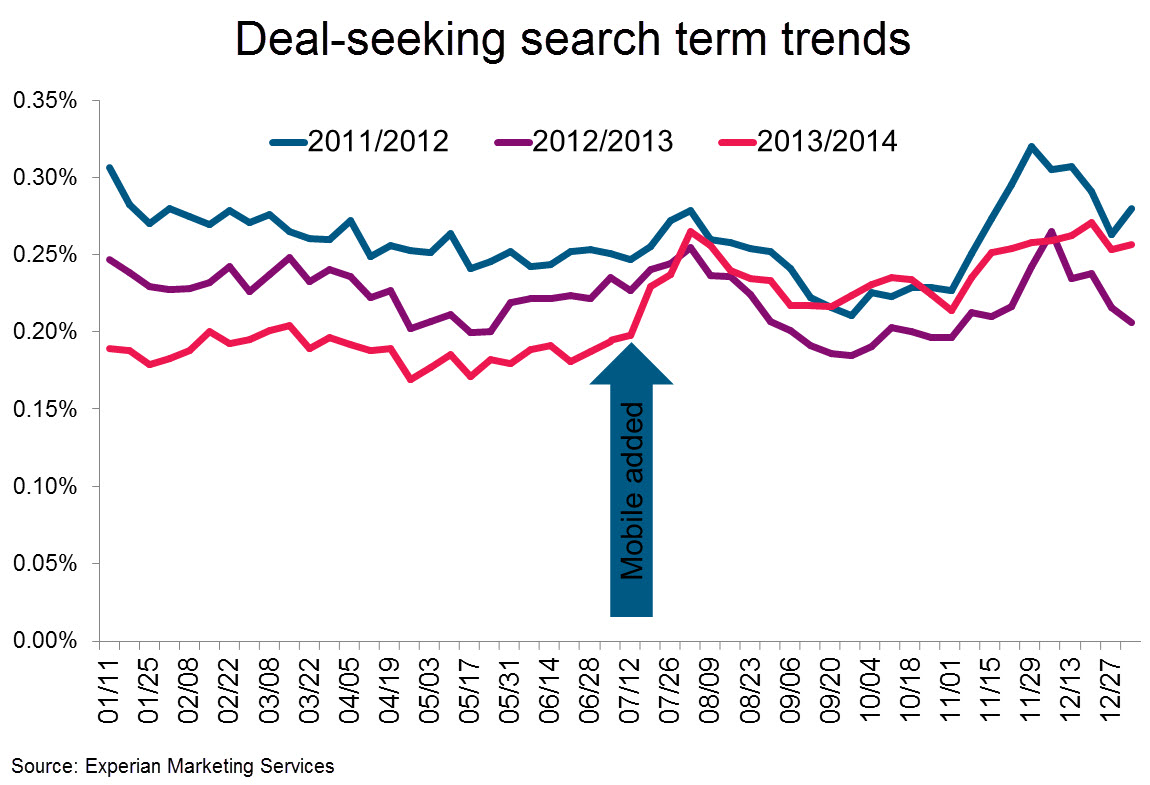 2. The must-have gifts of 2014
2014 was the year of the "Internet of Things," the rapidly growing trend in devices — beyond smartphones, tablets and computers — that connect to the Internet. In particular there was a big leap this season in searches for portable fitness devices and smart watches were up 235 percent year-over-year. Additionally, searches for smart televisions were up 30 percent and searches for smart home automation devices were up 67 percent year-over-year. Savvy marketers will use these insights to reach customers in a myriad of new channels in 2015.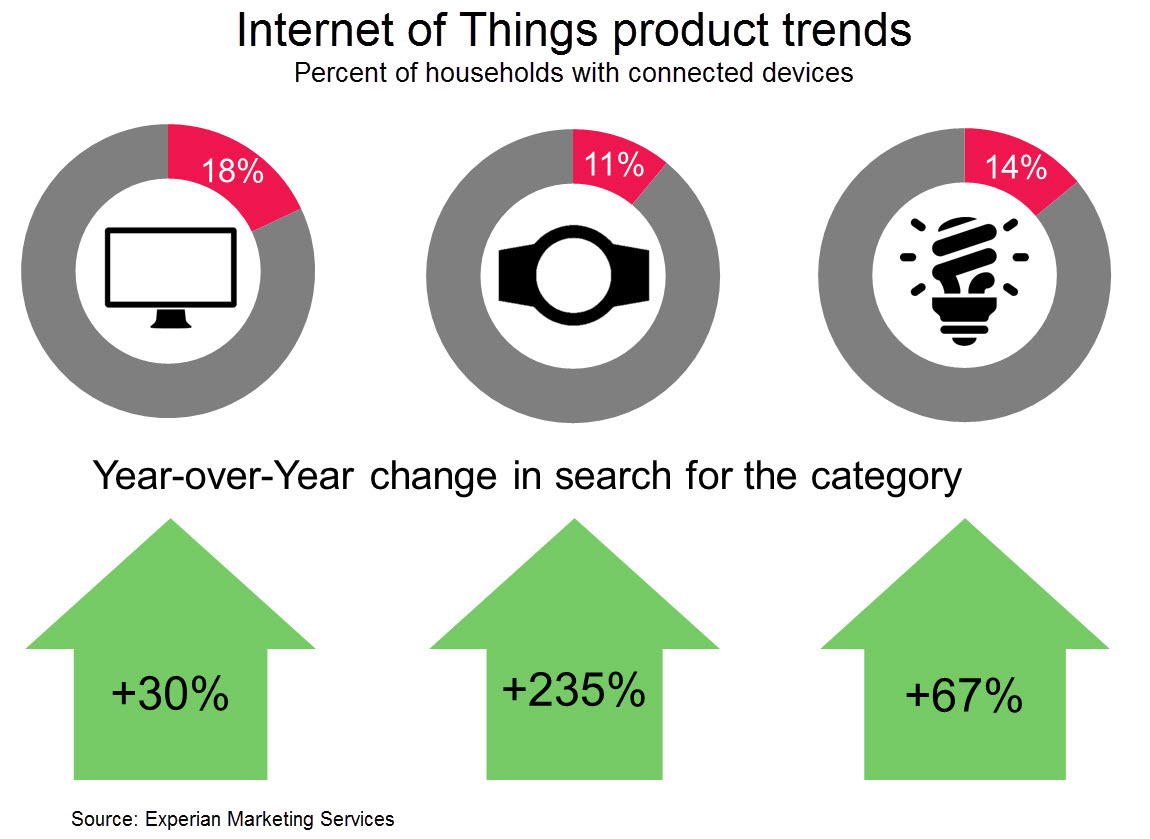 3. Reach consumers later in the week
It's no surprise that the three busiest shopping days this past holiday season were Cyber Monday, Thanksgiving and Black Friday, each capturing more than 225 million online visits to the Hitwise Retail 500. Diving deeper into significant peak days in December, we found that Tuesday and Wednesday earned top spots as key online shopping days. This gives marketers the ability to reach consumers with more relevant messages later in the week and drive in-store sales for the weekend ahead.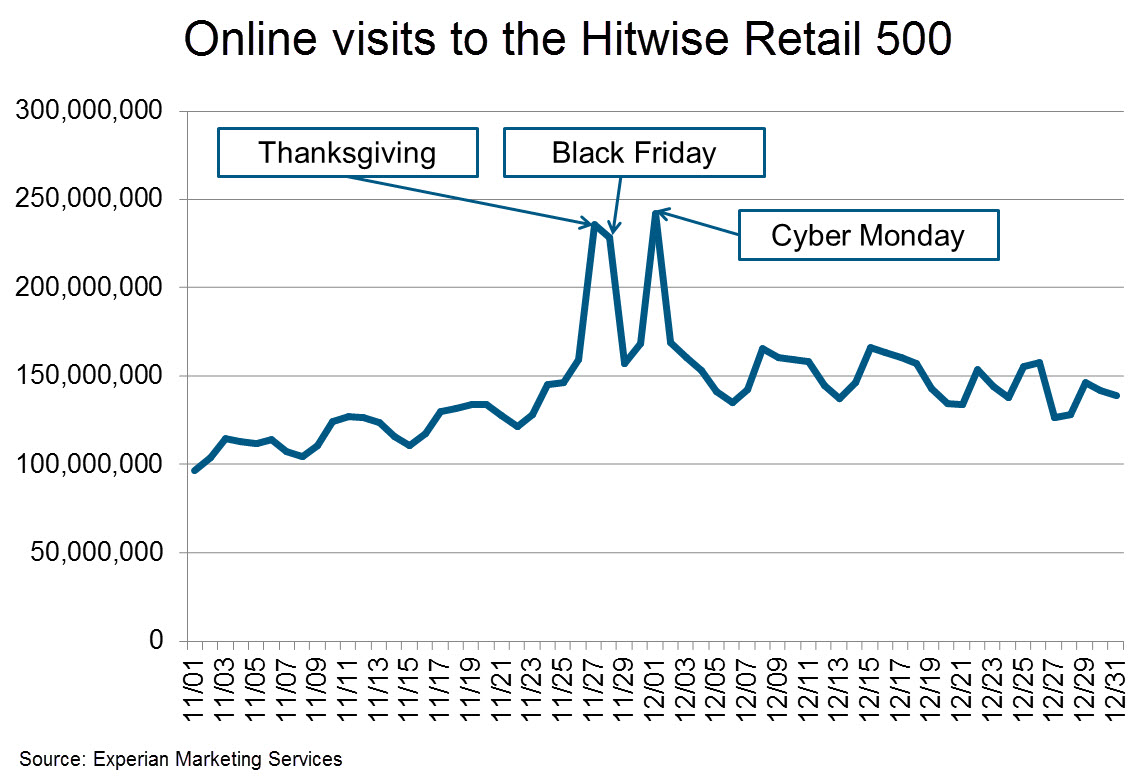 4. Email is the second biggest driver of traffic
Email continues to be a strong driver of online traffic. In 2014, search engines drove 41 percent of the traffic to the Hitwise Retail 500, followed by email with 8.15 percent.  Looking at the performances by key peak days, email was a strong driver of traffic on Thanksgiving and Black Friday, and social media drove the most traffic on Cyber Tuesday, the Tuesday after Thanksgiving.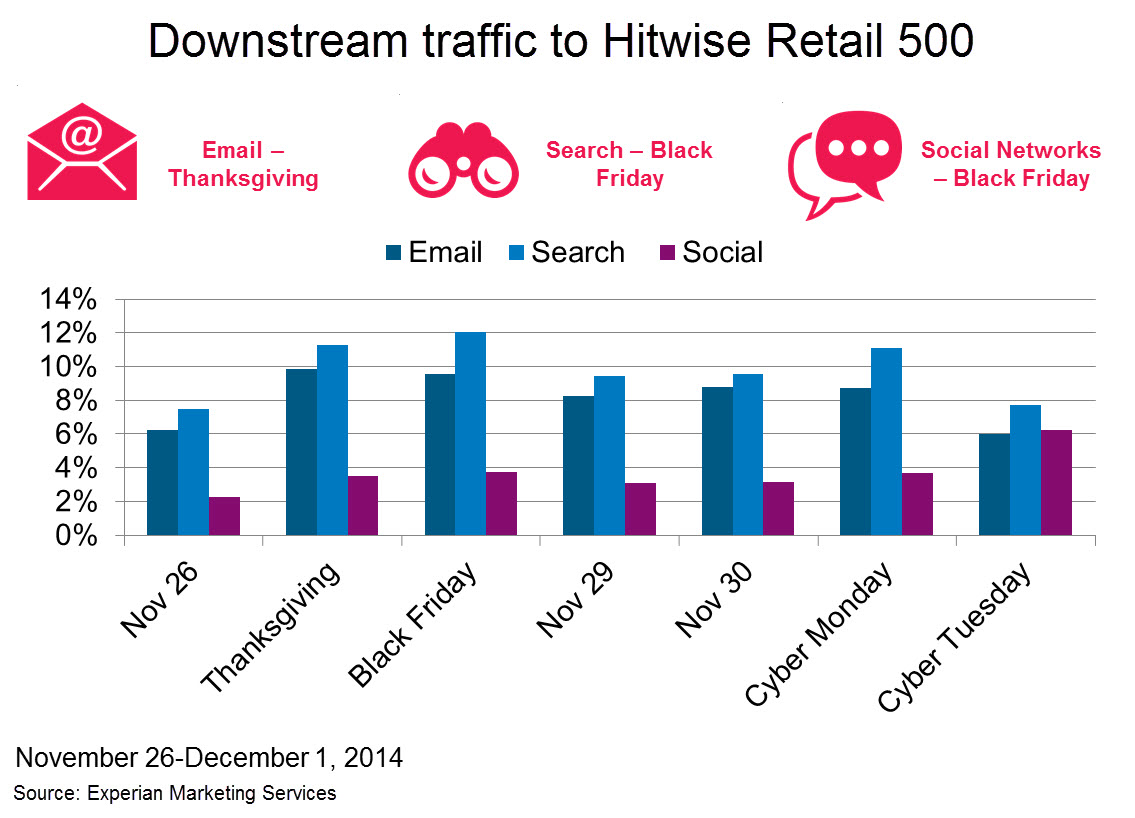 5. Mobile is a strong driver of traffic to retail sites
Much of the mobile activity on retail sites comes from browsing while shopping, whether it's for price comparison, inventory analysis or to find store hours or locations. In fact, a new study from Experian Marketing Services found that 83 percent of cell phone owners now engage in shopping activities on their phone immediately before, during or after visiting a store.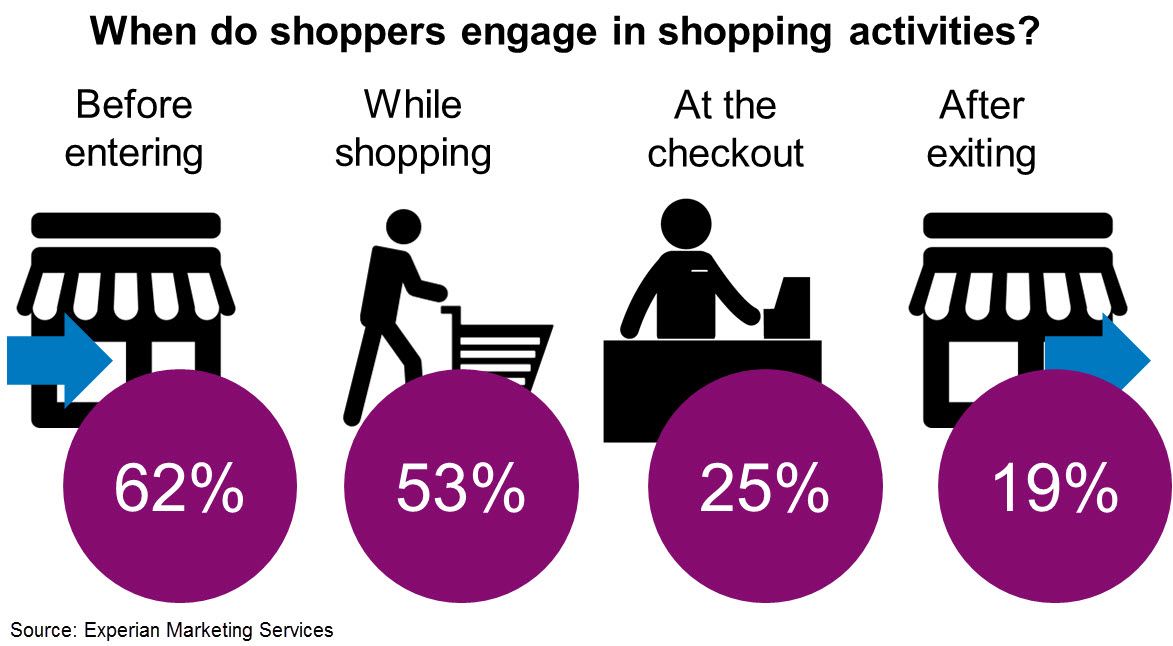 In addition, 53 percent of smartphone owners visit shopping websites from their phone during a given month versus 41 percent who use shopping apps during the same time frame. While mobile apps are great ways for marketers to interact with existing customers, mobile web is critical for reaching potential new customers. Marketers who focus their mobile efforts on developing mobile apps at the expense of mobile optimized sites are likely missing the opportunity to attract new shoppers.
Learn more about the 2014 holiday season to prepare for next year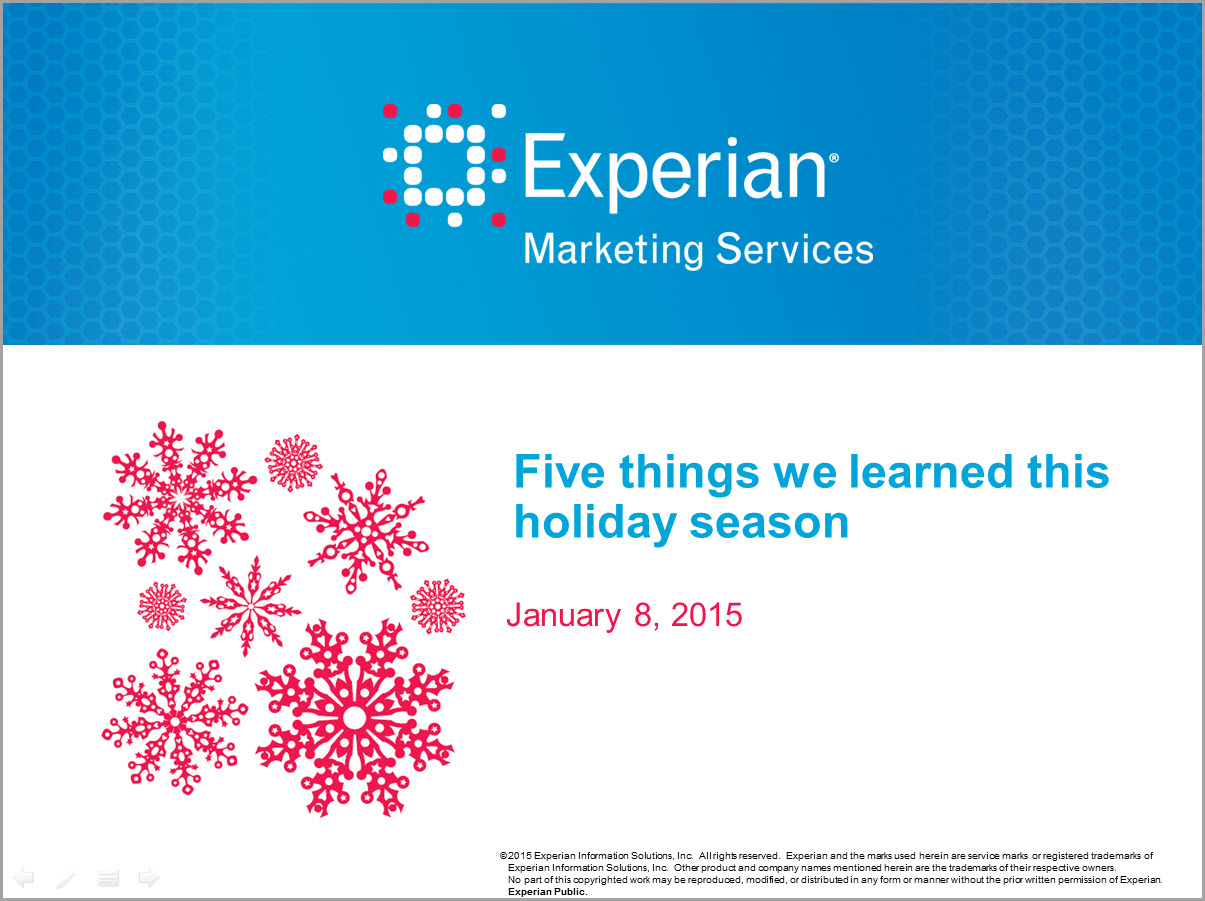 Watch the Five things we learned this holiday season webcast for deeper insights into these trends:
What branded products and product categories were hot this season
Mobile shopping trends, including how much consumers are shopping and buying online
Consumers' deal-seeking tendencies and the trend of omnipresent sales, discounts and coupons
Analysis of the peak online shopping days and seasonal traffic trends
Which retailers were successful this season and the digital channels that were effective in driving traffic