The holiday season is right around the corner and retailers are gearing up for a massive influx of customers, both new visitors and returning loyal patrons. But, organizations need to make sure they're prepared to handle the influx of business.
Data quality should be a priority for retailers at any time of year, but even more so as the holiday season approaches. During this time, it's important for companies to provide customers with relevant shopping offers. When consumers shop for holiday gifts for their friends and families, they have countless directions to which they can turn. In order to prevail in competition, retailers need to provide customers with relevant offers and messages.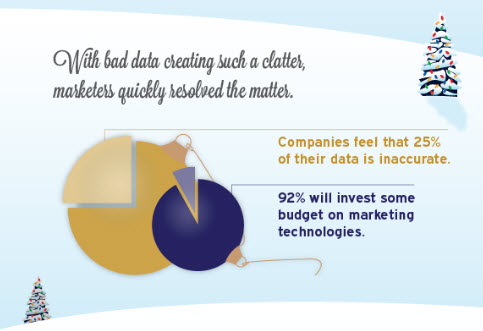 Unfortunately, many businesses fall short in this regard. According to recent research from Experian QAS, organizations feel that, on average, 25 percent of their data is inaccurate. Consumers are frantically looking to find deals on products that meet their holiday needs, but loyalty offers may not be reaching consumers.
One reason for the difficulty is the messy nature of companies' customer databases. Retail businesses are working hard to gather as much information as possible about the consumers who patronize them, but all too often, information is riddled with errors.
These errors have become more prevalent in recent years due to the proliferation of mobile apps, web interfaces and social media channels. There are so many different channels that companies now interact with people through an average of 3.27 channels.
This poor data quality is hurting organizational bottom lines. Experian QAS found that an average of 12 percent of departmental budgets are wasted due to inaccuracies in contact data.
During the 2013 holiday season, consumer spending is expected to increase by at least 11 percent. Retailers need to be certain that they improve data quality prior to the holiday season to ensure communications reach consumers and resources are maximized in order to take advantage of the expected increase.
Be sure to check out our new data quality infographic.