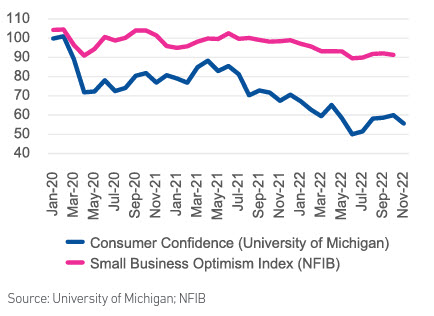 Higher interest rates are affecting the way that businesses report doing business and their appetite for expanding credit usage. However, so far new commercial credit originations are still climbing so many businesses still have a need for credit. The average loan/line amount given out per new commercial account has fallen 16% year-over-year, which could indicate either businesses requesting lower lines, or lenders starting to tighten their policies — or a combination of both.
As commercial delinquencies rise, it is likely that lenders will further tighten policies and availability of credit may become limited for small businesses. Another strong jobs report for November displays the resiliency of the U.S. economy despite the Federal Reserve's aggressive efforts to tame inflation. However, the tight labor market makes it difficult for small business owners to hire. With higher credit costs and limited labor availability, small businesses will have difficulty growing in the coming months.
What I am watching: While there have been some very public large-scale layoffs in the tech industry, hiring is still strong, and businesses are still looking for workers. It will be interesting to see what actions the Federal Reserve take at their next meeting in mid-December. The Fed has indicated they may slow the pace of interest rate hikes which could help businesses and the economy strike the balance between inflation and interest rates. thereby achieving the soft-landing the Fed is aiming for.
Download your copy of Experian's Commercial Pulse Report today. Better yet, subscribe so you'll always know when the latest Pulse Report comes out.