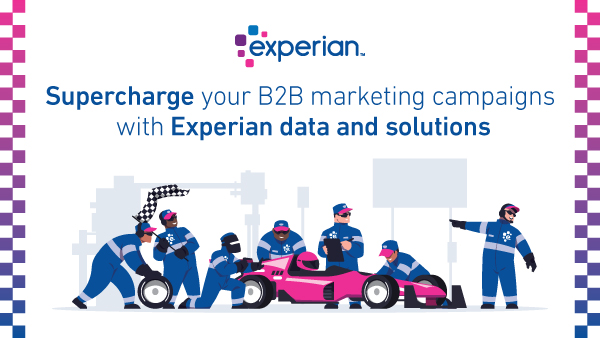 When it comes to B2B marketing and finding qualified small business prospects, particularly in niche industries, having fresh accurate data will always be key to rising above your competition. Whether you're looking to improve your targeting or measure the success of your campaigns, you need accurate, reliable data.
When people think of Experian what often comes to mind is credit scores, and it's true that Experian is one of the largest credit reporting companies in the world with information on more than 1 billion consumers.  But did you know Experian is also a leading provider of business information?  Here's a quick rundown of our business information products and services.
A leading provider of small businesses data

Experian's commercial data is deep and extensive, with information on more than 47 million US businesses. This data contains more than 700 attributes, so you can pinpoint the exact information you are looking for to tailor your marketing campaigns.  For each business record, we also include the many individual contacts working in that business, with over 67 million email addresses.
Business data is maintained and updated constantly

Because information is coming into Experian at rapid pace, the data is in a state of constant change — over 800,000 daily identity updates to ensure our data remains up to date.
Intent data to pick up on signals

Innovation has played a major role in our market strategy, and intent signals are one area where Experian has made significant investments. Our systems have been tuned to listen for over 3.2 billion intent signals per month.
Intent identifies a responsive audience of decision makers that is "in the market" for your products or services within the last month. It records when users take some action, such as consuming a piece of content, or doing some other observable behavior leading to an indication of intent. Focusing on observed behavior and flagging those signals for intent will provide insight to specific interests or need of a product or service at that moment.
Using this data allows you to prioritize leads based on their likelihood of buying, as well as to identify unassuming audiences that are looking for your product or service (but might not know it yet!). Our intent methodology can boost your engagement by 16%, and increase your close rates by up to 79%. We help you target decision makers at the time when they are ready to buy.
Fraud data

With over 2,000 searchable credit and fraud attributes, Experian helps financial institutions and credit grantors to mitigate against future fraud. Many of our fraud attributes are helping some of the country's leading financial institutions minimize exposure to fraud risk.
Data Hygiene Services

We help you leverage a single-platform approach to make sure your data is clean, accurate and up-to-date. Our services connect to hundreds of data sources to profile data, standardize formats, correct errors, verify and remove duplicates, and then enrich your data with our globally-curated data sets to transform your data into deep customer insights.
Best in class third-party datasets

To help our clients reach the right target, Experian has built an extensive third-party dataset that includes government data, economic data, social data, user permissioned data, cyber identity dark web data, and health data.
Funneling numerous data sources–including public information like corp registration, liens, UCC filings, bankruptcies, with contributed member trade, collections data (alternative and consumer) — our breadth and depth of information helps you identify fraud exposure almost before it begins. We are continuously augmenting our platforms with new and alternative data sources to bring additional insights to the table to help you, and to remove the stress of you having to constantly source and evaluate new data sources. Simply put: when new issues surface, we solve them.
Human Verified information

Verification of our data is performed by real people. Our human verification takes signals that are sometimes 50-60% accurate to over 98% accurate. Overall database accuracy measures consistently at over 94%, at the record level. We will deliver you the most accurate data on your customers, period.
We realize all this can be very complicated! That's why our Marketing Solutions team crafts a custom solution for every single client. Because no two businesses have exactly the same needs. Contact an Experian representative today, and we'll show you how to create a unique marketing solution for your business that will save you time, money and energy.