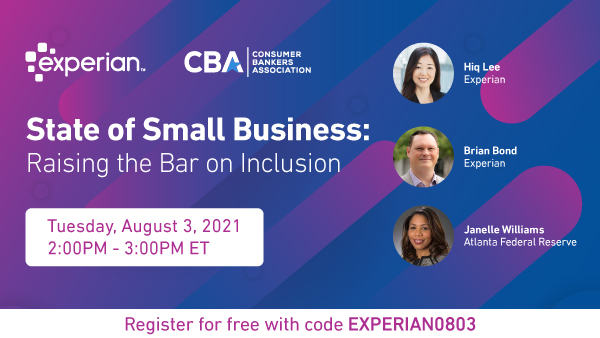 If Diversity, Equity, and Inclusion (DEI) are important to your company, you'll want to attend this exceptional webinar coming up on Tuesday, August 3rd, 2:00 p.m. – 3:00 p.m. Eastern when Experian partners with the Consumer Bankers Association and the Federal Reserve.
Launching an effective DEI initiative starts with understanding the State of Small Businesses. We will review the latest 2021 Federal Reserve Small Business Credit Survey on business owners of color and their challenges when seeking capital. In addition, you will discover lessons learned from the implementation of the PPP program in granting equitable funding access to firms of color.
Hiq Lee, President of Experian Business Information Services and Brian Bond, Senior Vice President of Marketing for Experian, will lead this discussion on financial inclusion with Janelle Williams, Senior Advisor with the Atlanta Federal Reserve.
What We Will Cover:
Insights from the Fed Credit Survey results on business owners of color
Lessons Learned from the PPP program.
How to navigate Financial Inclusion initiatives together with Experian
What You Will Learn:
Understand the state of small business and the impact of the pandemic on minority business owners
Learn about equitable access to funds
Take steps in achieving financial inclusion initiatives.
Complimentary Registration Instructions:
Use the below link and discount code to enable free registration.
We look forward to the conversation and hope to see you there!