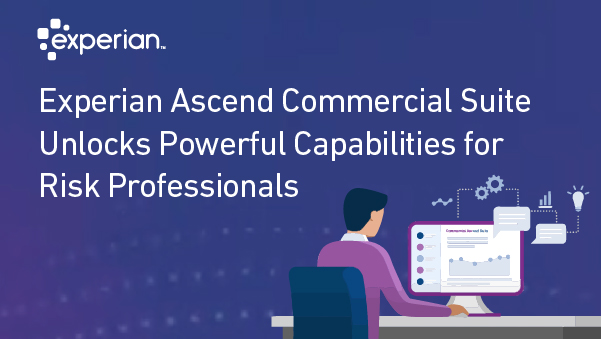 Making fast, accurate decisions on businesses is critical, especially during uncertain times. Having an edge on your competition matters, from productivity to profitable growth. For risk managers and data analysts, the stakes could not be higher. In response to that market need, Experian Business Information Services recently announced the availability of the Ascend Commercial Suite, a data and analytics platform which currently enables the following three capabilities:
Commercial Analytical Sandbox – enables immediate access to multiple data sets, including our commercial, premier consumer attributes, and SBFE data, with new data snapshots automatically added monthly. Experian built Commercial Analytics Sandbox on the same OneExperian Technology Platform that won a FinTech Breakthrough Award for Best Overall Analytics Platform in 2019. It is compatible with multiple leading analytics packages and cutting-edge tools, including RStudio, R, Python, H2O, and  SAS Viya.
Benchmarking Dashboard – Small Business Financial Exchange members can tap into powerful portfolio views using Tableau. The Benchmarking Dashboard offers access to all data and multiple data sets so clients can compare their portfolios against peer populations,  and analyze new market segments for potential expansion.
Ascend Data Services – For clients who want to run analytics using their software tools. Ascend Data Services offers a delivery method that enables the flow of linked data into a client-owned environment, making Ascend Commercial Suite extremely flexible to whatever tools clients are using.
Eliminate barriers to data and analytics while holding down IT costs
Our clients have often mentioned the time and labor-consuming process of appending archive data. They also describe lengthy procurement processes to acquire additional data. With on-demand access to the freshest data, clients can focus on customers and be more responsive to market changes by providing KPI's to key stakeholders, all while holding down IT costs.

Manage your portfolio more effectively
You can create Tableau-enabled dashboards to monitor portfolio performance and quickly identify areas of strength or concern without running custom reports every month.  Spotting shifts in risk profiles or identifying cross-sell and up-sell opportunities helps you to maximize portfolio performance.
Model development   
Perhaps the most potent aspect of Ascend Commercial Suite is the modeling tools. Here you can design, develop, and validate models (including marketing, risk, collections, 3rd party) and scorecards to find, approve, and manage new and renewal accounts. Run retroactive analyses on the fly to establish risk-based credit loans or loan amounts to better control through-the-door risk and prevent loan losses.
We are incredibly excited about the possibilities Ascend Commercial Suite unlocks for our clients. If you would like to learn more or schedule a demo, please reach out to Experian today.
Contact Experian