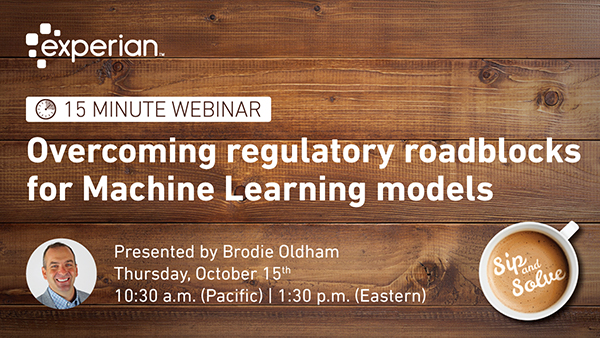 The concept of machine learning has been around for 50+ years in analytic circles. But machine learning methods have created a stir in the last few years as their popularity and visibility increased in the U.S. consumer and commercial credit industry.
The use of these advanced methodologies has been constrained to mainly fraud/identity and collections. Machine Learning techniques are now available for credit decisioning.
Our upcoming Sip and Solve session will provide insights to help your regulator feel more comfortable with the methodology you are using. We will share how Experian is making machine learning explainable to regulators and boosting model performance.
During this session you will learn three take-aways:
Current model governance basics
How machine learning methods are boosting performance
Best practices in deployment and documentation to help regulators feel comfortable with this more powerful solution
Watch Recording