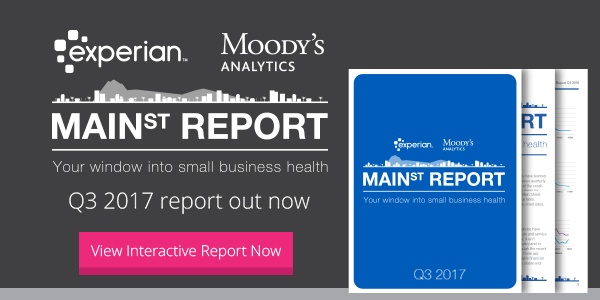 Experian has just released the Q3 2017 Experian/Moody's Analytics Main Street report and the overall outlook for small-business credit is stable. The report states outstanding balances on small-business credit declined slightly in the third quarter, continuing a two-year trend. Delinquency and default rates were steady to declining, and business balance sheets continue to improve. Continued improvement in the labor market and economic growth bodes well for credit performance in the short term. Despite the overall optimism, pockets of localized weakness are developing and will warrant observation over the next few quarters.
"Small business credit conditions are good and steadily getting better. Businesses are paying on their obligations in an increasingly timely way and remain cautious in their new borrowing. There are some credit problems in different parts of the country in various industries, but they are few and far between."

Mark Zandi, Chief Economist, Moody's Analytics
An expanding economy supports credit performance
As small businesses continued to keep credit utilization low, paying down debt, delinquencies overall continued to trend downward. Early-stage delinquency rates improved during the quarter while the 90 days past due (DPD) delinquency rate experienced a slight 5 basis point increase. The most severe delinquency category, 91+ days past due, declined as some distressed credit was charged-off. The decline in late-stage delinquency was offset somewhat by an increase in bankruptcy rates.
While the report contained mostly good news, there were a few surprises, including Wyoming, which saw a slight increase in 90-days past due delinquency in mining, construction, transportation and retail, pushing the state's delinquency rate by almost half a percentage point. We have put the entire contents of the Experian/Moody's Analytics Main Street Report into an interactive page, complete with dynamic charts.