Fun & Frugal Summer Vacation Ideas
Join our #CreditChat on Twitter and YouTube every Wednesday at 3 p.m. ET.
Summer is around the corner – and we thought this would be a great time to talk about fun and frugal activities to do.
Today's #CreditChat panel included: Kristin Wong– Writer for Lifehacker and Two Cents and Founder of Brokepedia, Kaeli Conforti- Digital Editor at Budget Travel,  Rod Griffin – Director of Public Education at Experian, and Mike Delgado – Social Media Community Manager at Experian.
If you have ideas for future topics and guests, please tweet @MikeDelgado.
Questions We Discussed:
Q1: What has been one of your memorable vacations?
Q2: What are the benefits of planning ahead when budgeting for a vacation?
Q3: What should a vacation budget factor in?  Any unexpected costs you can think of?
Q4: Where do you find great deals on places to stay?
Q5: Where and when do you find the best deals on airline tickets?
Q6: What are some budget-friendly vacation tips for millennials traveling with a loved one or friends?
Q7: What are some budget-friendly vacation ideas for families?
Q8: What are some unconventional summer vacation ideas that are easy on the wallet?
Q9: How can vacationers protect themselves from identity theft?
Q10: What are your final tips for someone planning a fun and frugal summer vacation?
Highlights from this #CreditChat on SlideShare:
Tweetable Tips:
Budgeting ahead of time gives you a ballpark idea of how much you'll be spending so there aren't too many surprises. @BudgetTravel
[Retweet]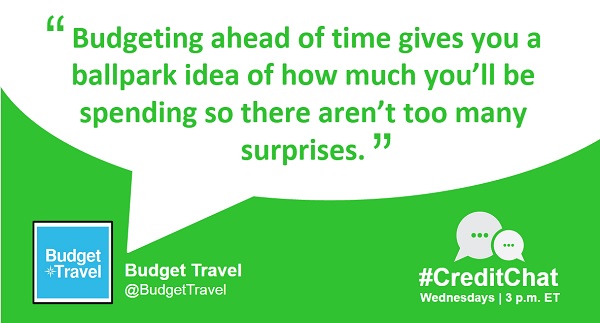 A while back, Cheap Air reported flights are cheapest ~54 days before departure. I've found this to be pretty accurate. @Brokepedia
[Retweet]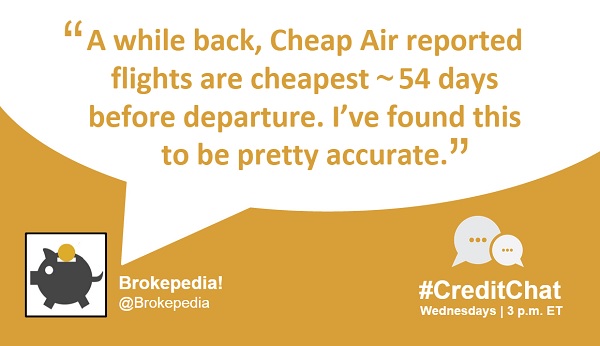 Resources Shared:
Airbnb
Hopper
The Hipmunk
Travelocity
Trivago
Hotel Tonight
Roomer
Today's #CreditChat Storified:
If you've never heard about #CreditChat, here is a brief overview:
Recent Chats on YouTube & Twitter