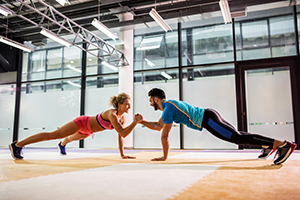 The beginning of any new year brings an influx of gym goers who are committed to working on resolutions. Whether the goal is to work out or be healthier, gyms around the nation see a spike in numbers in the first few months of the new year.
Experian examined foot traffic patterns for five gyms nationwide from January to June of 2019 to determine if there were significant trends. Unsurprisingly, there was a spike in visits in January, which correlates with the rise of advertising in the fitness industry during that time. We are all familiar with the ads telling us about the amazing discounts available at our nearest gyms, as well as the constant reminder that it's a new year so it's time to reinvent yourself – "New Year, New Me!"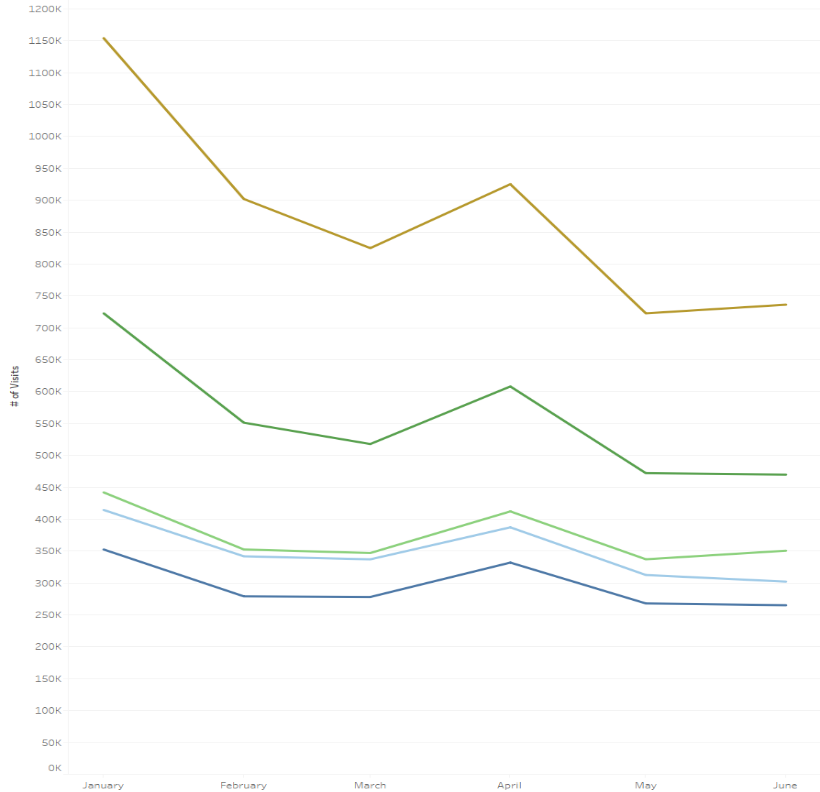 Even though the spike in visits in the first couple of months is exciting for businesses, research suggests that these trends won't continue throughout the year, which means a loss of revenue over the latter half of the year. A loss of revenue is never good, so as a marketer, how can you better understand your new clients and target them when they might be inclined to throw in the towel?
Taking a second look at the graph above, you see a spike in visits in late March and early April, before a big drop off in May. We were curious to see what was causing this spike, so we took a deeper dive into the data, looking at both age and gender. What we found was that from January to early March, there was a steady decline in visits, whereas in late March to early April, there was about a 7% rise in visits across the board.
What was more interesting than the spike in visits, was the significant drop after the first week of April. We saw a significant 13% drop in visits on average in both males and females of all ages. On the higher end of the spectrum were both males and females between the ages of 19-34 with a 14%-15% drop in visits. While we can speculate on why there was such a drop at this time – right after spring break, etc. – gathering more data about these individuals is essential to building an effective marketing plan to combat this degradation.
As a marketing professional in the fitness industry, or someone looking to target a health-conscious demographic, you need to understand your audience – both their visit patterns, as well as their likes and dislikes. Using Experian's data, you can take a deeper dive to understand your members eating habits. For instance, you can better understand if your clients like to visit health-conscious dining establishments or do they frequent QSR locations like McDonalds. It may seem like common sense, but a successful marketing campaign is rooted in relevant messaging and relevancy is rooted in the ability to understand the target audience.
While the goal is to bring new members into your gym or health club in January, the challenge is to keep those new members coming throughout the year, and that's where there is an opportunity for marketers to better connect with these customers. If you know that people under the age of 34 are at the biggest risk of halting their visits to your fitness location in the middle of April, then you can take the next steps to better understand that demographic so you can activate an effective marketing campaign tailored to their needs before you lose their memberships.
The key is to understand who these fitness resolution members are and find a way to target them before their commitment waivers. What works for one location may differ from another, so you have to include other data points in to build a more holistic view of your target audience.
At the end of the day, understanding your members is key. Partnering with Experian to take a deeper dive into your members likes and dislikes, as well as their visit patterns can allow fitness locations to have the data and the tools at hand to make the right marketing decisions and deliver an effective marketing campaign, ultimately reducing the membership attrition rate.