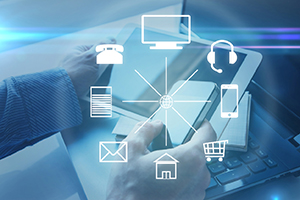 What is the most valued asset an advertiser has? Is it their brand? Is it their inventory? Is it their ever-improving website?  The answer is simple – it's their CRM file. Without it, nothing else matters.
People have several options when it comes to the wide variety of products and services in the marketplace, so advertisers need to communicate with their customers in a relevant manner through media channels their customers prefer. This creates a more pleasant experience for the customer, and the potential for a lifelong relationship. And the CRM file is the first part of that equation. The second part of the equation is quality, third-party information. When combined, advertisers can have a holistic view into the customer's behaviors, preferences and interests – keys to relevant communication. And of course, Experian is here to help!
OmniActivation is built upon Experian's ability to leverage/match an advertiser's own customer file including the names and addresses, email, phone numbers, social IDs, digital IDs, etc., with various media partners and destinations. As you can imagine, there is complexity in how each of these identifying points can be used for successful matching/targeting. For this article, we want to focus on the value of being able to match using the client's names/addresses.
Our clients have a common goal to ensure that they are sending the right messages/right offers at the right time to their customers to drive business and revenue. Matching (using name and address) is the ultimate means of being able to accomplish that goal.
Experian has perfected the ability to match using names/addresses and has provided this support for decades to benefit our clients. Our matching expertise relies on the following three critical factors:
Security: Experian ensures the security of any data by using encryption or secure transfer protocols in receiving data for matching projects. We understand the value of personally identifiable information (PII) and our high security standards reflect that focus.
Accuracy: Our ability to match PII using custom logic and parameters ensures that we are identifying the most accurate matches. Matching PII between two files is the most direct and accurate way to target. We can identify PII matches based upon individual, household and address levels and have consistently outperformed our competitors on name/address matching standards.
Confidence: Experian is a trusted third party for our clients and their most valued asset, their CRM files.
While we know that the complexity of matching will continue to expand including all types of current and new digital applications, Experian is confident that the value of PII matching will continue to be a cornerstone for our clients to reach their customers.