Q&A with John Fetto, Senior Analyst, Marketing & Research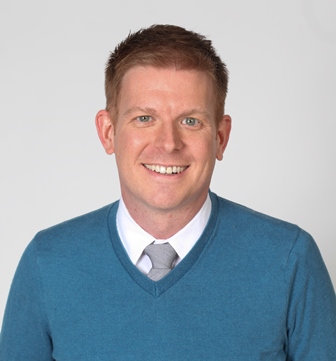 Earlier this year, Experian Marketing Services released our Cross-Device Video Analysis. The analysis has generated such strong and sustained interest from marketers and the media, we wanted to explore the subject further. The following is an exchange with the report's lead author John Fetto who answers some common questions that we've received since the analysis was published.
Q: In the Cross-Device Video Analysis, you report that consumers are "cutting the cord" on pay cable and satellite television services. Can you elaborate on this trend? What's driving it?
According to our research at Experian Marketing Services, U.S. consumers are increasingly likely to have high speed Internet at home but no cable or satellite TV subscription. There are two primary consumer trends driving this: 1) Households that never subscribed to a pay TV service are now upgrading to broadband Internet; 2) Households that previously subscribed to both pay TV service and broadband Internet that have since cancelled the cable or satellite TV subscription. While the vast majority of U.S. households pay for either cable or satellite TV, an estimated 15.1 million (or 12.9 percent of households) do not. That's up from 13.5 million households (11.9 percent) who didn't pay for TV in 2009.
At the same time, the share of broadband households is also rising. Today, 72.7 million homes (61.4 percent) have broadband Internet, up from 65.0 million homes (56.9 percent) in 2009. As Americans' Internet connection at home is increasingly fast enough to deliver high quality video content through sites like YouTube, Netflix, Hulu and the like, as well as the ability to consume that online video content across an array of devices ranging from Internet-connected televisions to smartphones and tablets to computers, they are increasingly questioning whether they need to continue paying for TV. And more and more consumers are deciding to cut the cord.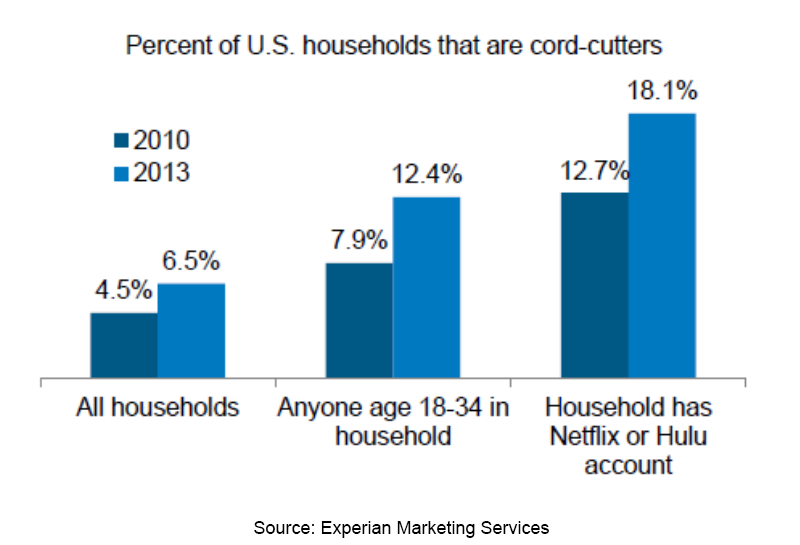 Q: With more consumers cutting the cord, how are they consuming video content?
While the most commonly used device to consume online video is the smartphone — used by 24 percent of adults during a typical week to watch online video, according to our research — "cord cutters" are primarily using Internet-connected TV to consume online video. In fact, an adult who watches online video on their TV is 3.2 times more likely than the average adult to be a cord-cutter. This means that the Internet-connected TV market is critical in predicting the future of the cord-cutting consumer.
As existing devices like Apple TV, Chromecast and Roku are upgraded and new devices like Amazon Fire TV are introduced to the market, consumers will have more and more options to consume online video without sacrificing quality or screen size. As a result, more consumers will be reconsidering whether they need to continue paying for TV.

Q: What percent of consumers get their television programming from various sources including cable, satellite, online streaming and free over the air TV?
Combined, 87.1 percent of U.S. households subscribe to either cable or satellite TV. While Experian Marketing Services doesn't specifically measure the percent of Americans who watch TV through an over the air feed (OTA) we know that among those who do not subscribe to cable or satellite, the vast majority (77 percent) still watch TV. And while it's possible that some are viewing TV from a cable or satellite feed away from home, the most likely source of their TV content would be from OTA sources. That means that at least 10 percent of American adults are watching some TV through an OTA feed. In addition, 48 percent of all adults watch online video each week through a variety of devices. Those who don't pay for TV are 12 percent more likely than those who have cable or satellite TV to watch online video (54 percent vs 48 percent).
Q: The cord-cutting trend has many implications for the cable and satellite companies, but what do consumer-facing marketers and advertisers need to know about this trend?
The growth in online video viewing creates many opportunities for marketers. Online audiences can be more easily targeted and served up advertising that is more relevant, responsive and measureable. Marketers can also be more confident that their online ad was actually seen, given that viewers are typically unable to skip ads. And while CPMs for online video ads may generally be lower than those of TV, marketers can use that savings to negotiate costs based on clicks or transactions rather than impressions, giving them a better picture into audience interest and insights to inform their budget allocation.
Millennials are the most device "agnostic," with more than one-third saying they don't mind watching video on a portable device even if it means a smaller screen. That's more than double the rate of those ages 35 and older. This decentralized viewing can create headaches for marketers who need to start a relationship with Millennials during this stage of their lives when they're most open to trying out new brands and have yet to settle down. On the plus side, marketers who do manage to reach this audience will find them much more open to advertising than average. In fact, Millennials are more than four times more likely to say that video ads that they view on their cell phone are useful. So while the challenge is big, so is the potential reward.
Download the full analysis to learn more about: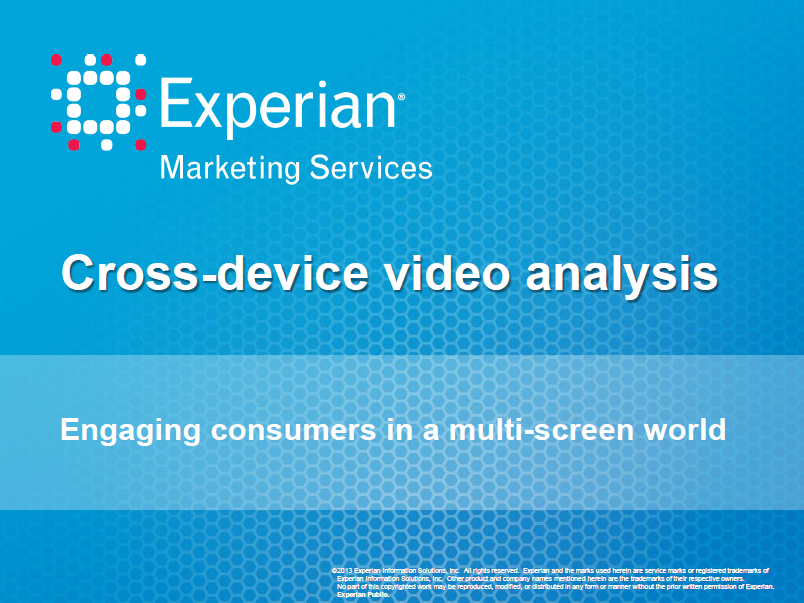 Cross-device video behaviors to optimize media mix approach
The impact of the growing trend in cord-cutters
The rising influence of Internet-connected TV
How to get more impact from video content