Mother's Day may not exactly be right around the corner, but the time to send your Mother's Day emails sure is! Based on our analysis of 186 brands that sent Mother's Day mailings in 2013, 75 percent of email volume and 80 percent of email-generated revenue occurred between May 1st and Mother's Day (May 12, 2013). The highest revenue-producing days were five days before the holiday (Wednesday, May 8, 2013) and Mother's Day itself.
This year, the sentimental holiday falls one day sooner than last year (May 11), but you still have more than enough time consider these quick tips for easy wins while planning and executing your campaigns.
Tip 1: Give them what they're searching for
Last year, online searches five weeks before Mother's Day were dominated by searches for the date of the holiday. As such, we recommend including the date of Mother's Day in your email subject lines, particularly those early in the season, when customers are searching online for, and opening emails with, that information.
Tip 2: Set the tone early with your subject lines
A sample of early season subject lines that outperformed the overall unique open rate included:
Remember Mom on Mother's Day, May 12
Get a head start on Mother's Day (plus a gift for you)
Just arrived: Mother's Day Gift Sets
To Mother, With Love
Tip 3: When it comes to timing, it's the thought that counts
Think through the timing of your emails depending on order delivery deadlines. On May 8th of last year, the largest revenue producers for email were orders for flowers and gifts placed in time to be delivered by Mother's Day. Email subject lines on May 8th included reminders of the delivery deadlines:
Last Chance: Free Shipping/No Service Charge for Mother's Day!
ENDS TODAY: Enjoy Complimentary Second Day Delivery in Time for Mother's Day
Tip 4: Let them treat themselves
On Mother's Day, the top email revenue generators were "self-gifting" (treat yourself on Mother's Day only), Mother's Day online sales and free shipping, as well as e-gift cards:
Free Shipping Today Only! Happy Mother's Day
You deserve a treat yourself!
HAPPY MOTHER'S DAY! Treat yourself to 30% off today only
Last Chance: eGift Cards in Time for Mother's Day
Other email performance highlights: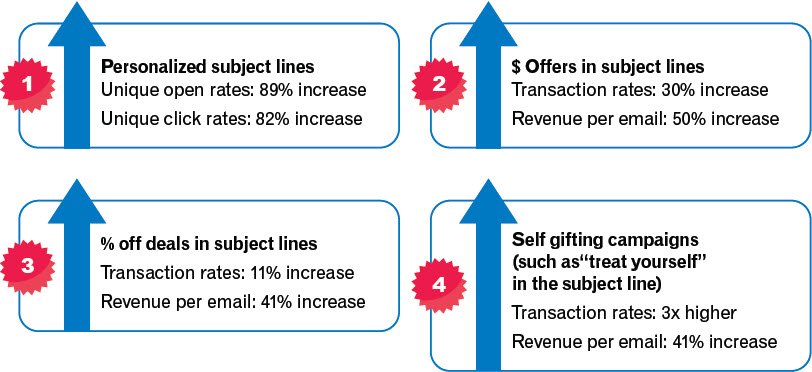 Note: All email performance highlights are based on comparisons to Mother's Day mailings without the highlighted feature from matched brands.
To all those in the midst of Mother's Day campaign planning, good luck and happy sending!