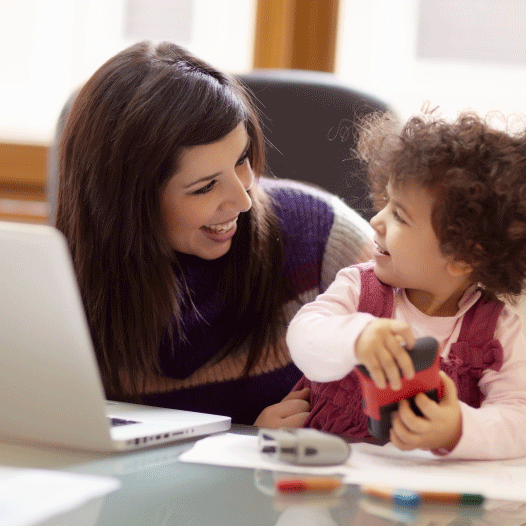 If you are a mother, or if you know any mothers, you know that being a mom of an infant or toddler can be challenging. Not only is there an extreme amount of responsibility involved (and very little sleep!) but there is also a shift in social priorities. It's no longer easy to 'catch up with the ladies' over drinks. Finding time to go on a date means finding a baby sitter and scheduling far in advance. And weekly poker nights at the neighbor's house may no longer be feasible.
It's not a surprise, then, that moms with young kids (MYK's) are very apt to become active on social media websites. In fact, according to a recent whitepaper by Experian Marketing Services, these moms are two times more likely than the average adult to use social media more than three times each day. And not only are they more likely to visit these sites, but they are also more likely to be active, posting and commenting two times more than the overall population.
A possible explanation for this observation is that MYKs, especially those with infants, spend a lot of time at home with the kids and need an outlet that allows them to stay connected with family and friends. In that sense, social media—especially sites like Facebook (the top choice for MYK's) where users can share photos, statuses and private messages—is ready-made for this segment.
Beyond catching up with friends, these moms have a high propensity to follow brands and companies on social media platforms. Because they are so participatory as a segment, they offer a huge opportunity to marketers who may be looking to expand their target audience or narrow in on young mothers.
Brands looking to target moms with young kids should consider offering deals through these social channels. They should also encourage moms to participate in their branded social media posts, both to interact with the brand directly and to support conversations between moms. Brands that offer time-saving ways to keep in touch and share ideas across platforms will do well with this segment. And marketers can get creative, too! Sponsoring "most beautiful baby" contests or starting discussions about the best way to calm a fussy child will not only give moms an entertaining break in their day, but will also help them associate the brand with positive, helpful experiences.
For more information about moms with young kids, their online and mobile behaviors, and how to best reach them, download the whitepaper: From Diapers to Preschool: a window into the world of the Mom with Young Kids.