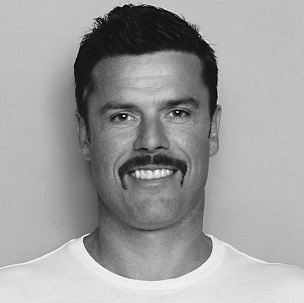 Adam Garone is the CEO & co-founder of Movember, the annual world-wide charity movement dedicated to changing the face of men's health – all through the power of the moustache. To date, over 3 million moustaches have been grown and supported for Movember, raising more than $440 million to change the face of men's health.
Adam kicked off day two of the EMS Client Summit by saying he's a lucky guy because he gets "to wear a 1993 porn stash year-round."
That line got a laugh, but Adam's storytelling around Movember really caught the attention of Summit attendees. Adam had learned that prostate cancer affects as many men as breast cancer does women, and while discussing this fact over beers with his brother in Australia, the idea for Movember was born. They took the Aussie slang for moustache ("mo") and combined it with "November" (a good month for men to grow them) to create the name. That was in 2003 and over the last decade, Movember has become a global movement around prostate and testicular cancer awareness, as well as men's mental health issues.
Watch his full presentation below:
Here are some cool facts cited by Adam:
Everyone who grows a moustache for Movember is a "celebrity ambassador." Last year, 2.7 billion conversations about Movember and men's health issues were generated during the month of November.
Most foundations go out with a "fear-based message" (x number of men die from cancer each year, for example). Movember has never done that. They encourage nicknames (i.e., participants are called "mo-bros") and want people to have fun with it. Adam's message:  don't be part of it because you're scared, but because you will be fine and you get to help others.
Each year they totally revamp their brand, changing the look, feel and tone. A few years ago their theme was "The Modern Gentleman" and last year it was "Movember and Sons," and played off the relationship between father and son.
Movember raised $145 million last year. They put 10% of the funds into a pool that goes towards research around other diseases. Adam says this kind of collaboration is to help reduce the heaving competition amongst charities that typically compete for donations.
Key takeaways when it comes to growing a foundation (or business) from the ground up:
Start with a great idea – naivety is good
Rely on strong leadership –have a clear vision and detailed plan and work really, really hard
Recruit amazing people – preserve culture and values
During rapid growth, keep it simple—stay true to your core
Brand management is key – sometimes you have to say no to potential partners  because they don't fit with your brand (in a humble way, of course)
Know your customers – inspire them to become your ambassadors
Partnerships are key
Never underestimate a room full of people