On April 22nd, Americans and many of their terrestrial counterparts in countries around the world will celebrate Earth Day, a tradition that was started in the United States by Wisconsin Senator Gaylord Nelson in 1970. Much has changed on the planet since the first Earth Day, and even in recent years attitudes continue to evolve when it comes to our outlook towards the environment.
In 2007, Experian Simmons created the GreenAware consumer segmentation, which classified respondents to the Simmons National Consumer Study between 2005 until 2007 into one of four mutually exclusive segments based on their consumer behaviors and attitudes toward the environment. Since then, Experian Simmons has continuously classified all adult respondents into the GreenAware segments providing our clients with valuable insights into the evolution of the environmental movement.
The four GreenAware segments are:
Behavioral Greens: This group of people thinks and acts green. They have negative attitudes towards products that pollute and incorporate green practices into their lives on a regular basis.
Think Greens: This group of consumers think green, but don't always act green.
Potential Greens: This group neither behaves, nor thinks along particularly environmentally conscious lines and remains on the fence about key green issues.
True Browns: They are not environmentally conscious, and may in fact have negative attitudes about environmental issues.
Since 2005, we have observed a nearly constant increase in the percent of U.S. adults who are classified as Behavioral Greens, the "greenest" segment of the four. Today, 33% of adults are Behavioral Greens, up from 27% who were classified as such in 2005. Meantime, Think Greens have maintained an almost perfectly constant 21% share of the population. The size of the True Browns segment has also remained constant at between 14% and 15% of the total adult population. The Potential Green segment, however, has steadily declined in market share from 39% in 2005 to 31% today.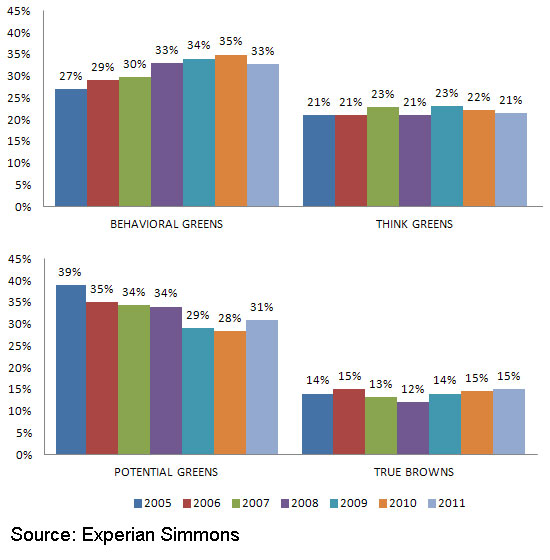 La Vida Verde
Hispanic Americans have traditionally been ahead of the curve when it comes to green thoughts and deeds and they're only getting greener with time. Today, 39% of Hispanic adults are Behavioral Greens, up from 33% in 2007. Just 32% of non-Hispanic adults are Behavioral Greens today, up from 29% who fell into the greenest segment in 2007.
Interestingly, among the True Browns segment there are virtually no Hispanics to be found, and, in fact, while the True Brown population is actually growing among non-Hispanics, Hispanics are increasingly moving to greener segments. Specifically, just 1.3% of Hispanics are True Browns today, down from 8% who registered as such in 2007. By comparison, 17% of non-Hispanics are True Browns today, up from 14% in 2007.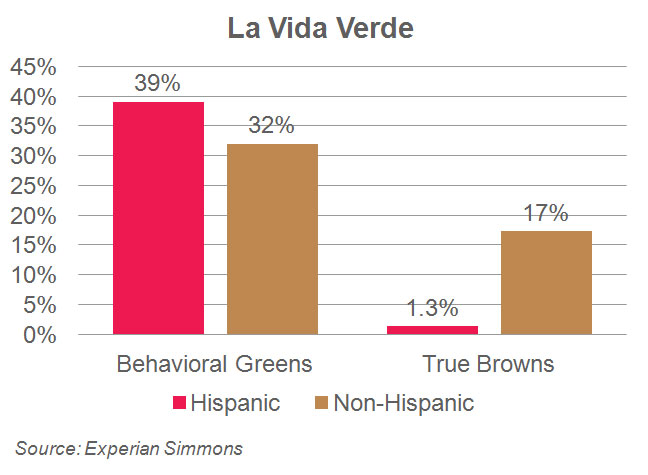 Green Today, Greener Tomorrow?
The illustration below shows the alignment of America's largest metropolitan areas with the four GreenAware segments today and in 2007. We see that residents of the San Francisco-, New York- and Miami-areas are the most likely to be in alignment with the Behavioral Green mindset today. Denizens of Washington, D.C., Los Angeles, Chicago, Philadelphia and Boston tend to fit more closely with the Think Green set that has green attitudes and intentions, but not always the actions to back it up.
But things are changing. In fact, since 2007, we've seen that as local minds change, some cities become aligned with a different, often greener, segment. Let's look at Chicago, for instance. In 2007, Chicagoans' environmental outlook was more reflective of a mix of Potential Greens and True Browns. Since then, local attitudes have changed so much that Chicago-area residents are now more aligned with Think Greens and Behavioral Greens. Likewise, Cleveland, which was clearly a True Brown town in 2007, now falls in step with the Potential Green segment. In five years' time, who knows? Cleveland could be America's next green leader.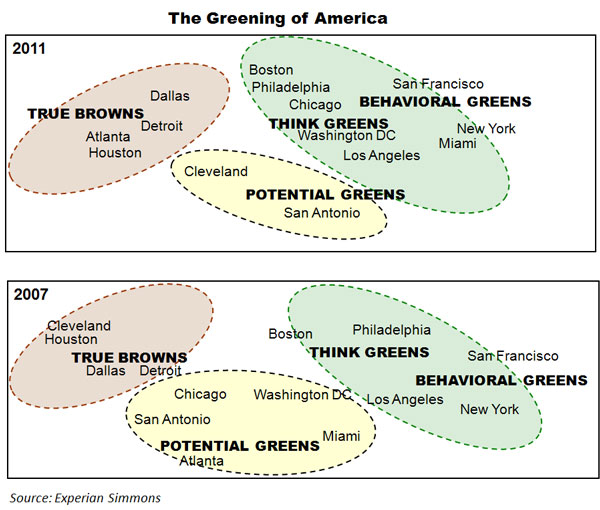 Not brown now towns
Looking at markets large and small with the biggest drop in concentration of True Browns, we see that attitudes in inland markets located in Gulf States have become disproportionately less brown since the Deepwater Horizon oil spill in 2010. In fact, seven of the ten Designated Market Areas (DMA) that saw the biggest decline in the percentage of their population classified as True Browns between 2007 and 2011 are inland markets in states bordering the Gulf of Mexico.
While the oil didn't directly reach these markets, the attitude change did spread: For example, 3.2% of adults residing in the Columbus-Tupelo-West Point, Mississippi DMA today are classified as True Browns, down from 19.3% who were categorized as such in 2007. In Macon, Georgia, while not a Gulf State, a more impressive shift took place. In 2007, the Macon, Georgia DMA had the fourth highest percentage of its population classified as True Browns (20.1%) out of 209 DMAs. Today, only 5.8% of area residents are True Browns, which makes it the market with the 10th lowest concentrations of True Browns in the nation. Macon still has one of the lowest shares of residents who are Behavioral Greens in the nation, but what a difference a few years makes.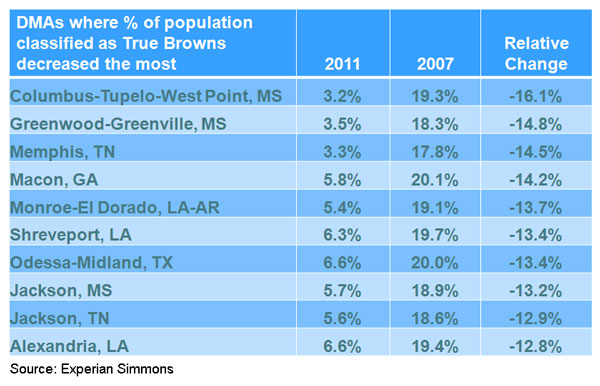 While the towns directly in the path of the oil spill are not among those with the biggest relative decline in True Browns, area residents' attitudes did take on a greener hue since the spill. Today, 8.4% of residents in Panama City are True Browns down from 17.3% in 2007. Likewise, only 9.8% of adults in both the Mobile-Pensacola and Biloxi Gulfport DMAs are True Browns down from 17.3% and 19.0%, respectively, who fell into the least green segment prior to the spill.
Learn more about Experian Simmons consumer segmentation offerings