In our upcoming 2011 Digital Marketer Report, we will cover what influences purchase decisions. While you'll have to wait to read the report to see the entire list, when ranking influencers to purchase decisions: 54% of U.S. adults identified old-fashioned Word of Mouth (WOM), while information from webpages (47%) ranked second and online consumer reviews (31%) ranked as the third most important.
It's nearly impossible to measure old-fashioned WOM, and "Information from a website" is a very broad category. Gauging the uptake in online consumer reviews is another story, however.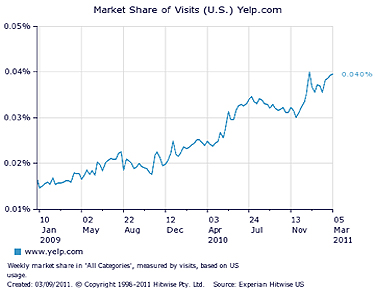 Visits to online review pure-play Yelp.com is a good proxy for the uptake in online reviews in the service sector (restaurants, dry cleaners and dentists to name a few). Over the past two years, visits to Yelp.com have increased over 136%. Given such impressive and steady growth since 2009, you might assume that Yelp and other sites like it have become ubiquitous. Your assumption, however, would be incorrect.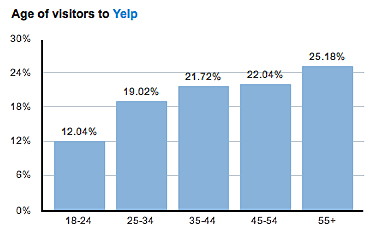 While age demographics of visitors to the site show that use of the online consumer reviews has reached maturity (Internet users over the age of 55 make up the largest age bin at 25%), geo-demographics, or visits by DMA, tell a completely different story.
The top five cities by representation; San Francisco, San Diego, Monterey, Los Angeles and Sacramento reveal the first skew, that Yelp.com visitors favor the West Coast, where the company was founded. So it seems that, by percentage, the largest U.S. cities also figure significant.
When looking at visitors to the site by Mosaic™ segments, Americas Wealthiest, Young Cosmopolitans and other affluent types figure heavily in the site's traffic. Taken all together, the numbers reveal that while Yelp.com continues to grow, its participants continue to be a very distinct subset of U.S. Internet users. This niche set of users might explain why traditional WOM continues to show more significance in influencing purchase decisions.
Want to learn more about other purchase decision influencers? Click here to request a copy of Experian Marketing Services highly-anticipated 2011 Digital Marketer Report, launching in late March. The report features an editorial by Bill Tancer as well as unreleased data spanning email, social, mobile, search and more.