Along with death and taxes, the third certainty as an online marketer is change.
When we combine the rapid rate of online innovation with consumers' relentless pursuit of finding the best possible price, a pursuit that kicks into overdrive with economic uncertainty, it's critical to anticipate changes in consumer behavior and the adoption of new buying modalities.
Here are three things that you should know about the group coupon phenomenon.
By now, most of us are aware of Groupon, the privately held Chicago group couponing-company that rejected Google's $6 billion dollar acquisition offer in late 2010.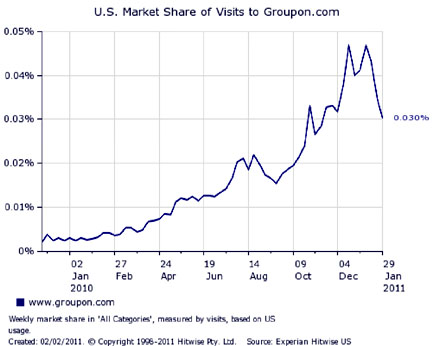 Since it's founding in 2009, Groupon has grown to over 5 million visits per week to take the #25 spot in the Experian Hitwise Shopping & Classifieds category1 for the week ending January 29, 2011.  But is Groupon, or more generally the category of online group buying, a fad or a significant change in the way we buy online?
Here are three things that you should know about the group coupon phenomenon.
Group Buying Has Reached Mainstream Adoption
If you think that this new social buying trend is fueled by early adopters of technology, the young and hip technocrats, you may have been correct in January 2010.  Today, you would be completely off the mark.  According to Experian Hitwise for the four weeks ending January 29, 2011, the largest age-bin for visitors to Groupon.com are those Internet users over the age of 55 (37.5%).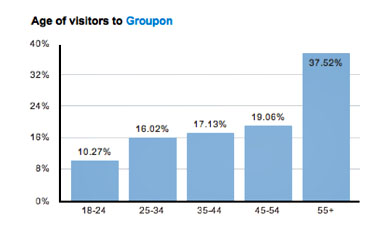 There is Applicability to Local and National Retailers
While group coupons were heralded as the perfect solution for local online commerce, successful deals with national retailers (both bricks-and-mortar such as GAP and online pure-plays like Amazon.com) indicate that this movement will take its place alongside email and search as a key channel for marketers to consider.
On January 19, 2011, LivingSocial.com, a Groupon competitor, offered a $20 Amazon credit for $10 (it should be noted that Amazon invested $175 million in LivingSocial.com).   According to PC Magazine, over 1.3 million certificates were sold at a rate of over 100,000 per hour.
The Race to Dominate the Space is Heating Up
LivingSocial's Amazon play did more than just put up impressive numbers; it was a clear sign that the site is a viable threat to category leader, Groupon.  According to Groupon CEO Andrew Mason, Groupon has over 500 competitors in the marketplace and growing.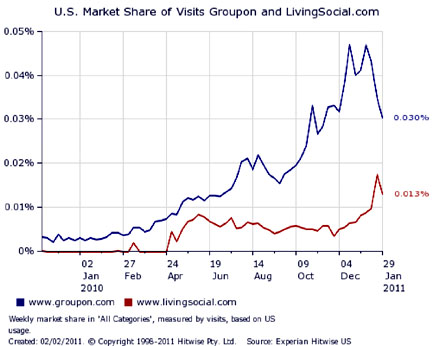 Have you considered group buying for your business?  Along with anticipating this trend, with the growing number of competitors and offers you should think one step ahead – will consumers succumb to daily deal fatigue?
Want to learn more about digital marketing in 2011? Click here to request a copy of Experian Marketing Services highly-anticipated 2011 Digital Marketer Report, launching in late March. The report features an editorial by Bill Tancer as well as unreleased data spanning email, social, mobile, search and more.
———
1 Shopping and Classifieds Category: 28,586 top sites that specialize in online shopping, auctions and classifieds