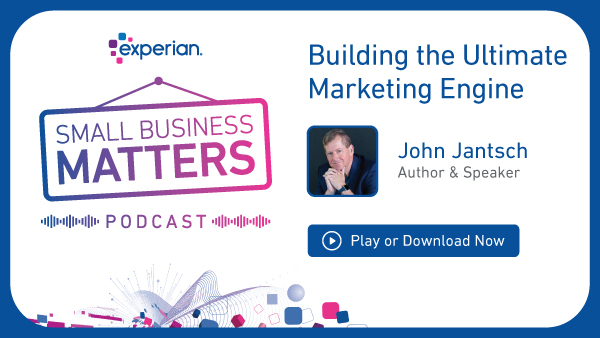 We were thrilled to get the opportunity last April to speak with John Jantsch about his new book "Building The Ultimate Marketing Engine", and what inspired the book.
During our interview, he touched on several core ideas:
Resilience in Tough Times: John highlights the importance of businesses being meaningful in the lives of their customers and employees during challenging times, as exemplified by the success of one of his clients, Charlie, whose remodeling business remained resilient because it maintained a strong connection with its customers and team.
Marketing Principles Remain Unchanged: John also emphasizes that despite the rapid changes in the digital marketing landscape, the core principle of earning trust remains constant. Jantsch believes that businesses should continue to focus on providing value to customers rather than resorting to spammy marketing tactics.
Customer Success Track: He introduced the concept of the "Customer Success Track," where businesses help customers evolve through various stages, adapting their approach to address evolving needs. This approach can be applied by any business to enhance its products, services, and sales messaging.
Redefining the Customer Journey: Jantsch challenges the traditional customer journey funnel concept, suggesting that the real opportunity lies in creating an end-to-end customer experience that leads to repeat business and referrals. Every customer should ideally become an advocate for the business.
Building Trust in Marketing: John emphasizes the importance of building trust in marketing by ensuring that businesses appear trustworthy to potential customers. This involves having a credible online presence, showcasing positive reviews and results, and making it easy for customers to provide feedback.
It's a really great interview.
Watch Our Interview
What follows is a lightly edited transcript of our interview.
Gary Stockton: John Jantsch is a marketing consultant, speaker, and author of "Duct Tape Marketing," "The Referral Engine", and "The Self-Reliant Entrepreneur." He's also the founder of the Duct Tape Marketing Consultant Network, which trains and licenses independent consultants and agencies to use the Duct Tape methodology. He's a trusted small business marketing expert and authority who has just released a new book, "The Ultimate Marketing Engine – Five Steps to Ridiculously Consistent Growth." So, for this small business matter on growth and marketing, we invited him to share his insights. John, welcome to the Small Business Matters podcast.
John Jantsch: Thanks for having me, Gary.
Gary Stockton: Your latest book opens with a text message from Charlie, one of your clients, asking for advice on an email he's about to send to his team of 50 employees and his customers in response to statewide shelter-in-place orders, informing them that all active projects will be put on hold. Many businesses would fail in the following year, but not this one. Why was Charlie's business so resilient?
John Jantsch: That email went to his employees and clients. Many businesses sent a similar email. I saw the responses that came back from that email. Many said something like, "you're doing the right thing. We're with you." One even offered to pay in advance for a kitchen remodel. Businesses thrive in tough times by being meaningful in the lives of their customers and their team. Those businesses that were close to their customers came through in shining fashion.
Gary Stockton: He didn't have any projects canceled. It's remarkable and a testament to the business. How long has Charlie been in business?
John Jantsch: Like many local businesses, Charlie is the second-generation owner of this remodeling business. His father started it around 1980.
Gary Stockton: Stop spamming people and taking your customers for granted became common at the pandemic's onset. Do you think businesses have learned, or will things revert to pre-pandemic norms?
John Jantsch: People will revert. The advice to "stop spamming" and "value your customers" was always good. Marketing's goal has always been to earn trust. While the digital landscape changes rapidly, that core principle remains.
Gary Stockton: What was your biggest realization while writing this book?
John Jantsch: I introduced the "Customer Success Track" based on my experiences. Our customers came to us at various stages. We fixed their challenges and moved them to the next stage. This approach can be adapted by any business. Viewing customers as evolving entities changes how you approach your business, products, services, and sales messaging.
Gary Stockton: In the book, you challenge the typical customer journey funnel concept. Why?
John Jantsch: Most marketers focus on getting people to know the brand and then converting a small fraction into customers. The real opportunity is to create an excellent experience, leading to repeat business and referrals. People naturally make referrals, but for many businesses, it's accidental. The customer journey should be end-to-end, with every customer becoming an advocate.
Gary Stockton: You talk about invoking trust in marketing and refining messages. Can you give examples?
John Jantsch: The most practical way in many cases is realizing that with the changes in marketing, it changes the way people buy. Even if someone recommends a business, nowadays, I'll turn to a search engine first. I want to see their website, check if other people trust them, see if their content has appeared in familiar publications, and find out if they've gotten results for businesses like mine. We're all busy, so we first need to ensure a business is trustworthy before diving deeper.
Gary Stockton: Making it easy for customers to give feedback is essential. Amazon has effectively integrated this into their workflow. Even my dentist offers incentives for check-ins on Yelp. It's all about getting people into that feedback loop, right?
John Jantsch: You can't persuade someone to leave a positive review with incentives if their experience was negative. However, many businesses with happy customers fail to gather reviews simply because the process can be inconvenient. Making it easier for people to share their experiences can result in more positive feedback.
Gary Stockton: I recently read the Edelman Trust Barometer and found that businesses are now the most trusted entities at 61%, ahead of NGOs, the government, and media. How should small businesses interpret this in terms of establishing trust?
John Jantsch: Businesses ranking high in trust is a relatively recent trend. We've seen many small businesses suffer recently, which likely sparked empathy. As for employee trust, businesses are struggling to find and retain employees. It's essential to show the world your company's value, ensure a smooth onboarding process, and build trust throughout the employee's journey. The framework I use for the customer journey can also be applied to the employee journey. The key is to build a strong brand and ensure every step feels right for the individual.
Gary Stockton: I'm an Apple customer and feel more like a member of a club. Is this the idea you reference when talking about customers as members?
John Jantsch: While Apple is a well-known example, it's about a shift in perspective. Imagine if a customer felt they were joining your business rather than just purchasing from it. The idea is to consider the long-term transformation and relationship, rather than just a transaction.
Gary Stockton: Joey Coleman's book discusses the importance of the onboarding experience. Can you elaborate on this?
John Jantsch: Both customers and employees value the onboarding experience. Research shows that if you lose an employee, it's likely within the first 90 days due to a lackluster onboarding. A stellar start can solidify the relationship for years.
Gary Stockton: Anything else you'd like to add?
John Jantsch: We've discussed the customer journey, which I refer to as the marketing hourglass: Know, Like, Trust, Try, Buy, Repeat, and Refer. These stages represent behaviors we want to guide our customers through. Instead of worrying about being on every platform, focus on enhancing each stage of this journey.
Gary Stockton: The book is the "Ultimate Marketing Engine – Five Steps to Ridiculously Consistent Growth." John Jantsch, thank you for joining us. Where can our audience learn more?
John Jantsch: The book's website is theultimatemarketingengine.com, where you'll find free chapters and a complimentary course. For more about my work over the decades, visit ducttapemarketing.com.
Gary Stockton: Thank you so much, John.