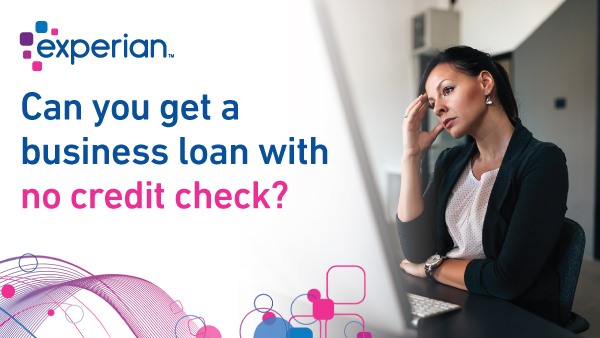 As a small business owner, finding capital to build your business is one of your top priorities. But if you don't yet have a business credit history and your personal credit history needs some work, it can be difficult to get approved for most business financing options. You can still find a way to get a business loan with no credit check, but it will likely cost you more to do so.
There are some business funding options you can pursue that may not require a business credit check. Here's what you need to know about those options and how to improve your chances of getting affordable financing for your company.
How a Business Loan Differs From a Personal Loan
Some new business owners use personal loans to start a business. Both personal loans and business loans typically require a credit check, but some business lenders may review both your personal credit score and your business credit history. If your business is new, or if you are a sole proprietor, your personal credit history will be more heavily relied upon.
Business loans and personal loans differ in the following ways:
Collateral: While most personal loans are unsecured, many small business loans require that you put up collateral. Additionally, many commercial lenders also require a personal guarantee, which means that you're personally liable to pay back the debt if your business can't pay.
Building credit: Personal loans can be a great way to build your personal credit score, but small business loans are better if you want to build a business credit history. Keep in mind, though, that not all commercial lenders and financing options will report to the commercial credit bureaus. Do your research to make sure you're getting credit for your on-time payments.
For both personal and business loans, there are some alternative financing sources that don't require a credit check at all. These loans typically involve some risk, and you're likely to pay more in interest rates and fees on the loans.
Business Financing Options That Don't Require a Credit Check
Standard business loans from a bank, credit union or even online lender typically require a credit check. If your credit is less than stellar, these may be out of the question. However, there are other funding options to consider that might be a good fit for your needs.
Microloans
Microloans are small-dollar loans offered by nonprofit organizations that are designed to help new, small or disadvantaged businesses. These loans often don't require a credit check, and they may even charge low-interest rates or no interest at all.
That said, they're typically reserved for startups, and you may need to meet other requirements, such as having family members and friends act as peer-to-peer lenders . Also, loans are typically capped at $10,000 to $15,000, depending on the organization.
Vendor Credit
If you regularly purchase supplies or inventory from vendors, you may be able to set up a trade credit account with them. This can allow you to pay your bill 30 days or more after your purchase date. In some cases, vendors will report your payments to one or more of the commercial credit bureaus including Experian.
That said, some vendors may require a credit check—or at least a history of on-time payments with other vendors —so you may need to shop around to find one that will work with you.
Invoice Factoring
If your business gets paid by clients through invoicing, this could be worth considering. Invoice factoring involves a small business owner selling an invoice to a factoring company in exchange for an upfront payment based on a percentage of the invoice amount.
In return, the factoring company takes over collecting the payment from your client, after which it pays the remaining balance minus fees and interest.
Invoice factoring doesn't require a credit check because it's not technically a loan. It can be an easy way to get paid faster for work you've already done, but it's important to note that it could impact your relationship with your client, especially if they pay late or have a poor experience with the factoring company.
Merchant Cash Advance
A merchant cash advance (MCA) is also technically not a loan; rather, it's an advance on your future sales. In exchange for an upfront payment, MCA providers will take a percentage of your daily credit and debit card sales or a fixed daily or weekly payment from your bank account.
MCAs can be easy to get, even with bad credit, because the provider is more concerned about your sales record than your credit history.
That said, merchant cash advance APRs can climb into the triple digits if you're not careful, so it's generally best to avoid them in most cases.
Make It a Goal to Build Business Credit for the Future
Even if you need a business loan with no credit check right now, it's a good idea to prioritize building both your personal and business credit to widen your selection of options in the future. It can also help you qualify for lower interest rates and better repayment terms.
Review your personal credit report and credit score to see what steps you can take, such as paying down credit card balances, getting caught up on past-due payments, disputing inaccurate credit report information, and more. You may also opt to get a secured credit card to add a more positive payment history to your credit file.
For your small business, make sure you're working with lenders that report your payments to the credit bureaus. Many lenders that don't check your credit don't do this, so you may need to establish your business credit profile before you can start building your business credit.
As with your personal credit, it's important for your business to pay its bills on time and avoid overextending itself on debt payments. While you might have a hard time getting a bank loan, you can start with business credit cards and vendor credit and then build from there.
About the author

Ben Luthi has been enthralled by personal finance and travel ever since he spent time abroad in college. He has worked in financial planning, banking and auto finance, and writes about all aspects of money. His work has appeared in Time, Success, USA Today, Credit Karma, NerdWallet, Wirecutter and more.