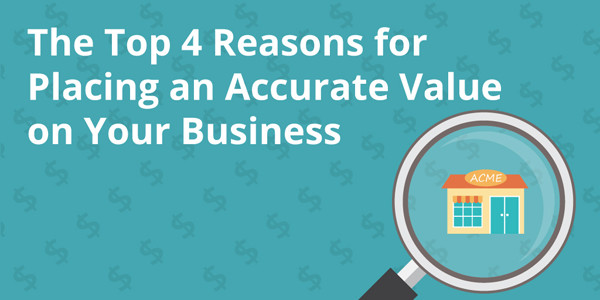 All business owners should be curious of how much their enterprise is worth, and not just when they are getting ready to sell. Understanding the true value of a business is crucial for every day operations and can set a business up for success. Here are the top four reasons for placing an accurate value on your business:
Financial Planning
A reliable and accurate valuation of a company can help a business owner better manage their business and personal funds. Wealth managers, accountants, investment advisors, estate planners and other finance-related professionals will then have a precise picture of the business's financial outlook and can provide more knowledgeable counsel for a prosperous financial future.
Insuring the Company
A business's valuation is also very important to securing proper business insurance coverage, e, which, interestingly, is integral to maintaining the value of the company. Without an accurate business valuation report, a business could wind up being over- or under-insured. This is not only bad for the bottom line, but it can skew financials and affect the value of the business when it is being prepared for sale. . For instance, a business owner may find that being over-insured has tied up money that could have otherwise been put toward paying down liabilities. Those funds could also have been reinvested into the business to promote growth, instead they are unavailable which inhibits the overall value of the company.
Raising Capital
Having an accurate valuation report makes it easier to raise funding. Potential investors love details, and a concrete value associated with a business can help demonstrate how far that business has come, and how new funding will help it grow.
Selling the Business
The value of the company is arguably the most important aspect of the sale of a business. It's the basis of negotiations, and often serves as a representation of years of hard work and success. Knowing how much a business is worth before you put it up for sale can help a business owner ensure that they're fully and fairly compensated.
Which Values Do I Need to Know?
So, now that the ground work has been laid on why business valuations are important for every business owner. It is important to understand the different definitions of value and what each of them means to the business.
Enterprise Value
The enterprise value is similar to a balance sheet. It is calculated by adding together the company's debts and the total market capitalization, and then subtracting cash holdings. It's used as a quick way to determine value.
Equity Value
The equity value describes how much the company is worth to shareholders. It's calculated by adding the company's cash holdings to the enterprise value, as well stock options, securities, and other potential-creating investments and assets. Examining the equity value of a company is good for getting an idea of both its current and future values.
Asset Sale Value
This value only takes into account the value of the company's assets. This includes inventory, fixed assets such as paid-off real estate, equipment and vehicles, as well as intangible assets such as equity. The asset value does not include cash or liabilities.
Liquidation Value
This is how much a business owner would get if they sold off all of the company's assets. While it does include cash and other liquid funds, it does not include intangible assets. The liquidation value is most often used for bankruptcy cases, or when the company is otherwise in trouble and looking for a quick sale.
Key Performance Indicators
While not entirely financial, this final type of valuation tells business owners how effective the company is at meeting its objectives. Business owners can use these benchmarks to compare their operations to other companies across their industry, allowing them to determine specific strategies for success. Key performance indicators directly correlate with the value of the company, as meeting the business owner's specific goals is integral to growth and profit.
By understanding the value of the business, business owners can position themselves for success in the near term and the future. Experian provides comprehensive reports that include multiple valuation methods and estimates you can rely on. See a sample report.