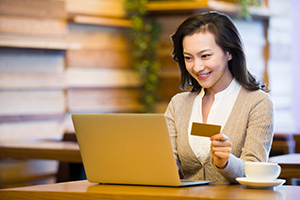 There's no question that COVID-19 has changed the shopping landscape forever. While the initial onset of quarantines and lockdowns negatively impacted brick and mortar retailers, online shopping soared to levels higher than 2019's Black Friday/Cyber Monday extravaganza, accounting for $153 billion in spending over April and May1. Many consumers will continue to shop online for the foreseeable future for various reasons, which means marketers must have a greater focus on providing a positive online customer experience.
Despite MSN Money's claim that COVID may have made holiday shopping extinct2—in part because retailers such as Walmart, Target, Best Buy and more are keeping their doors closed on Thanksgiving—it turns out that's not the case. According to polls taken by Chain Store Age, the pandemic hasn't impacted consumers' holiday spending plans, but it has affected how they intend to shop. This sentiment is echoed by Radial, who shared that 60% of consumers plan to shop less in-store this season. Even so, Salesforce noted that respondents to their poll found that consumers value safety and health above all else in their in-store shopping experiences, with 60% stating that social distancing measures were important to them3.
So how can you navigate this new shopping normal and make the most of the 2020 holiday season?
1. Leverage data to strengthen communications
Data has always been an important component to a successful marketing plan, but it's even more important now that shoppers are scattered across multiple devices and shifting their preference from offline to online—or a hybrid of the two. Connecting consumer identities across devices and channels means you can reach customers more effectively, promoting events, items and experiences that are most relevant to them on the channels they frequent most.

You can also leverage mobile location data to understand consumer traffic patterns, including understanding which competitors they may visit. Not only will this help you to anticipate their behaviors, but you'll learn more about their habits and preferences, which in turn helps you to craft messaging that speaks directly to their needs—and encourages their loyalty.
2. Be transparent in your messaging
Brick and mortar holiday shopping isn't totally out of the question this year, it's just going to look a little different. If you're still offering customers an offline experience, be open and honest with them about what they can expect. Use your outreach to share information about how you're protecting employees, sanitizing the store, and making for a safer in-store experience so your customers feel comfortable walking through your doors. (The NRF has excellent resources to help you navigate this as required by state guidelines.)

Also, let them know if there are any changes to shopping policies, such as wearing masks, contactless payment, the number of people allowed in the store at one time, return windows and more. The more transparent you can be in your messaging, the more comfortable customers will feel in keeping you in mind for their holiday shopping plans. And if your online business is booming, make sure you communicate any changes in fulfillment or shipping due to safety measures or delivery delays. This will be important messaging to those who may not be traveling to see family this year and are shopping online to have gifts shipped to their loved ones.
3. Offer positive new experiences and perks
Whether you're online or offline or both, customers will feel encouraged to shop when you offer them a little something extra to help make their shopping experience more enjoyable. Curbside pick-up has become an important aspect of this new normal in retail, so make sure you share with your customer whether that option is available to them. If "try before you buy" isn't available like it may have been in the past, see what you can do to offer a similar experience—for example, many fashion retailers are offering virtual styling services that allow customers to connect with an expert for further insight on fits and cuts that may work for them (or the friends and family they're shopping for). Some home furnishing retailers provide the ability to "visualize" an accessory or piece of furniture in your home.

Free gift-wrapping services are always appreciated, as are in-store experiences for shoppers with kids (but they must be socially distant, of course). Be creative and use data to help inform your decisions so you can create perks and experiences that will really connect with your customer.
Even with new challenges, retailers have the opportunity to offer a positive shopping experience through the holiday season and beyond, whether online or offline. And given the stressors of the season, it's likely consumers will be shopping for themselves as much as they're shopping for friends and family. As Business Insider put it, "…retailers will need to be more targeted and creative in their approach to Black Friday to get customers to spend," and having the right data will be key.
Download our new Holiday Marketing eBook for trends, tips and tricks to help you plan and execute powerful holiday marketing campaigns.
---
1https://theblog.adobe.com/online-shopping-during-covid-19-exceeds-2019-holiday-season-levels/
2https://www.msn.com/en-us/money/companies/covid-19-may-have-made-thanksgiving-day-holiday-shopping-extinct/ar-BB17fmtm
3https://www.zdnet.com/article/covid-19-has-permanently-changed-shopping-behavior/