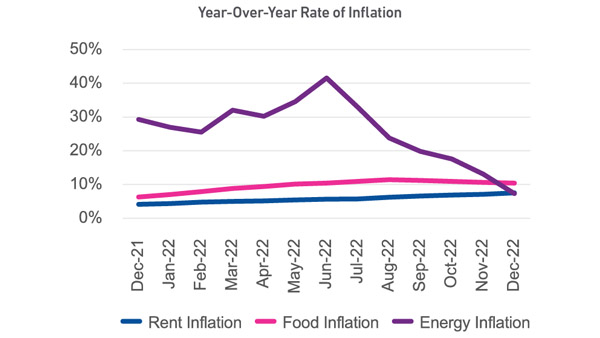 For many, the outlook for 2023 was gloomy and we were all bracing for a bad year for the economy.
But, so far, the economy has been extremely resilient with Q4 GDP coming in above expectations at 2.9%, inflation cooling, supply chain issues easing, and unemployment remaining low.
In addition, consumers continue to spend — the 2022 holiday shopping season saw holiday spending increase by 7.6% YOY, according to Mastercard, as consumers kept their discretionary spending for goods and services heightened.
While the retail sector appears healthy at this time, the uncertainty has led to planning issues. 2022 & 2021 marked the highest volatility of monthly inventory recorded since the data was tracked in 1992.
What I am watching: In 2023, retailers will fight for consumer spending, but consumers will find their purchasing power limited as interest rates increase and debt payments increase. U.S. small businesses are already facing an extended period of higher costs and weakening demand. All eyes will continue to focus on the Federal Reserve's actions to slow U.S. economic growth, fueling small business development. The focus will be on cooling inflation in the next few years and The Fed indicated they plan to continue to increase rates at their Feb 1st meeting but at a lower amount than the large increases of 2022. Lenders and creditors will need to assess how they will respond to struggling small businesses in 2023 as consumers tighten their belts.
Download your copy of Experian's Commercial Pulse Report today. Better yet, subscribe so you'll always know when the latest Pulse Report comes out.