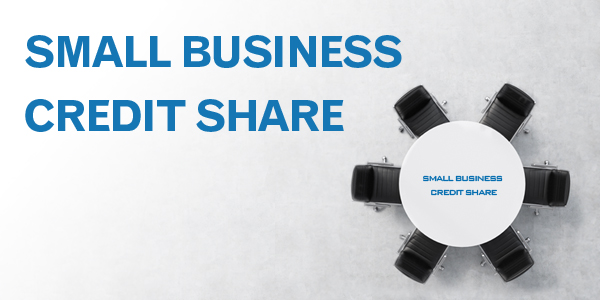 According to the U.S. Small Business Administration (SBA), small businesses account for 99.7 percent of U.S. employer firms and 64 percent of new private-sector jobs. So it stands to reason that the way small businesses go, the economy probably follows suit. One of the biggest challenges for small businesses, however, is the ability to access capital. In order for them to grow, they need money. Many of these smaller firms have limited to no credit history on file. For that reason, it is imperative for lenders and trade creditors to leverage comprehensive data sources (both financial and non-financial), enabling them to make smarter business decisions and help small businesses access credit.
It is Experian's core belief that an open and secure data sharing program is crucial to helping small businesses get the credit they deserve, and it's Small Business Credit Share® program is at the center of this ideal.
Small Business Credit Share℠ is a Credit Data Sharing "Club"
Small Business Credit Share℠ (SBCS) is a consortium of banks, credit card companies, leasing agencies and other companies that have agreed to provide financial and non-financial data in exchange for exclusive access to data from other contributors. By gaining access to this database, lenders and trade creditors can make more informed decisions, while also promoting financial inclusion and spurring growth within the small business segment.
Currently, six of the nation's top ten financial institutions are members, as well as several telecommunications and utilities companies.
Small Business Credit Share℠ offers more aggregates (data elements) than any other service of its type. Whereas many lenders rely primarily on summary data (e.g., a credit score and reports of missed payments over the past year), Small Business Credit Share reports include a vast array of detailed credit, financial and non-financial data. As a requirement of membership, members must contribute at least 10 pieces of data on each small business account, such as account types, highest credit utilized, total account balance and payment history profiles.
Together, these aggregates provide a much deeper, more meaningful view of a small business than was ever possible when drawing from just a handful of sources. They have also proven to be a far more accurate predictor of credit risk than any other service
Membership Provides Benefits to Financial Institutions and Borrowers Alike
Small Business Credit Share℠ provides significant benefits to member institutions as well as to the customers they serve. For example, Small Business Credit Share allows members to see the obligations an applicant already has to other lenders. With this knowledge, a lender can make sure an applicant does not become overextended and thus jeopardize their ability to pay back the loans already outstanding. A lender can also generate reports that, when shared with a customer, help ensure that paying back that lender becomes a priority so as to strengthen their credit score. Small Business Credit Share can also help members achieve SBA compliance, as the SBA mandates reporting to "bureaus" for all SBA-backed loans (SOP 50 57).
To Get More, Give More
As in life, what you can get out of the Small Business Credit Share℠ tends to be directly proportional to what you put into it. The more data members share, the clearer the picture of their small business borrowers becomes, and the smarter credit decisions they are able to make.
Watch our Small Business Credit Share Program Overview Video

We're encouraged by the overwhelmingly positive reception the Small Business Credit Share has received from the financial industry as a whole and from our member companies in particular. We remain committed to the idea that financial inclusion provides a strong value proposition to the Financial Services community, and believe Small Business Credit Share aligns with that ideal.